BLM auction draws little interest from oil, gas developers
Updated June 15, 2017 - 8:00 pm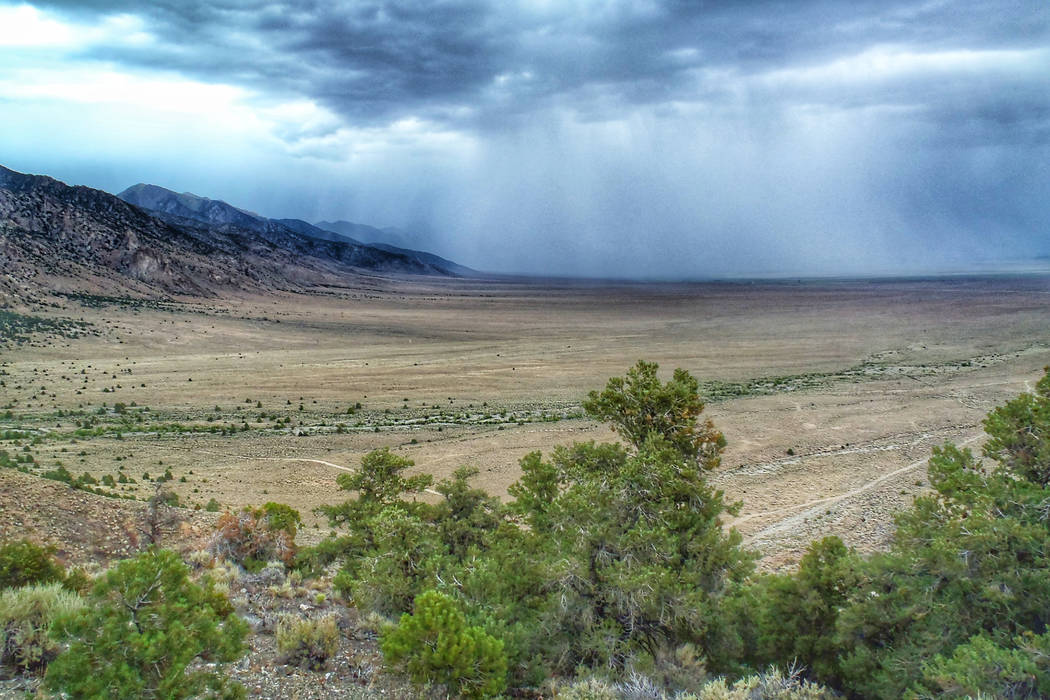 The great central Nevada oil rush appears to be off to a slow start.
The federal Bureau of Land Management received bids on just three of 106 parcels of public land it offered for oil and gas leases during a quarterly auction Wednesday that drew protests from conservation groups.
Of the 196,000 acres on the auction block in Eureka, Lander and Nye counties, fewer than 5,800 acres drew competitive bids.
The sale brought in $38,650, "which will be distributed between the federal government and Nevada," according to a statement from the BLM.
Seven conservation groups filed administrative protests seeking to block the online auction, which they said could lead to the contamination of land, air and water in Nevada while contributing to global warming.
The Nevada office of the BLM dismissed those protests Monday and proceeded with the sale.
'It raises questions'
The results — or lack thereof — left environmental advocates scratching their heads.
"We're glad the whole bunch didn't sell … but it raises questions about what the hell the BLM is doing," said Jeremy Nichols, climate and energy program manager for WildEarth Guardians, one of the groups that protested the auction.
At least some taxpayer money was spent to study and prepare the parcels for sale, but all that funding and effort "seems to have gone to waste," Nichols said.
"Nevada is marginal for oil and gas in the first place," he said. "Why is the BLM even trying to sell these leases in the first place?"
Because the agency has to, said Christopher Rose, spokesman for the BLM in Nevada.
Federal regulations allow oil and gas developers to nominate public land for possible lease and require the Department of Interior to review those nominations and put any qualifying parcels up for bid, Rose said.
He added that the results of Wednesday's sale were "pretty typical" for Nevada.
A year ago, the bureau offered oil and gas leases on 74,702 acres in the same part of the state. Leases on slightly more than 50,000 acres — 12 of the 42 available parcels — sold during the auction for a combined total of $54,340.
The three parcels that drew bids Wednesday include one 640-acre tract in northeastern Nye County that sold for $3,840 and two 2,560-acre plots in central Eureka County that brought in $5,120 and $20,480.
The rest of the $38,650 raised by the sale came from administrative fees paid by the bidders.
Texas man is high bidder
The priciest parcel went to Robert Dunbar from Prosper, Texas, who submitted the high bid of $8 per acre, according to the BLM.
Nevada has never been a major oil producer, and statewide production last year fell to less than 279,000 barrels, its lowest level in at least 30 years. Texas typically produces about 10 times more oil than that in single day.
Oil and gas leases on federal land are usually good for 10 years but can be extended if drilling operations are underway or there is a well associated with the lease that is capable of producing a profit.
According to federal records, Nevada was home to 627 oil and gas leases covering approximately 1.1 million acres of public land in 2016, but only 37 of those leases on 27,000 acres of land produced any oil.
Contact Henry Brean at hbrean@reviewjournal.com or 702-383-0350. Follow @refriedbrean on Twitter.