Bundy ranch dispute with federal land agency draws variety of foot soldiers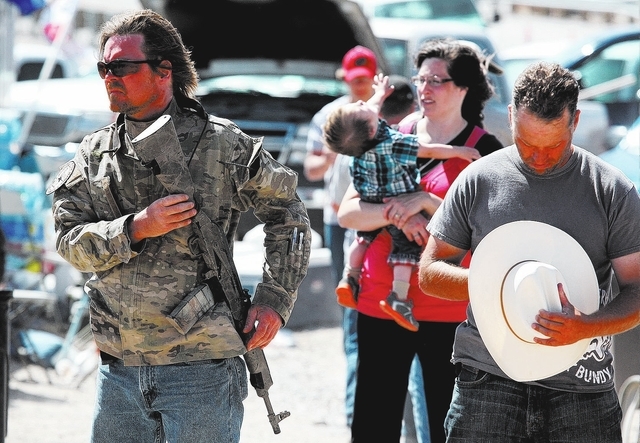 BUNKERVILLE — Cliven Bundy's fight with the Bureau of Land Management over the federal agency's roundup of his cattle attracted a diverse group of foot soldiers: fellow ranchers, Las Vegans and militia and patriot groups were among them.
Their battle cry is the U.S. Constitution and liberty. They fear the federal government overstepping its bounds at every turn. This concern, in their view, applies to those from all walks of life, be it a rural Southern Nevada rancher or a militia member from northern Montana.
Ultimately, the Bundy protest — which was defused Saturday when federal land officials agreed to end the weeklong roundup that culminated in a 20-minute standoff between armed protesters and law enforcement officers — became an outlet for those wanting to voice their opinions about government overreach and any perceived infringement of constitutional rights.
Armed militia members wore holstered weapons and mingled with cowboy-hatted ranchers throughout the week. Tents popped up across the landscape, and vehicles became temporary bunks, as the Bundy ranch, about 80 miles northeast of Las Vegas, turned into a gathering place for traveling pilgrims from across the nation.
"We're all in this together," said Rick Lovelien, 50, a militia member from Libby, Mont., with the Montana State Defense Force.
The armed standoff ended, Lovelien said, the way it should have — with the cattle returning to the land.
Still, Bundy's supporters, who numbered in the hundreds, appeared prepared for the worst, regardless of whether they were armed or not.
"I was a little worried some kook might have fired off a shot," Lovelien said.
In the end, no one did. Throughout the week before the Saturday standoff, the Bundys had encouraged their audience of supporters to avoid violence. Clark County Sheriff Doug Gillespie, who served as a negotiator between Bundy and the BLM late Friday night, also urged the rancher's supporters to remain peaceful.
The roundup was spurred by a dispute between Bundy and the BLM that has snowballed over two decades. Since 1993, Bundy has refused to pay grazing fees, which federal officials now say total about $1 million. That led to the recent seizure of at least one-third of his cattle. The roundup also was intended to protect a critical habitat for the threatened desert tortoise.
Bundy's standoff with the federal government, which captured national attention, gave the protesters plenty of nonlethal ammunition for their arguments against federal oversight.
The BLM's so-called "First Amendment areas" — marked-off areas designated for protesters — drew scorn from allies of Bundy, whose family has ranched the land since the 1870s. Eventually the BLM dismantled them, but not before protesters put together signs reminding passers-by that the First Amendment is in the U.S. Constitution, not in an area.
"I feel like we made history today," said Neal Wampler, 66, of Los Osos, Calif., on Saturday.
Wampler made the drive to the ranch from California. He brought no weapons.
"I myself am willing to be shot and killed for constitutional rights and principles," said Wampler, a Navy veteran.
Wampler is a member of Oath Keepers, a national organization founded by Yale constitutional law scholar Stewart Rhodes, who was a staffer for Ron Paul, a former Texas congressman who unsuccessfully pursued the Republican nomination for president in 2008 and 2012. Oath Keepers is an association of current and former members of the military and law enforcement.
With weapons or without, the band of supporters still spoke like soldiers.
"Mr. Bundy is like a general — a very, very impressive general," Wampler said.
Environmental groups were less impressed. The Center for Biological Diversity blasted the BLM's decision to release cattle, saying the agency has failed in its mission. The BLM had obtained two court orders for the removal of the cattle.
"The BLM has a sacred duty to manage our public lands in the public interest, to treat all users equally and fairly," Rob Mrowka, a senior scientist with the nonprofit center, said in a statement. "Instead it is allowing a freeloading rancher and armed thugs to seize hundreds of thousands of acres of the people's land as their own fiefdom."
Those arguments didn't sway Bundy supporters. Anyone trying to make them would have faced competition from images and footage of clashes with BLM law enforcement that galvanized the support base. One clip showed Margaret Houston, Cliven Bundy's sister, pushed to the ground by an officer who approached her from behind. Another showed Ammon Bundy, Cliven's son, being shot with a stun gun by a BLM officer. Photos of his injuries were posted at the protest area.
Greg Whalen, 47, of Las Vegas, is also a member of Oath Keepers and is involved with the Allegheny Mountain Rangers, a Pennsylvania-based militia group. He came unarmed.
Whalen drew comparisons of the Bundy clash to the Boston Tea Party.
"A couple hundred years ago, the guys in Boston got outraged over taxes for tea," he said.
Whalen added: "We're here for a very peaceful solution. We're not afraid to bleed, if need."
Oath Keepers has 10 "orders" its members say they will not follow as doing so would violate the U.S. Constitution. According to the group's website, they say they will not obey orders that would impose martial law on a state, disarm the American people, or blockade American cities, "thus turning them into giant concentration camps."
"They believe that martial law may be imposed at any moment, that Americans may have their guns stripped from them by the federal government," said Mark Potok, senior fellow at the Alabama-based Southern Poverty Law Center, which monitors groups across the United States.
Potok, pointing to the orders they will not obey, said: "The core of the group is a set of conspiratorial ideas about secret plans on the part of the federal government."
Plenty of people at the Bundy ranch didn't have ties to any organization.
"I try to go to any rally, anything that's constitutional and stands up for our liberties," said Paul Vargas, 34, a factory worker from Las Vegas who was at the protest area on Friday.
As for the government's role in the conflict, he said, "They're just testing the waters to see how easy it is. I worry about big government taking away our freedom and liberties."
Contact Ben Botkin at bbotkin@reviewjournal.com or 702-405-9781. Follow @BenBotkin1 on Twitter.