California fires blanket Reno area with historic air pollution
Updated July 31, 2018 - 5:18 am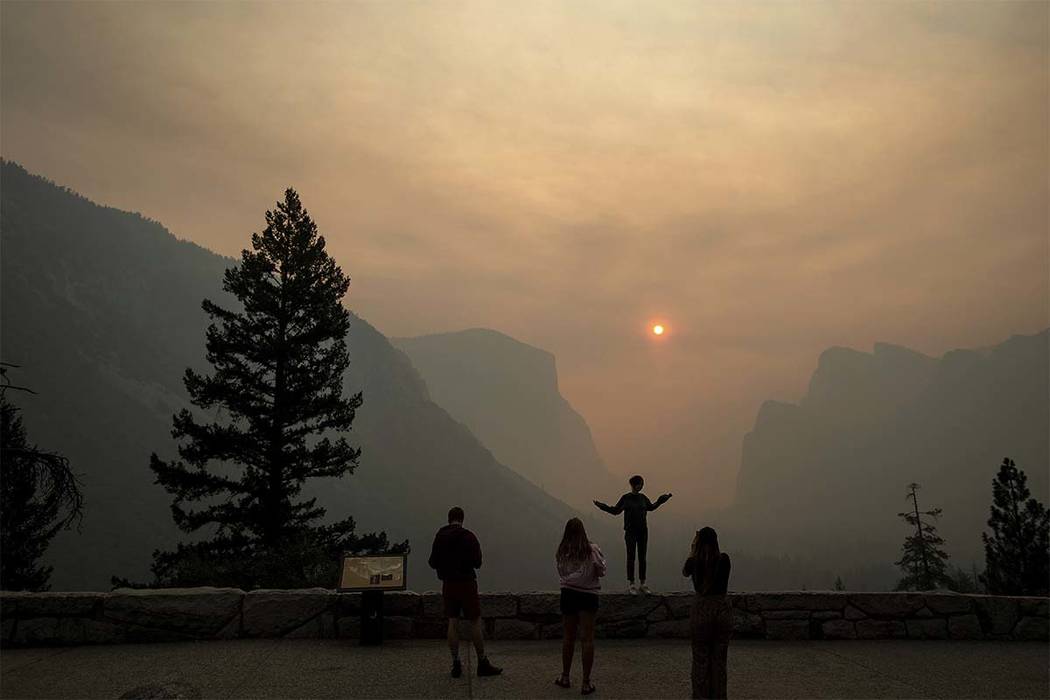 RENO — A heavy blanket of smoke Monday from large wildfires burning in California and northern Nevada created some of the worst air pollution levels ever recorded in the Reno-Sparks area.
The air quality is considered unhealthy for all populations, the Washoe County Health District said Monday afternoon.
Air quality alerts have been issued for more than a week since a big fire broke out nearly 150 miles (241 kilometers) south near Yosemite National Park along the California-Nevada line. But those warnings only applied to sensitive groups, including children, the elderly and people with respiratory issues.
The Air Quality Index for ozone — considered unhealthy for everyone when it reaches 151 — was 172 in Reno at 3 p.m. Monday, but had slipped back to 169 by 5 p.m. That's worse than the previous record of 164 in 1984, although Health District spokesman Phil Ulibarri said the official AQI is based on a 24-hour average so Monday's number could change.
"But in reality, it's really bad," Ulibarri told The Associated Press late Monday.
Ulibarri said it's definitely the worst air quality in a decade, and everyone should avoid prolonged activity outdoors. Air quality data in Reno goes back to 1963.
The air quality also was considered unhealthy for all populations in Carson City, while sensitive groups remained under alert in Gardnerville, Fallon and Las Vegas. An AQI between 100 and 150 is unhealthy for sensitive groups.
Visibility at Reno Tahoe-International Airport was reduced to as little as 3 miles (5 kilometers) at one point Monday afternoon, according to the National Weather Service. The service said air quality may improve midweek as westerly winds increase, but the winds could bring smoke from other areas into northern Nevada.
In addition to the fire near Yosemite, another large fire burning in Northern California near Redding — where around 20,000 people have been evacuated — and a fire about 30 miles (48 kilometers) north of Reno near Pyramid Lake is contributing to the deterioration of air quality.
The fire north of Reno has burned about 66 square miles (170 sq. kilometers) of mostly high-desert rangeland and was estimated to be about 15 percent contained late Monday.
Truckee Meadows Fire Protection District spokesman Adam Mayberry said no structures have been damaged but more than 130 people have left their homes because of the fire that at one point threatened as many as 70 residences.
Only eight people spent the night at a Red Cross shelter at the Ironwood Events Center in Palomino Valley north of Reno but more than 300 displaced animals are being housed there, including livestock, horses and pets. As of late Monday, there were 118 chickens, 78 dogs, 55 goats, 45 horses, 23 cats, three cows, two pigs, a turkey and a llama, said Shyanne Schull, director of Washoe County Regional Animal Services.
In southern Nevada, a lightning-sparked fire in the remote mountains 65 miles (104 kilometers) northwest of Las Vegas has burned nearly 8 square miles (20 sq. kilometers) within the Nevada National Security Site near Nellis Air Force Base.
Officials at the security site formerly known as the Nevada Test Site said Monday the rugged terrain has prevented firefighters from gaining access to the fire that was reported on Saturday. It was burning in mostly pinion pines and juniper bushes.
There's currently no threat to any structures or contaminated areas of the site where nuclear bombs were tested during the 1950s, site officials said.
The U.S. Bureau of Land Management intends to have an air tanker drop retardant on the blaze by sometime Tuesday.