Carson City officials work to reinvent downtown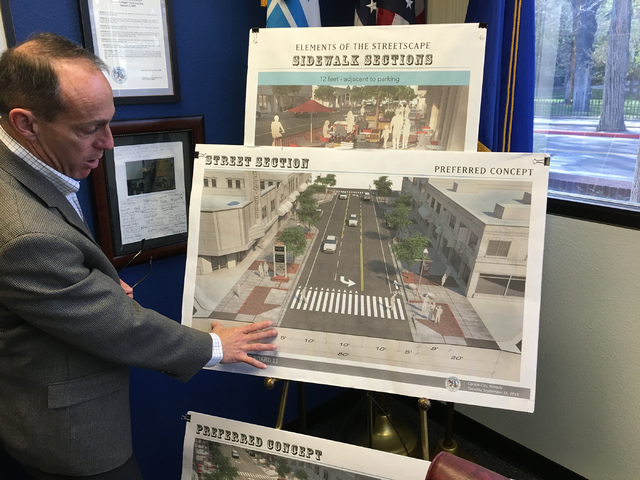 CARSON CITY — The capital city's main drag is a mess. The street is torn up and jackhammer noise fills the air.
But from the din and dust will emerge what many city officials hope will be a new, pedestrian-friendly downtown that will draw new businesses and encourage economic development.
It is an $11.4 million gamble, and the results of narrowing what was once a critical piece of the U.S. Highway 395 corridor should be on display by Nevada Day, Oct. 31.
A majority of city officials, including Mayor Bob Crowell, are betting that narrowing the street to one travel lane in each direction with some parking and a turn lane where needed, and widening sidewalks to allow for outdoor dining and a more comfortable pedestrian experience, will invigorate the downtown. The project runs from the Legislative Building at Fifth Street to William Street eight-tenths of a mile to the north. Bike lanes will also be added.
The project also includes turning one intersecting street, Third Street, into a pedestrian mall with various amenities, and improvements to Curry Street, a parallel street one block west.
In an interview at City Hall, Crowell, a Tonopah native who grew up in Carson City from grade school on, said the goal is to make downtown a comfortable place to visit.
The project was made possible with a new freeway bypass around Carson City, which is expected to be completed by 2017. Diverting through traffic will allow the changes to Carson Street downtown.
"With the development of the freeway we are probably going to see another 20 percent drop in car traffic downtown," Crowell said. "So we're pretty sensitive to the idea that downtown needs to be a place to drive to and not drive through."
Crowell said the idea is to let visitors enjoy the capital city's many historic structures without fear of being run over on Carson Street. The street has for years been a busy four-lane with truck traffic and many vehicles exceeding the 25 mph speed limit. The sidewalks are too narrow and uncomfortable for pedestrians, he said.
The zoning downtown is mixed use with efforts underway to attract residential, office and commercial development.
The Carson project is the culmination of 10 years of planning, but he said it will likely take another decade to finalize the vision.
"My favorite part of Las Vegas is the downtown," City Manager Nick Marano said. "It's got a cool vibe, new restaurants and a lot of interesting retail establishments."
The Carson City project has a similar goal.
But not everybody is convinced that the project will achieve the results its boosters envision.
Bob Lamkin, owner of Bob's Shell service station on Carson Street, said his business has not been substantially harmed by the construction underway. Lamkin said his loyal customers have helped his business remain viable even with the new freeway bypass siphoning off some traffic through town.
But he remains opposed.
"I have been against this thing forever because I don't think it is good for Carson City and I don't think it is going to be the salvation the downtown business owners think it will be," he said.
Lamkin, who has run his business for 38 years, also said Carson City voters should have been given the opportunity to weigh in on the project.
The Carson City Board of Supervisors voted 4-1 last fall to proceed with the project. The board also previously voted 4-1 to increase the sales tax by one-eighth of a percent to fund a number of projects around town, including a portion of the downtown beautification project.
Funding for the project is coming primarily from the sales tax, redevelopment funds and water, stormwater and sewer funds.
"You have 50,000 people in this town and they decide that they are going to let 12 downtown businesses and the Board of Supervisors decide what is best for them," Lamkin said. "I think that's wrong."
Doug Cramer, owner of Mom & Pop's diner on Carson Street adjacent to the Third Street pedestrian project, is betting that the improvements will boost his restaurant's business.
Cramer said he is proceeding with plans to open his diner during evenings, expanding from the breakfast and lunch hours offered now. The 10 outside tables will double to 20, he said. He will also seek a liquor license.
"We have to change our philosophy," Cramer said.
The key is to offer family-friendly events to bring people downtown in the evening hours, he said. A farmers market and an outdoor movie night would be big draws, but Cramer said he has to drum up support to purchase a $21,000 projector system.
There is some private-sector investment underway in the project area already. An old Citibank building on Curry Street has been leveled and a multiuse project that includes homes has started construction.
But there are vacant buildings along the main drag, including a former brewery. Other storefronts are occupied by offices, including some used by lobbyists who work at the Legislature during session.
And what could be a major anchor for the renewal project, the Ormsby House hotel-casino, remains vacant on the corner of Fifth and Carson streets. The once popular casino and its restaurants closed about 15 years ago, and although sporadic work is done on the building, there has been no sign it will reopen soon.
A referendum of sorts on what the community thinks about the downtown revitalization project could come this election cycle as Crowell runs for a third term as mayor. He faces three opponents.
Years ago, one of the top amenities for a community was golf courses, but not anymore, he said.
"I personally think that what is happening with Apple, Tesla and Switch is that there is a brand change going on in Northern Nevada and we have to stay current with that brand change," Crowell said.
Contact Sean Whaley at swhaley@reviewjournal.com or 775-461-3820. Find him on Twitter: @seanw801