Ceremony marks pioneer's return to Gold Butte grave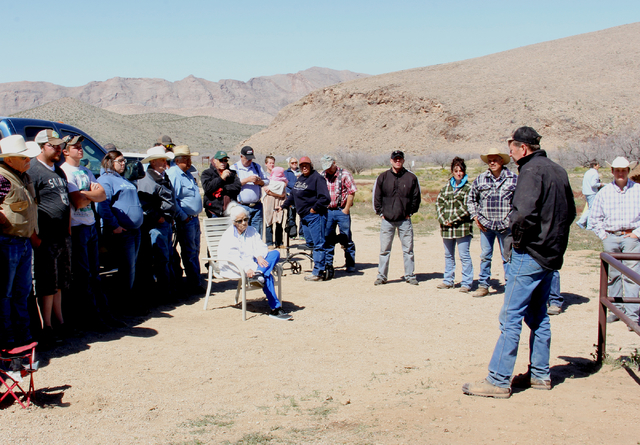 Almost two years after his grave was disturbed near the ghost town of Gold Butte, Arthur Coleman is back where he belongs.
About 30 area residents gathered at the remote grave site Saturday to remember Coleman and return his remains to the ground about 100 miles northeast of Las Vegas.
His grave was dug up sometime in April 2014, right around the time of the now-infamous standoff near Bunkerville between the Bureau of Land Management and rogue rancher Cliven Bundy.
Authorities still don't know who disturbed the small burial plot or why.
Saturday's gathering was all about setting things right.
Logandale native Lindsey Dalley, who helped organize the reinterment, said the crowd included residents of all ages from the Virgin and Moapa valleys.
People began showing up at about 9 a.m. with shovels and potluck dishes. They lingered until 3 p.m., swapping stories about Coleman and his longtime friend and business partner, William Garrett.
The two men met in Gold Butte around 1916, after the mining camp had seen its post office close and its fortunes fade.
Coleman and Garrett would spend the next four decades there, running cattle, scratching for gold and brewing moonshine around the home they shared in the ruins of the camp.
They made for an odd team: Coleman, a 5-foot-1 miner, and Garrett, a notorious 6-foot-1 rancher out of Texas whose uncle may have been the famed lawman who shot Billy the Kid. Locals took to calling the pair "the long and the short of it."
The men lived at Gold Butte until Coleman's death in 1958 at age 82. Garrett died three years later, at age 81, and joined his old friend in the ground behind their home.
Years later, their plots were fenced and marked with engraved headstones.
Dalley grew up across the Virgin River from the rugged country Coleman and Garrett called home, and he described the two men as "the hub on the wheel of history" in northeastern Clark County.
"It's like the river of time is flowing through there, and these guys were the anchor point for our two communities," he said.
The Clark County coroner's office collected the bones left scattered around the grave site on April 23, 2014, the day after the damage was reported to authorities.
Coroner John Fudenberg said DNA testing was unsuccessful, but investigators were able to determine that the remains belonged to an adult man and had been previously embalmed.
Fudenberg's office released the remains to the BLM in late October, and the BLM turned them over for burial by the Moapa Valley Mortuary and a local nonprofit called Partners in Conservation.
Dalley said the same "common-sense conservation group" was responsible for filling Coleman's grave back in after investigators were done with it in 2014.
A church contingent from Bunkerville led Saturday's graveside service. The mortuary in Moapa Valley donated a pair of thick, concrete burial vault lids that should keep anyone else from digging up the graves at Gold Butte.
"If they do, they'll have to earn it," Dalley said.
Near the end of Saturday's ceremony, Dalley spotted a truck rumbling down the dirt road toward them towing a rusted Model A Ford pickup on a trailer.
It turned out to be Coleman's old Model A. He had left it in his will to a neighboring ranch family almost 60 years earlier, so a member of the family towed it down from St. George, Utah, for the memorial.
"You could have brushed me over with a feather when that thing showed up," Dalley said. "It was like history had come alive and was standing there in front of you."
Contact Henry Brean at hbrean@reviewjournal.com or 702-383-0350. Follow @RefriedBrean on Twitter.