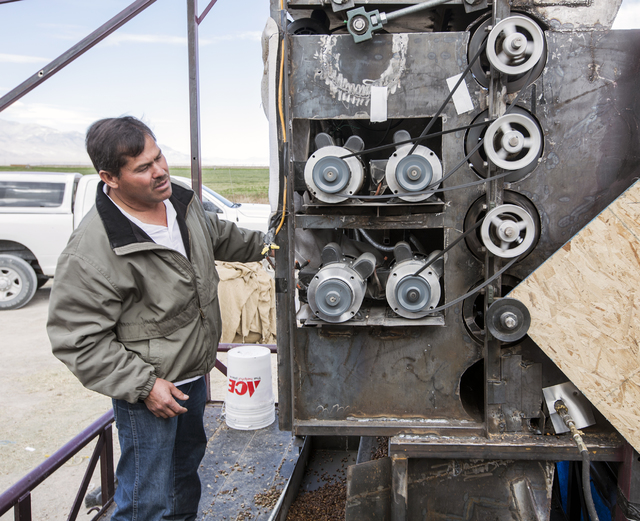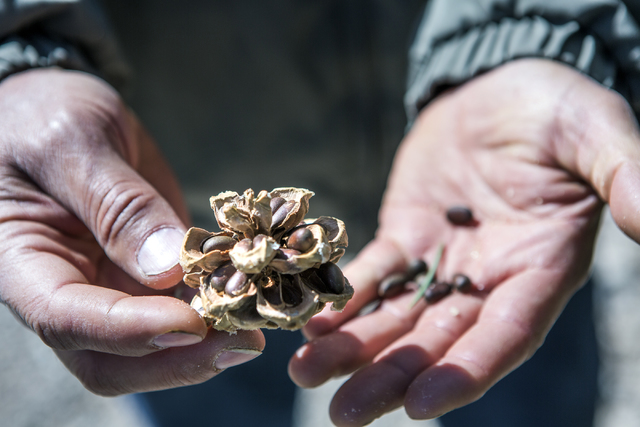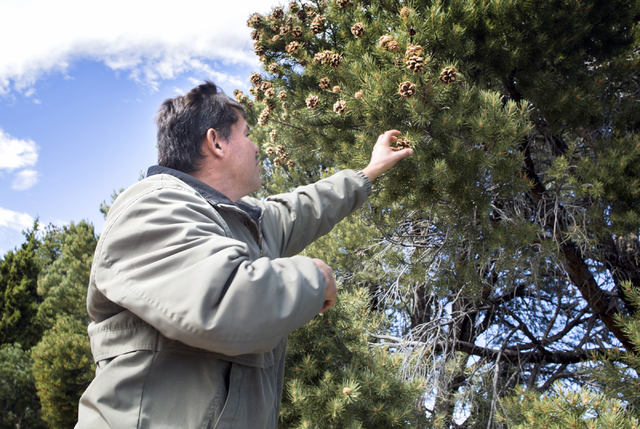 BAKER — Along a dirt road just north of Great Basin National Park, Dayer LeBaron plucks a cone from a pinyon tree and shakes its contents into his calloused hand.
The pine nuts almost shine in their varnished, dark-brown husks, but all he can see is their size. These are Nevada soft-shelled pine nuts; they're supposed to be bigger than this.
"There's definitely something going on," says LeBaron, a commercial harvester from El Paso, Texas. "Being in these mountains for 40 years, I've seen it with my own eyes. I know something's going on."
In pinyon groves on public land across eastern Nevada, the annual commercial pine nut harvest is well underway. For decades, several small, family-run outfits have made a business out of collecting and selling a crop they don't cultivate on land they don't own.
But the work isn't easy, and the yields aren't what they used to be. All it takes is an insect invasion or a sudden change in the weather to turn a good year bad. LeBaron says he's been seeing more of both lately, something he blames on climate change.
The 53-year-old father of nine has been harvesting pine nuts in Nevada for most of his life. He joined his father in the forest for the first time when he was 7, collecting nuts from pinyons along Baker Creek in what is now the national park.
LeBaron now runs the family business his dad started as a hobby in the late 1950s, but the future does not look promising.
He is one of just six commercial harvesters left in Nevada, and "it's going to be down to three in the next 10 years," he predicts. "The honest truth is in Nevada, it's a dying thing."
TRADITION IN THE TREES
Each year, the Bureau of Land Management and the U.S. Forest Service open sections of pinyon forest to commercial harvesters who bid by the pound for the right to collect pine nuts.
"It's a sustainable, organic product from Nevada," says Katie Walsh, an Ely-based natural resource specialist for the BLM. "I think it's a pretty cool thing."
The Nevada soft-shell pine nut comes from a distinct species of single-needle pinyon tree found in mountain ranges across the Silver State. The nut is larger and easier to crack and peel than the double-needle, New Mexico variety, but there isn't as much demand for it.
LeBaron says raw, unshelled Nevada pine nuts generally retail for $10 to $12 a pound, while the New Mexico type can go for $30 to $40 per pound.
Most of the pine nuts Americans eat in pesto or on pizza come from Asia.
LeBaron sells most of his product through his website, wholesalepinenuts.com. His biggest market is in Utah, where the Nevada nut has become a holiday staple in the 160 odd years since Native Americans introduced it to Mormon settlers.
"Not having these pine nuts at the holidays, it's like taking away the turkey at Thanksgiving or Santa Claus at Christmas," he says.
This year's commercial auction on Aug. 9 in Ely drew six harvesters who paid a total of $31,625 for the privilege of collecting up to 126,500 pounds of pine nuts from 11 patches of forest in eastern Nevada.
"It's the same people every year," Walsh says of the bidders. "They've been doing this for generations, and they're kind of experts at it."
You don't have to be an expert. Individuals and families are free to harvest up to 25 pounds of pine nuts annually on lands managed by the BLM or U.S. Forest Service. No permit or payment is required as long as the nuts are for personal use, not for sale.
Walsh says she tried her hand at harvesting this year, but wound up covered in pine sap with maybe a pound of nuts to show for her trouble. "Next time, I'm going to bring a ladder," she says.
'ROUGH ENVIRONMENT'
For LeBaron, pine nut season begins in June, when he travels to Nevada from his pecan orchard in El Paso to scout for patches of forest he might want to bid on. Those trips often cover 5,000 to 7,000 miles on highways and back-country dirt roads from one end of the state to the other.
This year, he bid $7,500 to collect 30,000 pounds of pine nuts from Sacramento Pass, in the Snake Mountains about 300 miles northeast of Las Vegas.
The harvest began in late August, when the cones were still green and closed up tight.
LeBaron says he started with about 30 pickers — most of them migrant field hands or construction workers from Las Vegas, California and Arizona — but only about a dozen remained by the end of September.
The job requires camping in remote parts of the forest for days on end, he says, and not everyone is cut out for spending that much time in the elements. "It's a rough environment to be in," he says. "We've had severe cold and snow storms that shut us down completely."
LeBaron says a typical tree will produce between 5 and 10 pounds of pine nuts. A typical harvester, working from the ground or atop a ladder, can collect at least 60 pounds of nuts a day, plucking the cones one by one from the tree and dropping them into a picking bag hanging at the waist.
Depending on the weather, LeBaron hopes what's left of his crew can keep picking cones through October, though the most productive part of the season is already behind them. As soon as the cones turn brown and open on the trees, all it takes is one strong gust of wind to shake the branches and scatter the nuts on the ground, where they become food for wildlife.
"Once that happens, it's over for us," he says.
The nuts they collect are cleaned and packaged for shipment at a temporary camp near an alfalfa field in Eskdale, Utah, just across the border from Nevada.
This is where LeBaron spends most of his time, filling orders and tinkering with the pine nut processing machine he designed about 10 years ago.
The vending-machine-sized contraption can wash and sort 2,000 to 3,000 pounds in an hour, finishing the product with a short burst of fire to burn off the pine gum without cooking the raw nuts. Work once done by hand over the course of several monotonous hours now takes just minutes.
He hopes to build a fourth and final prototype — one that works twice as fast — in time for next year's harvest.
"That machine is going to go in the pine nut museum," LeBaron says.
A VANISHING BOUNTY
Commercial harvesters need to innovate if they hope to survive the changes now underway in the pinyon forests, he says.
"When you go back to the mid-'70s to like the early '90s, we would come out here and we would always find mountains dripping down with cones. That was year after year pretty much," LeBaron says. "After the '90s, things started changing a lot. The weather wasn't consistent, the mountains were getting hotter than usual, the snow packs weren't lasting as long.
"When you lose that, … you start getting plagues and you start getting all kinds of other issues. I've seen those cones eaten up in early spring by the beetles, which is something you never saw in the '70s and the '80s. Never."
And climate is only part of the problem. He says government regulation also has taken a toll over the years, as prime harvest areas were locked away inside federally designated wilderness.
That adds variability to a business already at the mercy of Mother Nature.
LeBaron says pine nuts were plentiful in Nevada two years ago, but last year's harvest was almost nonexistent.
The current crop looks more like it did in 2014, though a significant number of cones are bug-eaten, hollowed out or filled with undersized nuts.
"This year we had a really good crop coming on, and then it got suppressed due to weather issues: like the size of the nuts, the size of the cones, too many hollow ones," LeBaron says. "We have some product, but it's costing more to produce and it's harder to get."
Walsh from the BLM says more study is needed to determine how climate change might be impacting the health of Nevada's pinyon juniper woodlands. That research is now underway as part of an effort to create a sophisticated model of Nevada's climate, she says.
LeBaron says he doesn't need to wait for the data.
"A lot of people call it global warming. I don't know if it's global warming," he says. "Call it whatever you want to call it. Something has changed in these mountains."
Contact Henry Brean at hbrean@reviewjournal.com or 702-383-0350. Follow @RefriedBrean on Twitter.