Collins manages to insult Utahns with comments on Bundy roundup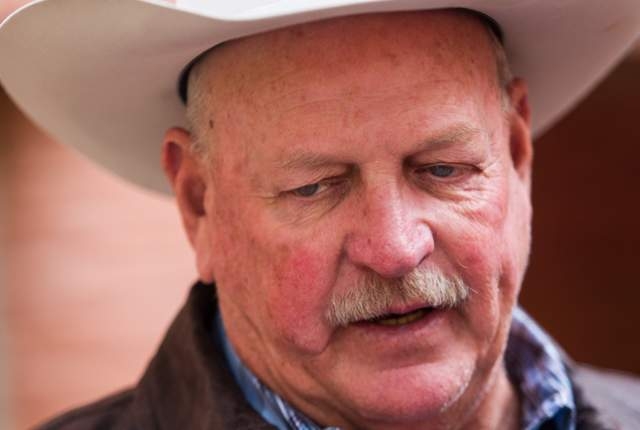 Clark County Commissioner Tom Collins fears the dispute at Cliven Bundy's ranch that has drawn protesters from across state lines might turn violent.
So when Collins talked this week with a county commissioner in Utah who said others are coming to Southern Nevada to support the Bundys, he did what he usually does: He spoke his opinion without mincing words or worrying if he offended someone.
Those comments are now making the rounds on social media and have attracted criticism from people ranging from Utah ranchers to his colleagues on the County Commission.
It started when Darin Bushman, a Piute County, Utah, commissioner, called Collins about the Bureau of Land Management roundup of Bundy's cattle in the Gold Butte area, about 80 miles northeast of Las Vegas. The cattle are being seized after Bundy failed to pay grazing fees over 20 years. When the conversation ended, Bushman posted on Facebook that Collins said Utahns are "inbred bastards" and if they come to Clark County to support Bundy they "better have funeral plans." Collins also told Bushman that they should mind their "own (expletive) business."
"Now that's some classy leadership for you," Bushman wrote in his post.
On Tuesday, Clark County commissioners will discuss decorum of commissioners, which was sparked in part by concerns about Collins' recent statements, said commission Chairman Steve Sisolak. Sisolak said Collins won't be the sole focus of that discussion, which will examine the broader issue of decorum.
He said he's uncertain of what the outcome might be or whether it would require anything formal such as a policy change.
In an interview, Collins downplayed Bushman's elected office, noting his county has only about 1,500 people. Census data shows the tiny rural county has just 1,556 people.
"I'm trying to do everything I can to discourage anybody who tells me they're coming here with loaded guns," Collins said. "I'm going to tell them not to come."
The issues at hand are complex, and a protester who doesn't understand rural Nevada fails to grasp the whole picture of the situation, Collins said.
Collins said he's been in touch with BLM officials about the issue and is closely following the situation.
"The Bundys want peace," Collins said. "They don't want any violence going on, so all these gun-packing folks just need to go home."
Bushman said he contacted Collins to discuss his views on jurisdictions of lands. He said the conversation for the most part was "civil and professional."
Bushman said he told Collins he was heading to the protest and expected some people from his county to be there, as the issue has attracted the concerns of Utah ranchers.
"This guy was just off-the-hook weird," Bushman said. "I've never ran into a fellow commissioner who treated me like that."