Colorado River users, beware: Arizona dam releasing lots of water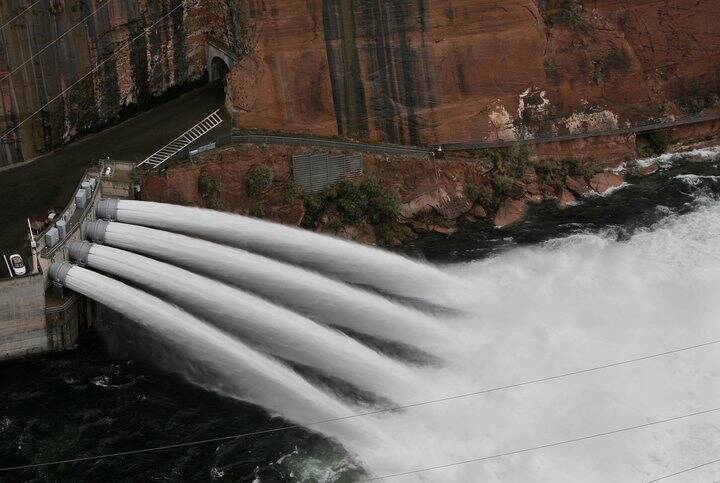 A massive deluge of water is being released from a dam in Northern Arizona this week in an effort to shore up the beaches and sandbars used by campers along the Colorado River in the eastern part of Grand Canyon National Park, federal officials say.
Lake Powell, the nation's second-largest man-made reservoir by water capacity, behind only Lake Mead, will see its surface elevation drop by about four and a half feet as water pours out of the Glen Canyon Dam and into the Colorado River.
The release, which began Monday at 2 a.m., is scheduled to continue until Thursday at 10 p.m., according to the National Park Service's Grand Canyon National Park website.
Bureau of Reclamation spokesperson Becki Bryant confirmed in an email that the so-called High Flow Experiment water release got underway Monday, as scheduled.
At its peak release, about 39,500 cubic feet per second will be poured into the river for a total of 72 hours.
The aim is to have the water push sediment onto the beaches and sandbars along the river, rebuilding them and rendering them more usable for camping.
The release won't affect the annual amount of water released from Lake Powell to Lake Mead, officials said. The Las Vegas Valley gets about 90 percent of its water from Lake Mead.
Officials say that water releases from the Glen Canyon Dam since 1996 have typically ranged from 8,000 to 25,000 cubic feet per second. Because this release is slated to be 39,500 cubic feet per second, the conditions on the Colorado River are expected to change.
"River users should exercise caution along the Colorado River through Glen and Grand canyons during the entire week of April 24-30, 2023," the National Park Service's website cautions.
Contact Brett Clarkson at bclarkson@reviewjournal.com. Follow @BrettClarkson_ on Twitter.