Congressional candidate Morse Arberry Jr. owes Nevada more than $122,000
March 16, 2016 - 10:03 pm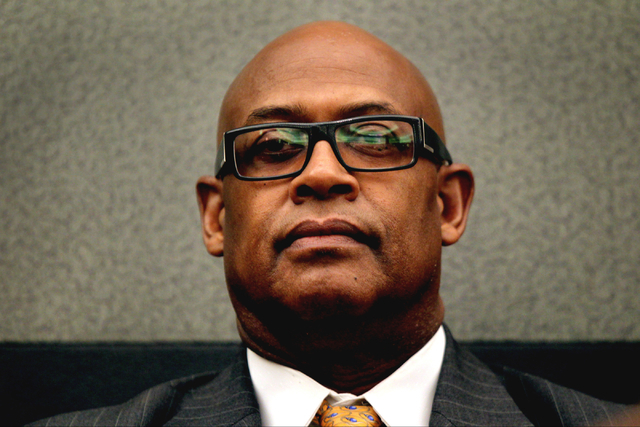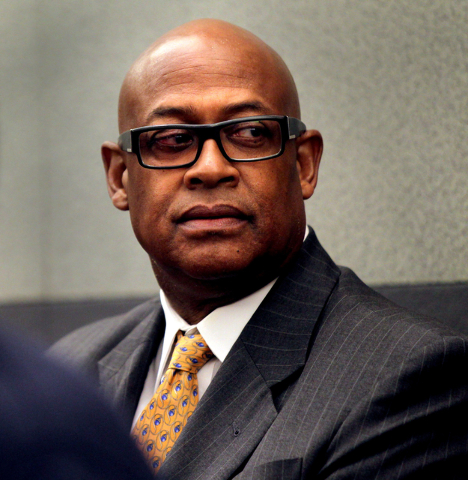 Morse Arberry Jr. never made good on the $121,545 he promised to pay back in 2011 after illegally funneling campaign contributions from a Nevada Assembly run into his personal bank account.
The North Las Vegas Democrat struck a deal in October 2011, pleading to a misdemeanor charge of fraudulent appropriation of property. In exchange, six felony charges were dropped and he avoided jail. As part of the deal, Arberry agreed to pay the state the same amount as restitution, plus a $1,000 fine.
The disgraced former assemblyman is again running for public office. Last week he filed as a candidate in the Democratic primary for the 4th Congressional District. The seat is held by U.S. Rep. Cresent Hardy, R-Nev., who is seeking a second term.
Public records show that more than four years since the plea deal, Arberry still owes $120,345, plus a $2,406.90 fee because the debt is past-due.
The state controller's office, which is responsible for collecting Arberry's debt, put two collection agencies on the case, but has been unsuccessful in prying money from Arberry.
Arberry told debt collectors he's unable to find a job and can't make payments because of an unspecified "fraud perpetrated against him by a former employer," said Assistant Controller Geoffrey Lawrence. Further details weren't available Wednesday.
Arberry didn't return calls for comment.
POLITICAL SHOCK WAVES
When Arberry was charged in June 2011 with three felony counts of offering a false instrument for filing and three felony counts of perjury it sent shock waves through Nevada political circles. The longtime lawmaker, who held office from 1984 until August 2010, had been chairman of the influential Ways and Means Committee.
Investigators found that in 2008 and 2009 Arberry deposited campaign donation checks totaling $121,545 into his personal checking account and didn't report the money in campaign finance disclosure reports.
The money came from a variety of powerful Nevada interests, including gaming, unions and the construction industry.
Court records show Arberry was sentenced to six months in jail, with the sentence suspended. The case remained open for a year after his plea deal, with Arberry promising to make regular monthly payments of at least $100 to the attorney general's office, which was to give the money back to donors.
The current debt — $120,345 — indicates Arberry paid only $1,200, or the 12 monthly payments due before the case was closed. He was never jailed.
Public records show Arberry has other financial woes, including a $37,791 IRS lien filed in 2015 for unpaid taxes from 2009 to 2013. The IRS listed the same Las Vegas P.O. box on the paperwork that Arberry uses as his current campaign address.
IRS liens against Arberry for $5,860 in 2006 and $5,399 in 2008 have since been paid off, according to public records.
While pleading poverty, Arberry isn't without income. He still receives a state pension, which was estimated at $36,750.84 in 2013, according to data from the Nevada Public Employees' Retirement System collected by the Nevada Policy Research Institute, a conservative think tank.
Arberry was a controversial figure long before he was charged in 2011.
He resigned from the Legislature in 2010 to work as a lobbyist for Clark County district judges, but Clark County commissioners rejected that $10,000-a-month contract, saying Arberry needed a "cooling off" period.
As the owner of several residences, Arberry faced frequent questions about whether he actually lived in the mostly North Las Vegas Assembly District 7 he represented or at the Canyon Gate Country Club.
Arberry was also faulted for falsely claiming sick time to collect his full pay as a Las Vegas city employee in 2001 while also taking a legislative paycheck.
SENATE CONNECTION
Republicans have tried to tie Arberry's favorable plea agreement to Catherine Cortez Masto, who was Nevada attorney general at the time and is now running as a Democrat to replace U.S. Sen. Harry Reid, D-Nev. Her primary GOP opponent is U.S. Rep. Joe Heck, R-Nevada.
After Arberry filed to run for Congress, the National Republican Senatorial Committee called his case "an ugly reminder of Cortez Masto's utter dereliction of duty as attorney general" and "one of the most embarrassing cases of cronyism and political favoritism in recent Nevada history."
Cortez Masto's campaign dismissed that as "desperate attacks by Washington Republicans."
"Catherine Cortez Masto went after politicians in both parties to hold them accountable," said her spokesman, Zach Hudson. "Nevada's campaign finance laws were extraordinarily lax – Arberry was given a gross misdemeanor, which was in accordance with the laws at the time. That is why in 2013, Catherine Cortez Masto introduced and passed legislation that strengthened Nevada's campaign finance laws."
Contact Ben Botkin at bbotkin@reviewjournal.com or 702-405-9781. Find him on Twitter: @BenBotkin1