Conservationists worry about Gold Butte as feds keep their distance
January 8, 2016 - 11:40 pm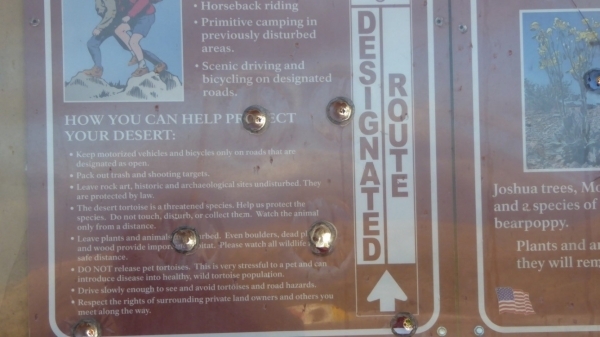 As far as some conservationists are concerned, Oregon isn't the only place under occupation.
Bunkerville rancher Cliven Bundy and his well-armed supporters still control a vast swath of public land in northeastern Clark County that has been all but abandoned by the federal government, according to Jeff Ruch, executive director of Public Employees for Environmental Responsibility, a Washington, D.C.-based nonprofit organization.
"In Nevada, federal authorities have ceded a 200-square-mile militarized zone on national park and range lands as a staging ground for further operations to challenge the legitimacy of public ownership," he said.
The federal withdrawal from the Gold Butte area began on April 12, 2014, when the Bureau of Land Management aborted its roundup of so-called "trepass cattle" Bundy has left to roam on public land for decades in defiance of grazing laws and court orders.
At least some federal workers and contractors were quietly sent back to work in the area in the months after the 2014 standoff, but in June of 2015 the BLM directed all staff and contract employees to stay away from Gold Butte after a survey crew was chased from their campsite by gunfire in the middle of the night.
By all appearances, that directive remains in effect.
Bureau spokesman Rudy Evenson said there have been "no changes to BLM procedures in Southern Nevada" since the June incident.
Asked whether anyone from the BLM is patrolling the federal land south of the Bundy family's ranch, Evenson said the agency doesn't comment on "the specifics of our law enforcement patrols and operations."
Ruch said he hasn't seen the "paper trail" to prove it, but it sounds to him like Gold Butte has been declared off limits to all federal employees. "It's our understanding that no one is going out there," he said.
Jaina Moan is executive director of the Friends of Gold Butte, a local nonprofit group whose members monitor the area and advocate on its behalf.
She said her group has seen only "a limited response from the federal government out there" since the 2014 standoff, but she certainly doesn't blame the BLM for that.
"It's kind of unsafe for federal employees to go out there right now," Moan said. "At this point, they're sort of seen as targets."
But while the government stays away, the area is accumulating damage that highlights the need for permanent federal protection, she said.
In August, her group released an inventory of recent impacts caused not just by rogue livestock but also by unsupervised visitors with guns and off-road vehicles. Photos in the report show petroglyphs and interpretive signs scarred by bullets and graffiti, marked patches of endangered plants crisscrossed with tire tracks, and a trench dug across at least a mile of desert without federal approval.
Moan and company also photographed emaciated cattle along the main dirt road through Gold Butte.
She said the situation seems to be deteriorating. "Since we released the report, we have observed that the damage is getting increasingly worse and the need to permanently protect Gold Butte is increasingly urgent," Moan said.
The area two hours northeast of Las Vegas takes in roughly 350,000 acres of ancient rock art galleries, sweeping desert vistas and twisted fields of pastel-colored sandstone hemmed in by Lake Mead and the western reaches of the Grand Canyon. The land has been proposed as a national monument or conservation area, but Nevada's congressional delegation remains deeply split on the idea, with Democrats favoring designation and Republicans opposing it as another unwanted federal intrusion.
While now might not be the best time to tour Gold Butte in a marked BLM vehicle, Moan said the average outdoor enthusiast has nothing to worry about beyond the usual hazards that come with a trip into a remote patch of desert.
"I feel like it's a safe place to go for me and you and the public," she said. "In our experience, it's completely safe out there."
There is even some limited government presence in the area these days. Moan said crews from Clark County still venture out there when needed to maintain the roads.
As for the BLM, she said staff members from the agency continue to coordinate with groups such as hers to make sure Gold Butte is being looked after as much as possible.
"I think they have a difficult job to do out there, and I think they're trying to do the best they can," Moan said of the BLM and its employees. "We just want to provide them with as much support as we can."
Contact Henry Brean at hbrean@reviewjournal.com or 702-383-0350. Follow him: @RefriedBrean