Coroner IDs 1 of 2 people killed Friday in crash near Searchlight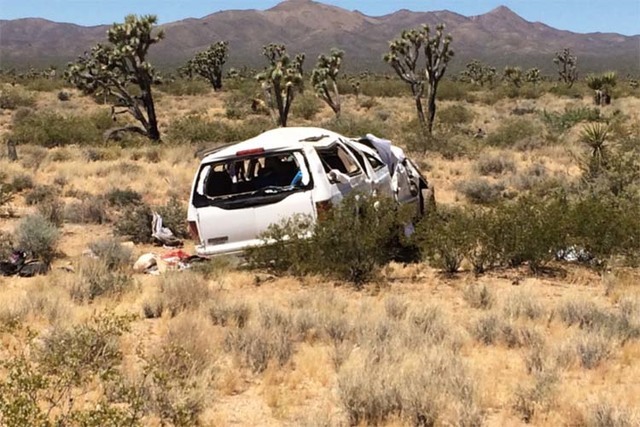 One of the two people killed Friday morning in a crash on state Route 164 near Searchlight has been identified by the Clark County coroner.
Robert Smith, 43, of El Monte, California, died in the single-vehicle crash, according to the Nevada Highway Patrol.
NHP investigators suspect that the minivan, which was occupied by four adults and four children, had tire failure.
The second person to die in the crash has not been identified. The other two adults were airlifted to University Medical Center in critical condition.
Four children also were taken to the medical center. Two had minor injuries, and two had injuries that were not considered life-threatening.
The Nevada Department of Motor Vehicles advises drivers to hold the steering wheel firmly and stay off the brakes in the event of tire failure.
"It's natural to want to brake in an emergency. However, braking when a tire has failed could cause loss of control. Unless you're about to run into something, stay off the brake until the vehicle has slowed down. Then brake very gently, pull off the road, and stop," the DMV driver's license manual says.
Contact Lawren Linehan atllinehan@reviewjournal.com or at 702-383-0381. Find @lawrenlinehan on Twitter.
RELATED
2 killed, 6 injured in accident near Searchlight