COVID-19 vaccination effort gets rolling in Las Vegas
Updated December 14, 2020 - 7:45 pm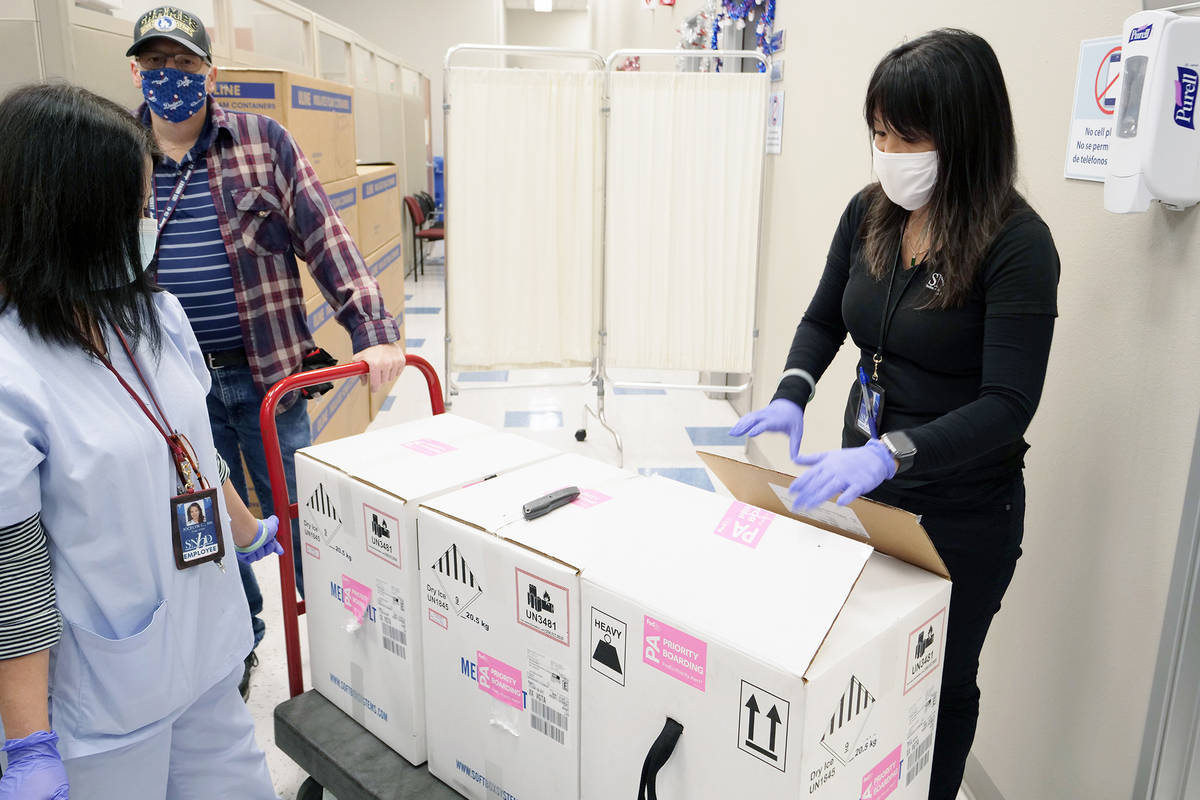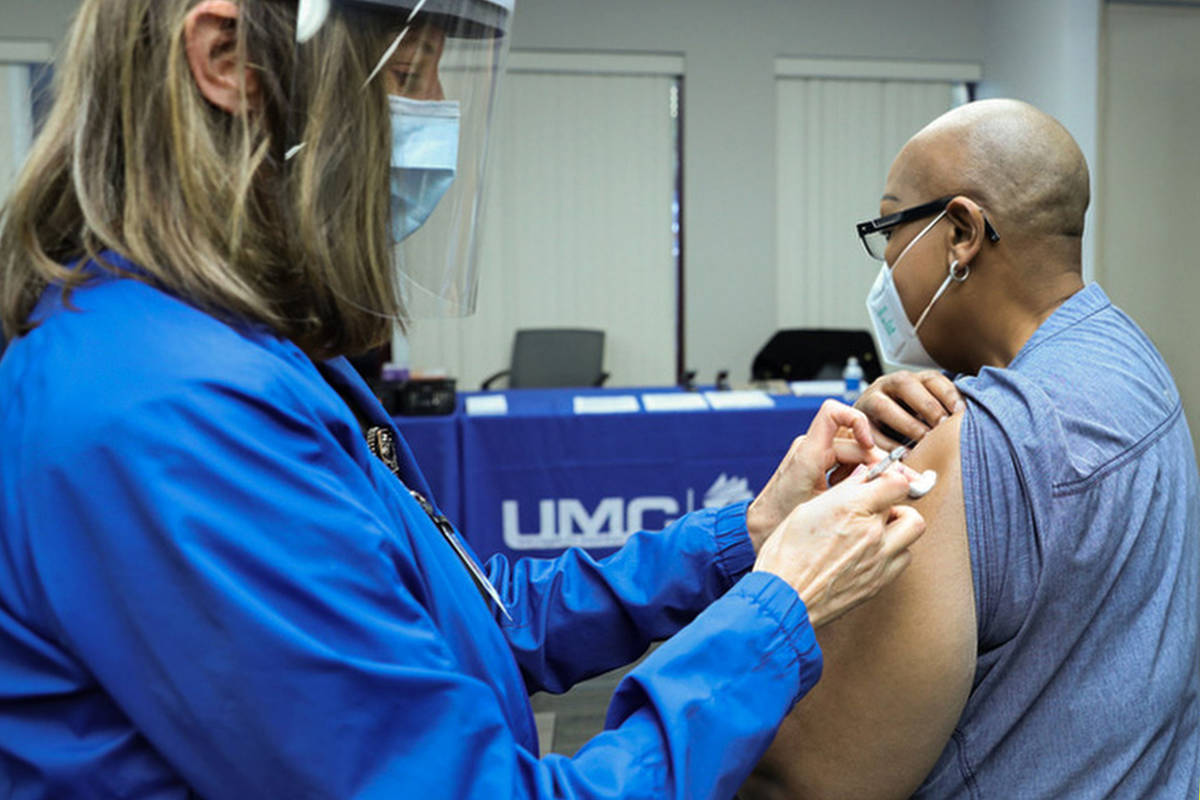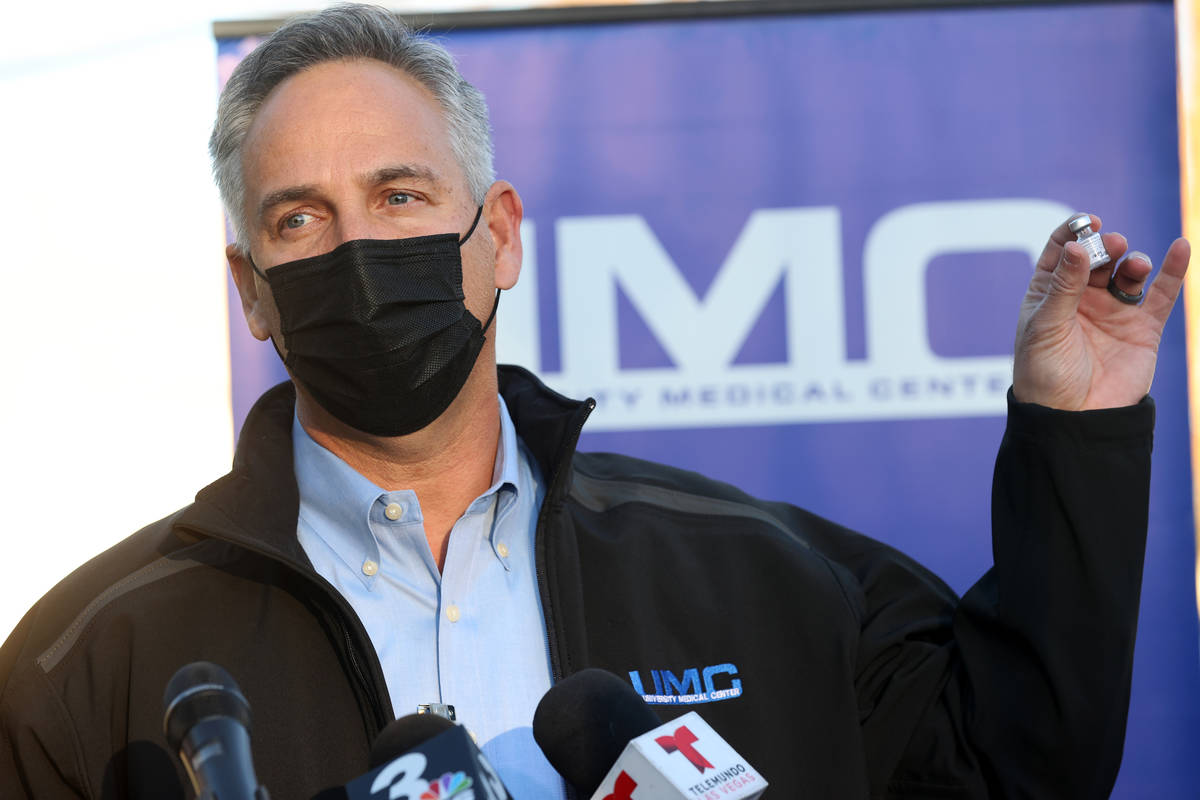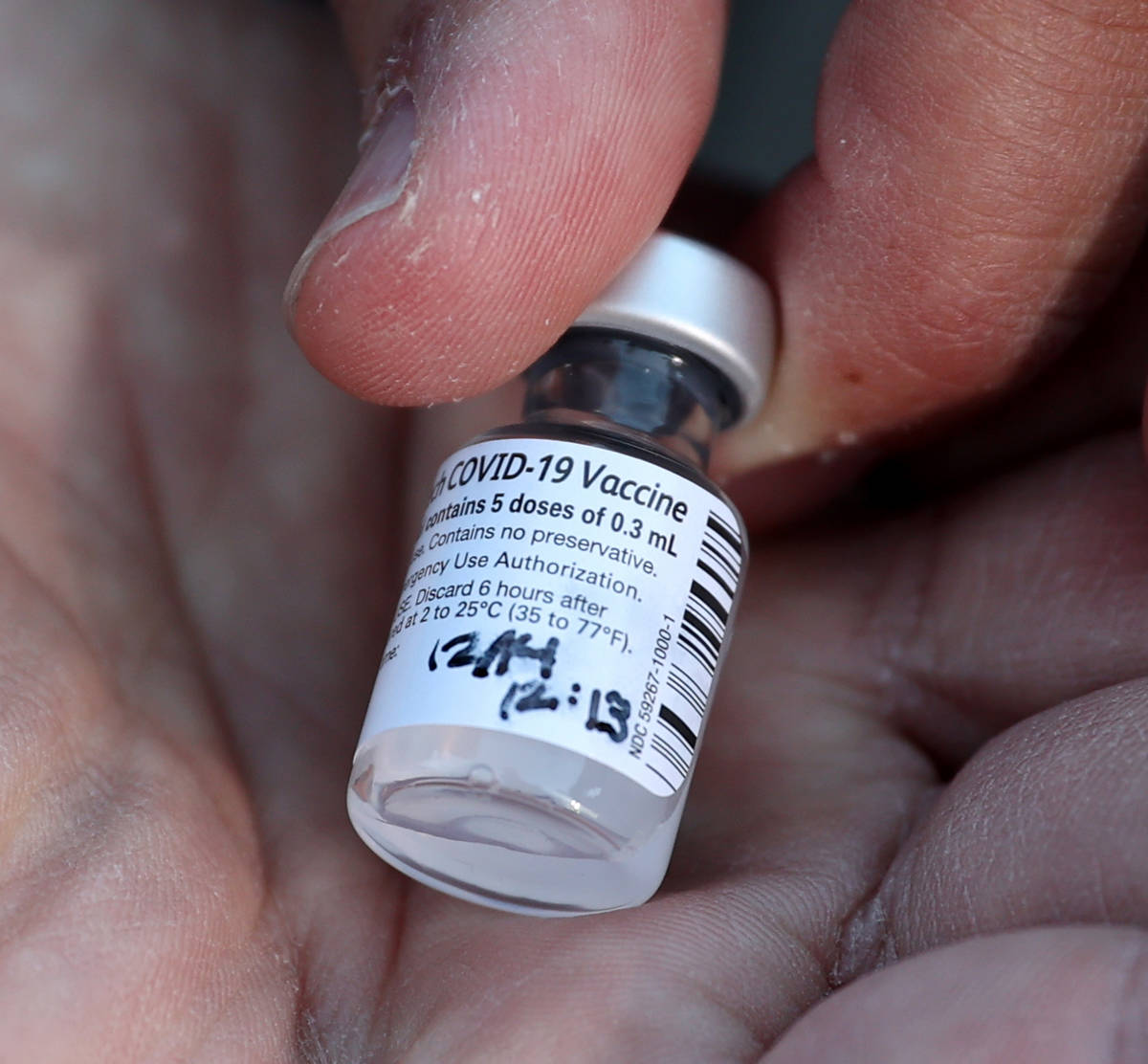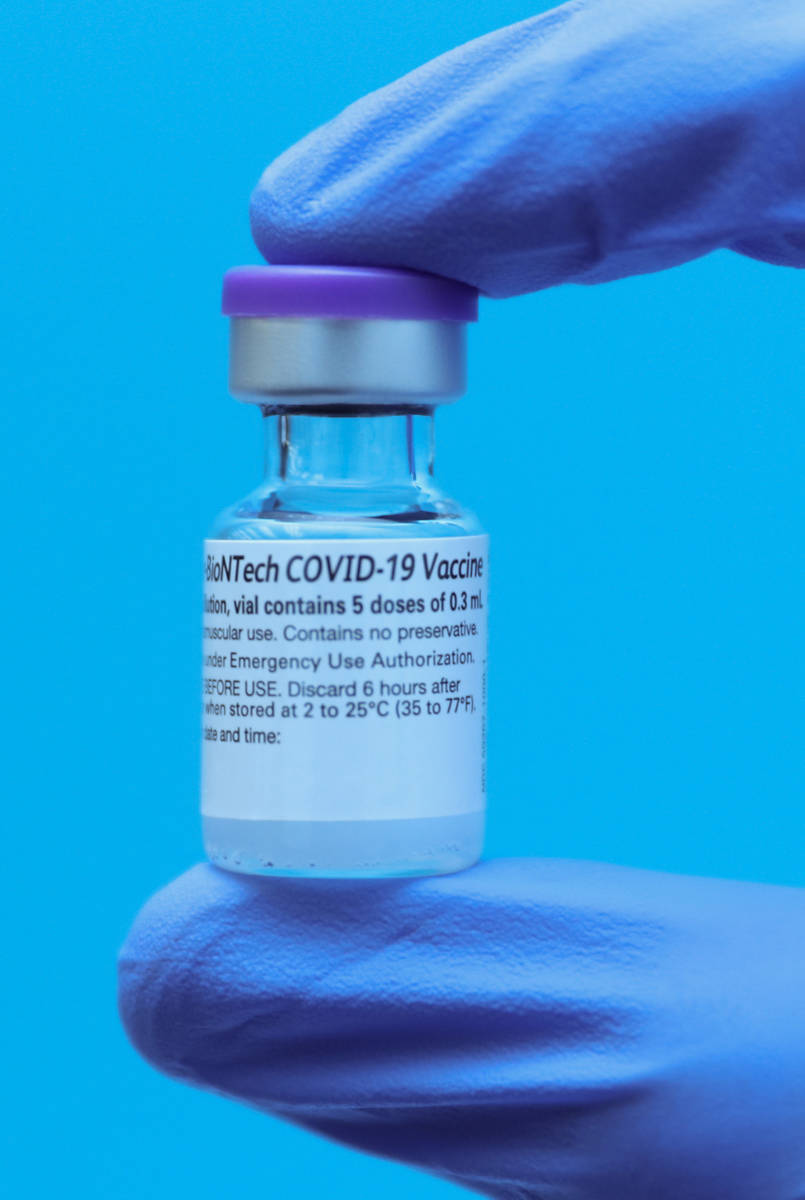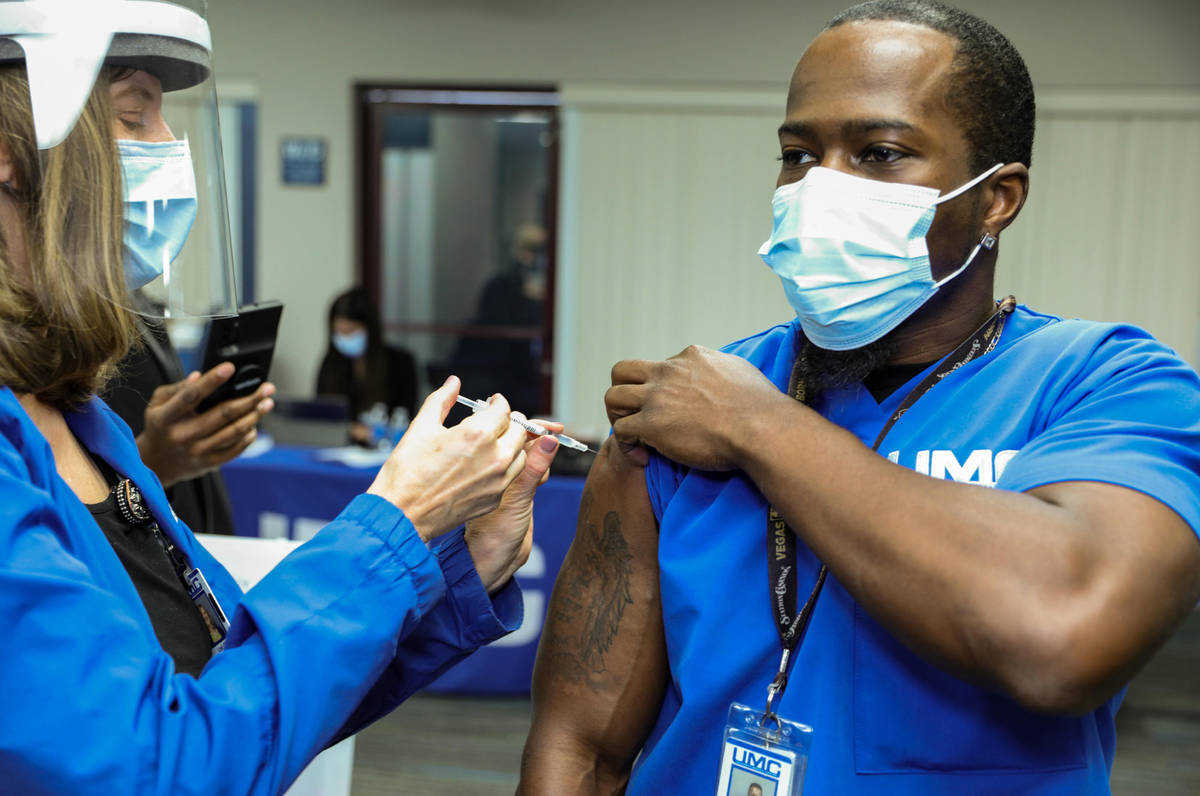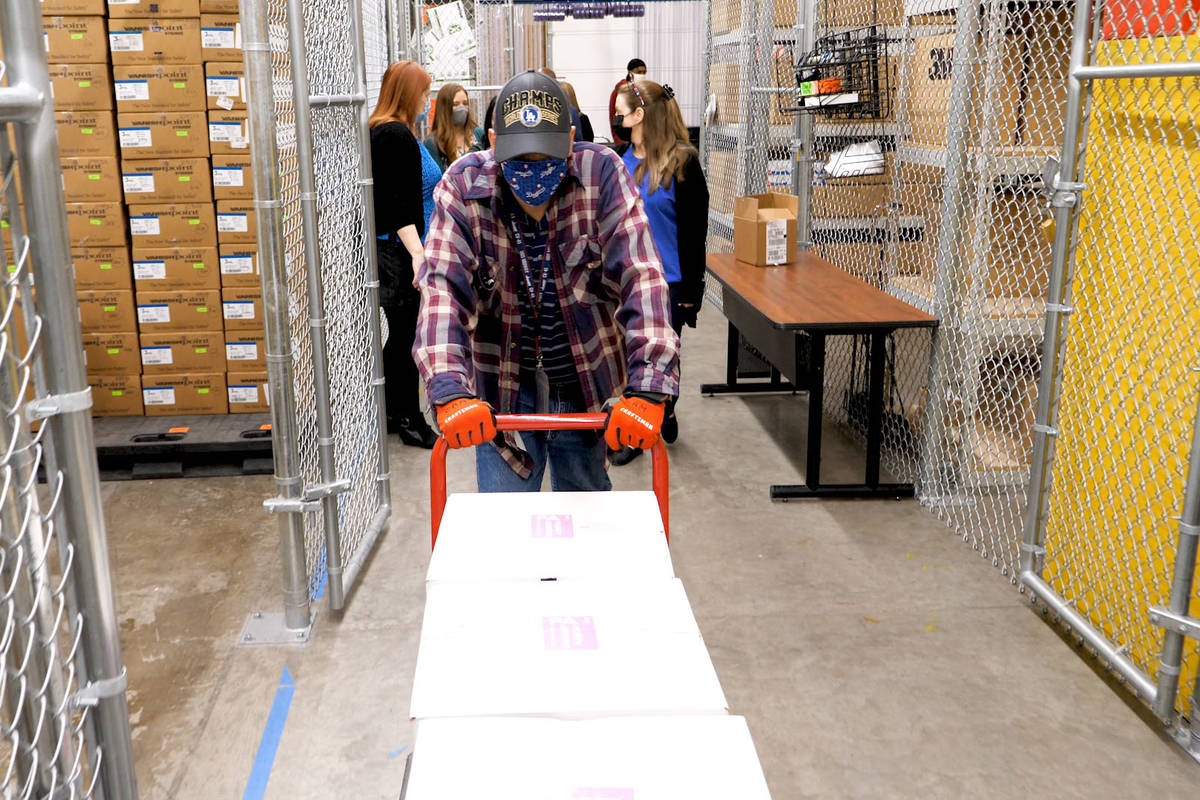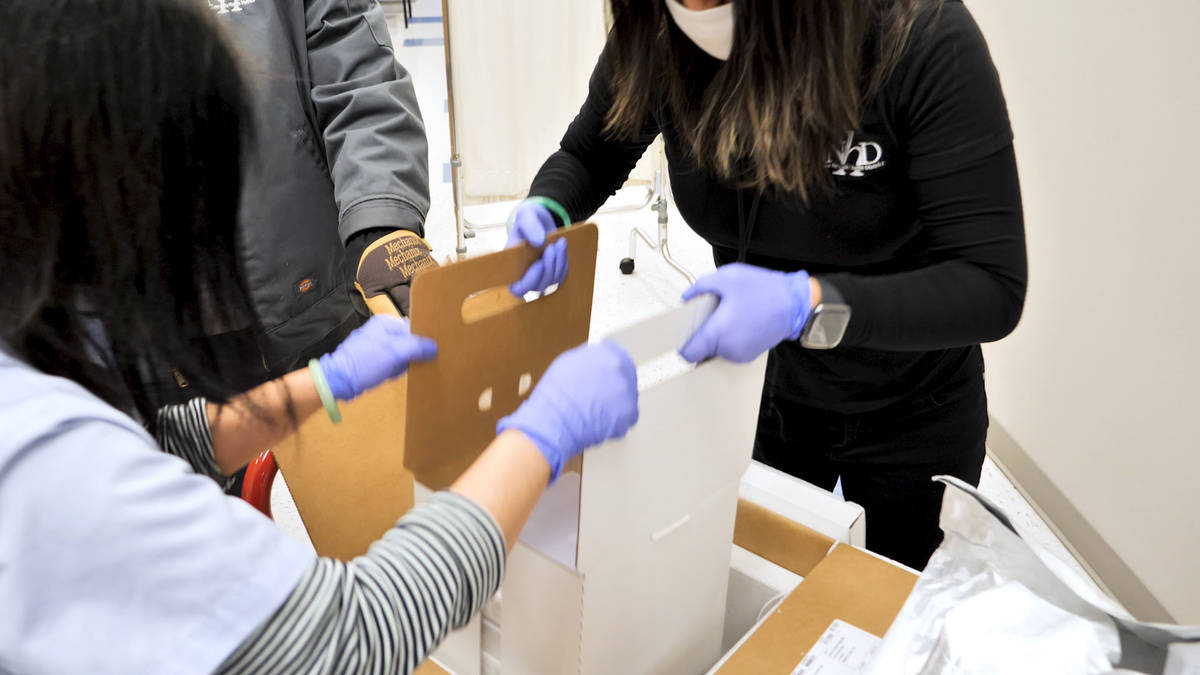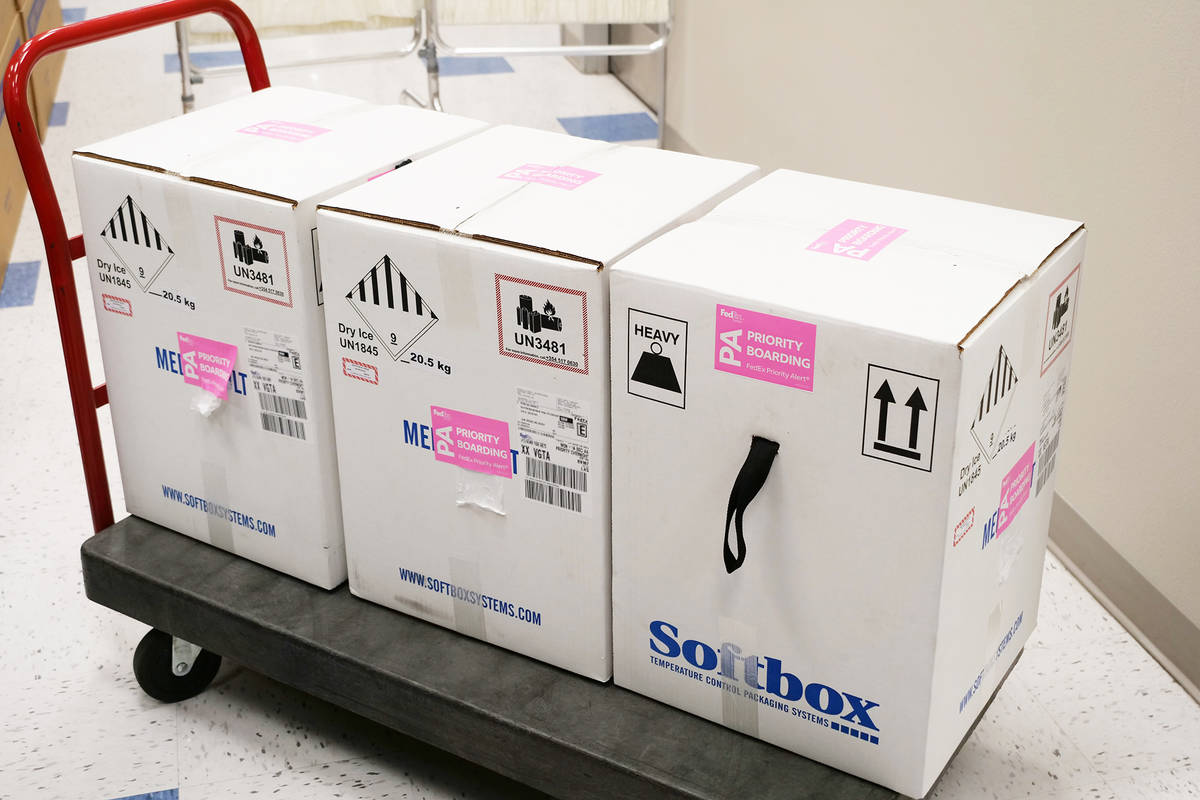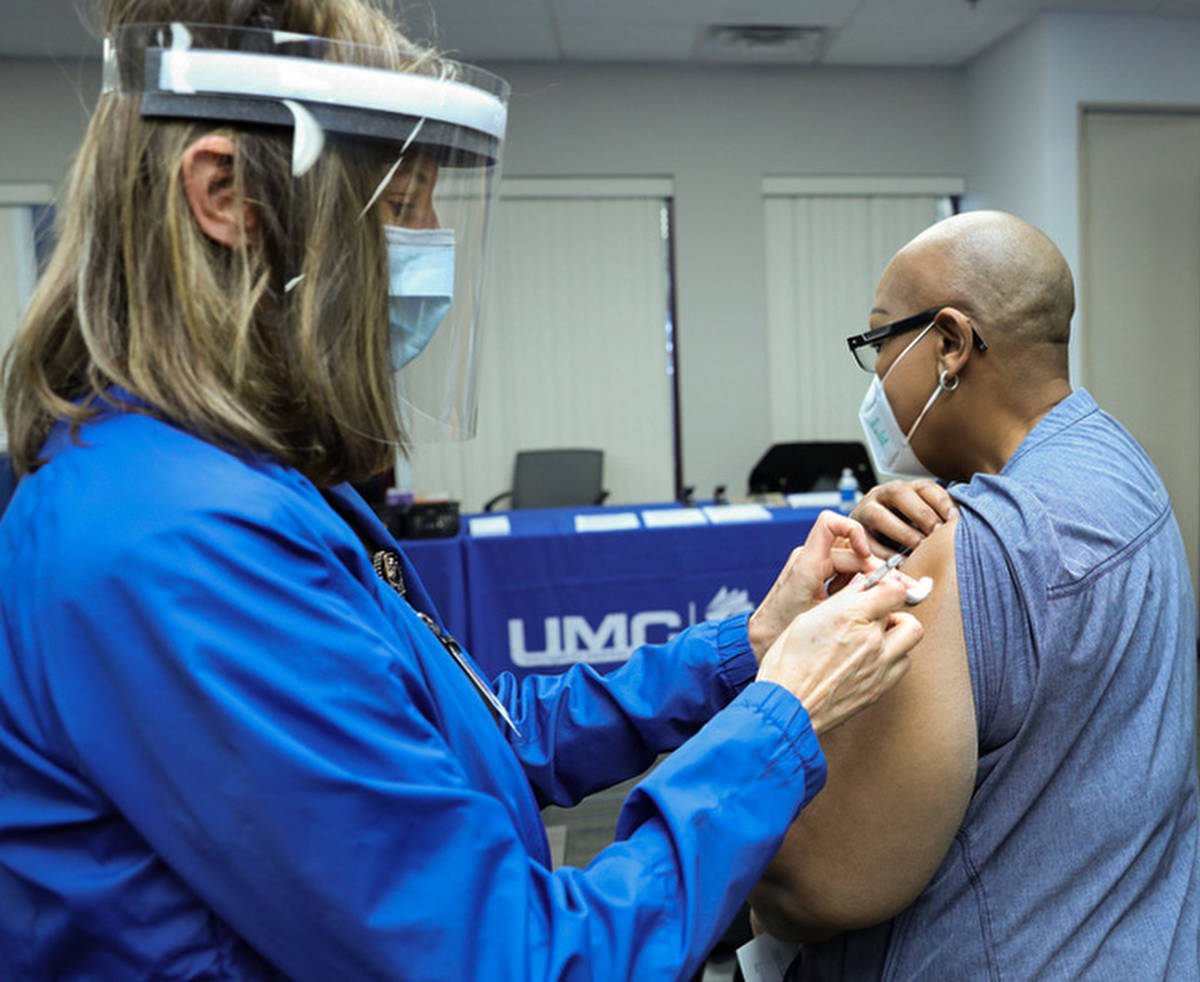 An intensive care unit nurse at University Medical Center was the first person in Nevada to be inoculated against COVID-19 after the state received its initial shipment of the Pfizer vaccine Monday morning, a hospital administrator said.
The nurse, who has treated "many, many COVID patients," returned to work right after receiving a shot of the vaccine, hospital CEO Mason Van Houweling said at an afternoon news conference. The hospital later identified the nurse as 61-year-old clinical manager Roshele Ward.
"This is just a boost in the arm for morale," Van Houweling said, noting that there had been high-fives and tears of joy as about 200 front-line workers at high risk for exposure to COVID-19 got their first shot of the two-dose vaccine.
Gov. Steve Sisolak was among the officials on hand to witness the historic delivery of vaccine to the hospital.
"I am so glad to see the first doses of the @pfizer vaccine arrived in Nevada today," the governor posted on Twitter. "Our team is ready to begin the distribution process. Hope is on the horizon, but we must remain vigilant. Wear your mask, wash your hands &keep your distance."
I am so glad to see the first doses of the @pfizer vaccine arrived in Nevada today. Our team is ready to begin the distribution process. Hope is on the horizon, but we must remain vigilant. Wear your mask, wash your hands & keep your distance. pic.twitter.com/sZiXwYnzfY

— Governor Sisolak (@GovSisolak) December 14, 2020
The first vaccine in the state was delivered to the Southern Nevada Health District, Candice McDaniel, who leads the state's vaccination effort, said during a noon briefing.
The health district, which did not receive advance notice of exactly when the vaccine would arrive, received 12,675 doses about 8 a.m., a spokeswoman said.
The district provided the first doses to the Las Vegas hospital, which was "ready to go" in terms of administering the vaccine to hospital workers, JoAnn Rupiper, the health district's director of clinical services, said during a later online news conference.
Nevada expects to receive more than 23,000 doses of vaccine in shipments throughout the week, and they will first be provided to front-line staffers at acute-care hospitals. About 7,800 doses will be given to CVS and Walgreens pharmacy personnel, who will administer shots to staff members and residents at long-term care facilities, who are next in line for the vaccine.
As more vaccine is received, it will be offered to groups based on a tiered system that gives high priority to those who are at greatest risk of direct exposure to COVID-19 and are part of the state's essential infrastructure.
"It is important that we get our health care personnel vaccinated first so they can continue to provide the essential services and support our community has relied on to get us through this pandemic," Dr. Fermin Leguen, acting chief health officer for the health district, said in a release. "We will be receiving regular supplies of COVID-19 vaccine and will let each of the identified groups know when they are able to get vaccinated. Our ultimate goal is to ensure everyone is protected."
Public health officials have said that the vaccine is expected to be available to the general public by spring or early summer. The vaccine will be dispensed in various ways, including at mass testing events similar to those held for public COVID-19 testing in Clark County, said Jeff Quinn, manager of the health district's office of public health preparedness.
However, Van Houweling said he now believes vaccine could be widely available as soon as late January but no later than March.
Asked to explain his prediction, he said, "The shipments are coming quick." The hospital received 1,850 doses of vaccine in its shipment Monday and expects to receive more this week.
The state will receive several shipments this week and expects to receive 91,650 doses of the Pfizer vaccine by the end of December. Emergency-use authorization of a Moderna Inc. vaccine by the Food and Drug Administration is expected this week, which would result in additional doses coming to the state.
However, state officials said that in the near term they do not expect to see an immediate effect from the vaccine on the number of cases, hospitalizations and deaths.
Doses of the vaccine initially remain limited. Both the Pfizer and Moderna vaccines require two doses, administered three to four weeks apart, to be fully effective.
"Nevadans need to really not consider the vaccine the silver bullet today," said Julia Peek, deputy administrator for the state Department of Health and Human Services. "We need to look at the vaccine as the silver bullet many months from now."
She urged Nevadans to adhere to current mitigation measures aimed at stopping the spread of disease.
Contact Mary Hynes at mhynes@reviewjournal.com or 702-383-0336. Follow @MaryHynes1 on Twitter.