Cyclists memorialize rider with '3 Feet for Pete' ride
September 6, 2014 - 2:43 pm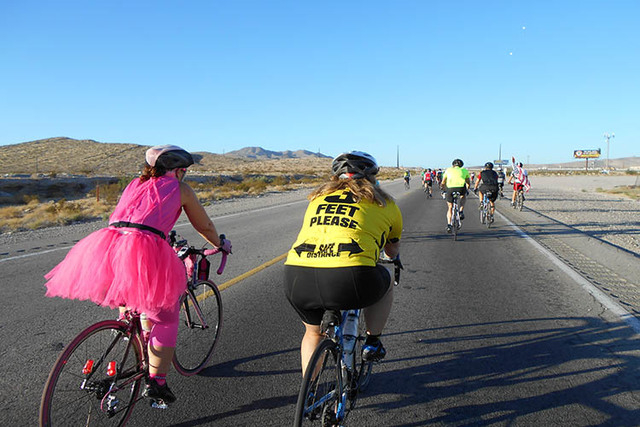 Cyclist Pete Makowski is not forgotten.
More than 440 bicyclists pedaled 25 miles south of Las Vegas Saturday morning to remember Makowski, who was 33 when he was killed by a gravel truck while he was on a training ride in Sloan in June 2013.
A ghost bike — a white-painted memorial bicycle mounted in the ground — stands sentinel at mile 17 on Las Vegas Boulevard in Sloan, just a few miles south of Camping World, the ride's staging area.
The second "3 Feet for Pete" memorial bicycle ride was held to remind drivers of motorized vehicles to watch for bicyclists and pass cyclists by a minimum distance of 3 feet.
"Our concern is that the law is not publicized. We wanted to hold an event to memorialize Pete, but also publicize the law and get them thinking about bike safety," said Tony Gebbia, a Makowski friend and fellow Allegiant Air cycling team member.
T-shirts were given to the participating bicyclists, with the law's language on the back.
Makowski, a bicycle racer, was a private aircraft mechanic and a member of the Allegiant Air cycling team. The cycling team members put on the 3 Feet for Pete ride.
Most of the bike ride was closed to motorized traffic.
Contact Alan Snel at asnel@reviewjournal.com or 702-387-5273. Find him on Twitter: @BicycleManSnel.