Danny Tarkanian drops out of Nevada regents race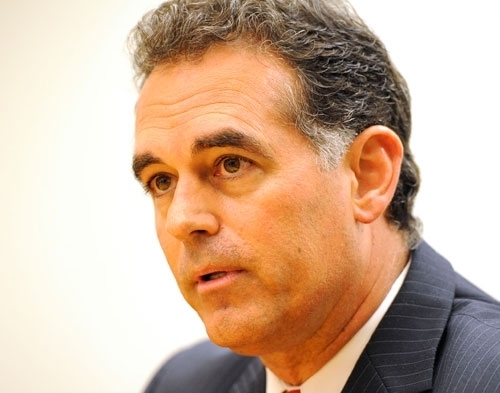 Danny Tarkanian said Tuesday he has dropped out of the race for Board of Regents because he doesn't want to run against a family friend.
Tarkanian had waited until the last day of candidate filing, March 14, to put his name in to run for the University Board of Regents in District 2 for a six-year term. The other candidates are the incumbent, Robert Blakely, and attorney Trevor Hayes, a former Las Vegas Review-Journal reporter.
Tarkanian said when he got home his wife, Amy, noted she was friends with Hayes and Tarkanian also realized that Hayes' wife, Erin Russell Hayes, was one of his supporters when he ran for Congress in 2012, but lost to U.S. Rep. Steven Horsford, D-Nev. He said he knew Erin by her maiden name.
"I didn't know who the other people were" running for the Board of Regent seat when he filed, Tarkanian said. "I felt bad that I was in a race with some people I knew. … Hopefully, there will be a place for me in the future for a public race."
Tarkanian also said he met with Hayes and felt comfortable he would be a good candidate for the job, so he decided to drop out.
"It just wasn't the right time for me and it was the right time for him," Tarkanian said of running for the nonpartisan office.
Tarkanian's father is former University of Nevada, Las Vegas basketball coach Jerry Tarkanian, whose delicate health was another factor in his decision, he said.
In the past, Tarkanian, a Republican, has lost races for the U.S. Senate, secretary of state and state Senate as well as Congress.
In two state Assembly races, two Democrats dropped their campaigns as well, saving the appointed incumbents from facing a primary.
— In Assembly District 17, Democrat Brandon Casutt withdrew. The Democratic incumbent, Tyrone Thompson, was appointed in 2013 to finish the two-year term of former Assemblyman Steven Brooks, who was ejected by his colleagues after he allegedly threatened Speaker Marilyn Kirkpatrick, D-North Las Vegas, and got into other legal troubles. In the general election, Thompson will face Republican Patrick Mendez and Patricia Little of the Independent American Party.
— In Assembly District 29, Democrat Daniel Mathis withdrew. The Democratic incumbent, Lesley Cohen, was appointed at the end of 2012 to complete the two-year term of April Mastroluca, who abruptly resigned for family reasons. In the general election, Cohen will face the winner of the GOP primary between Amy Groves and Stephen Silberkraus.
— Fernando Lopes, one of nine Democrats in the primary for governor, also pulled his name from the ballot.
Tuesday at 5 p.m. was the deadline for non-judicial candidates to withdraw from any race so that their name doesn't appear on the June 10 primary or Nov. 4 general election ballots. If candidates withdraw after the deadline, their names will still appear on ballots.
Contact reporter Laura Myers at lmyers@reviewjournal.com or 702-387-2919. Follow her on Twitter @lmyerslvrj.