Democratic caucus wants Assembly back, endorses Cohen
February 29, 2016 - 12:46 am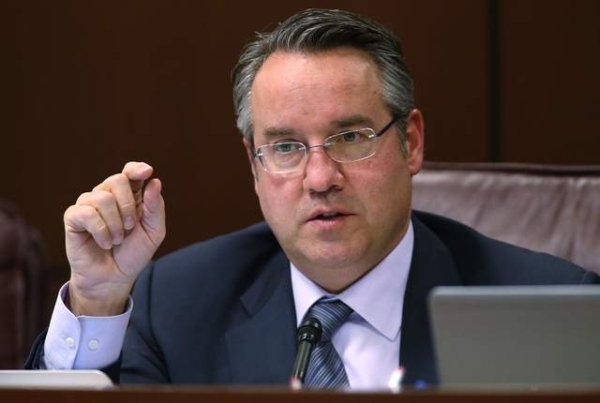 The Nevada Assembly Democratic Caucus has endorsed Henderson attorney and former Assemblywoman Lesley Cohen as the party seeks to regain control of the chamber after a historic upheaval in the 2014 general election.
Assembly District 29 has a 2 percent Democratic registration advantage and is a top target for Democrats in their effort to regain the majority this year.
Cohen lost the seat in 2014 to Republican Stephen Silberkraus as part of the "Red Surge," marked by greater GOP enthusiasm and Democratic disaffection that some blamed on President Barack Obama. She was one of six Assembly Democratic incumbents to lose in 2014, which contributed to the Republican control of the chamber for the first time since 1985.
Silberkraus is running for re-election.
"I think the choice in this race is clear," Assembly Democratic Caucus Chairwoman Irene Bustamante Adams said. "Lesley Cohen stepped in very quickly in 2013 and proved she knows how to get things done in Carson City. That's the type of voice Nevadans need. When it comes to being an effective representative for Henderson, her opponent just doesn't share our Nevada values. In fact, his failed record of voting to protect predatory mortgage lenders and allow guns on school campuses is just too far out of the mainstream."
Cohen said: "As a legislator I worked to better protect homeowners and connect constituents to needed services in the community. I am listening closely to voters in AD29 to understand how our state government can be more effective and help families in Henderson."
Cohen has lived in the Henderson area since childhood. She is a University of Nevada, Reno graduate, a family law attorney and an active member of the Henderson community. As an attorney, she volunteers to provide free legal services to indigent clients through the Legal Aid Center of Southern Nevada. She works closely with a local greyhound rescue organization to help place retired racing greyhounds in permanent homes.
— Sean Whaley
Tax reform recognition
Two Nevada legislators are being recognized by a national group for their work to reform the state's live entertainment tax.
State Sen. Mark Lipparelli, R-Las Vegas, and former Assemblywoman Marilyn Kirkpatrick, D-North Las Vegas, received the Outstanding Achievement in State Tax Reform award this month from the Tax Foundation.
The group also honored Carole Vilardo, longtime president of the Nevada Taxpayers Association, for her decades of work advocating for sound tax policy. Vilardo is retiring this spring.
They were among 10 people around the country to receive the foundation's award this year.
Kirkpatrick, now a Clark County commissioner, tried for years to restructure and simplify the state's live entertainment tax, which was riddled with loopholes and confusing regulations on when it should apply.
She and Lipparelli, a former chairman of the Nevada Gaming Control Board, sponsored a bill during the 2015 session to rewrite the tax law and eliminate exemptions.
The law imposes a 9 percent tax to live performances for which an admission charge is required. It also applies to outdoor festivals and concerts that previously were exempt and to escort services.
— Sandra Chereb
— Contact Sandra Chereb at schereb@reviewjournal.com or 775-461-3821. Find her on Twitter: @SandraChereb. Contact Sean Whaley at swhaley@reviewjournal.com or 775-461-3820. Find him on Twitter: @seanw801