Fewer bald eagles at Lake Mead, but wildlife officials aren't worried
January 13, 2017 - 4:30 pm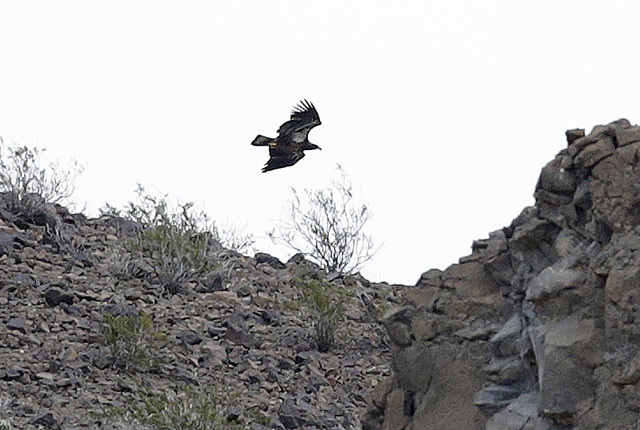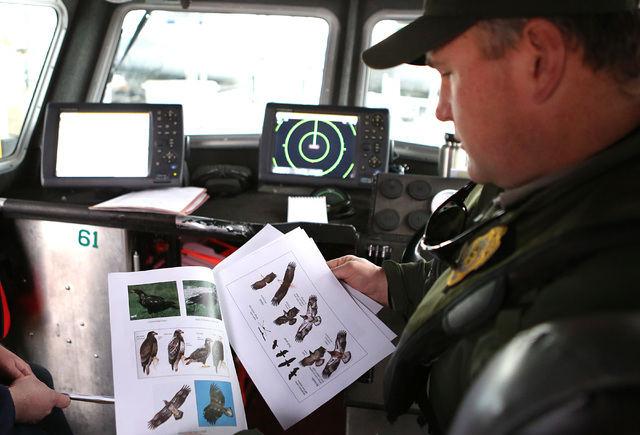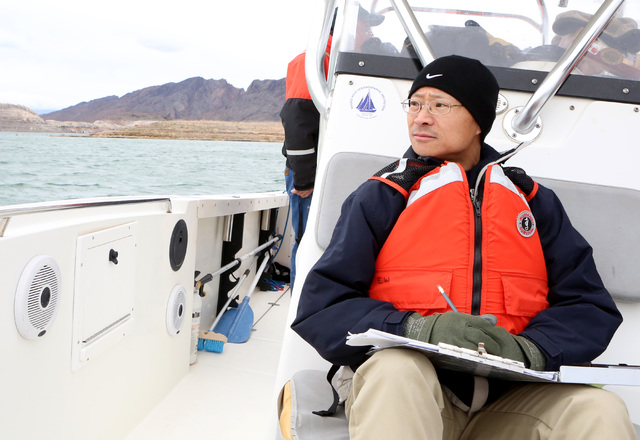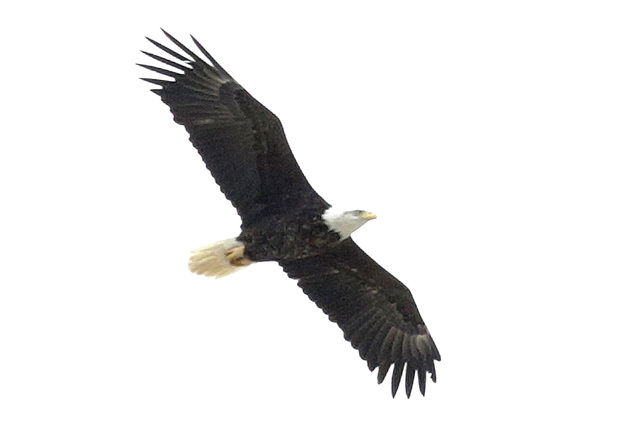 It was too windy for water skiing at Lake Mead on Thursday, but some feathered winter visitors didn't seem to mind the chilly weather.
Several dozen bald eagles were spotted around the national recreation area, as biologists and volunteers fanned out in boats for their annual survey of the national bird.
This year they counted a total of 76 bald eagles — 51 juvenile birds and 25 adults.
That's down significantly from the 113 bald eagles seen last year and the record 178 observed in 2011, but biologists aren't worried.
For one thing, this year's count was incomplete.
The eagle survey is usually conducted using eight boats to cover every corner of Lakes Mead and Mohave. Only seven boats were used on Thursday due to logistical problems that cropped up after the count originally set for Tuesday was canceled because of the weather.
That left no one to look for eagles at the eastern end of Lake Mead, from Temple Bar Marina in Arizona to the reservoir's confluence with the Colorado River.
"Unfortunately, that is usually one of our better routes," said Julia Mueller, a National Park Service fisheries biologist who coordinates the eagle survey.
'CLOSE TO WHAT I EXPECTED'
Mueller said the eastern end of the lake typically produces about 20 eagle sightings on count day, so this year's tally is roughly in line with the numbers biologists have being seeing over the past few years.
"I feel like it's pretty close to what I expected," she said.
Bald eagles migrate to Lake Mead National Recreation Area from as far away as the Pacific Northwest in search of fishing grounds free of ice. They generally arrive in November and head north again in March, though at least two of the distinctive black-and-white birds appear to have taken up permanent residence here.
For several years running, a mated pair has been spotted in Black Canyon, downstream from Hoover Dam, where the two have successfully fledged the first bald eagle chicks ever recorded in the recreation area.
Mueller said she saw an adult eagle sitting on the pair's nest during Thursday's count.
The eagle survey is part of a national effort, launched in 1979, to track the population and distribution of a species that was close to extinction in the lower 48 states when it was listed as endangered in 1967.
Thanks to habitat protection and a ban on the pesticide DDT, the population rebounded from fewer than 500 nesting pairs in the lower 48 states to 20,000 birds by 2007, when the species was dropped from the federal list of threatened and endangered animals.
"This is a great success story for the Endangered Species Act," said wildlife biologist Ross Haley, who has been counting eagles at the recreation area east of Las Vegas for 20 years.
OTHER BIRDS, CRITTERS TALLIED TOO
Haley generally heads up the busiest survey route along the Overton Arm at the northern tip of Lake Mead. Within the first two hours of Thursday's count, he and his crew had already spotted 10 bald eagles and 10 other raptors, including peregrine falcons and various hawks. They also saw a group of eight wild burros lounging on the shore and a curious coyote that trotted down a hill to get a closer look at the boat.
Birds of prey are the focus of the annual count, but the survey crews also make note of any ravens, burros or cattle that they see.
A total of 29 researchers and volunteers took part in Thursday's operation, which included staffers from the Park Service, U.S. Bureau of Reclamation and the Nevada Department of Wildlife.
Even though bald eagles are no longer endangered, Haley said it's important to keep counting them as a measure of the overall health of the environment.
"They're an indicator species," he said. "If you've got a healthy eagle population, that's an indication that water quality is good and you've got healthy fisheries."
Just don't expect to see one up close, especially on the open waters of Lake Mead. The large birds, which can grow to 3 feet tall with wing spans of more than 7 feet, tend to fly off as the survey boats approach them.
"It's amazing how shy they are," Haley said. "For a species that's been protected for a long time — completely protected even before the Endangered Species Act — most of them are pretty skittish."
Contact Henry Brean at hbrean@reviewjournal.com or 702-383-0350. Follow @RefriedBrean on Twitter.
By the numbers
For the annual eagle count at Lake Mead National Recreation Area Thursday, 29 people in seven boats fanned out across Lake Mead and Lake Mohave, where they spotted:
76 bald eagles
2 golden eagles
2 unidentified eagles
14 peregrine falcon​s
20 redtail hawks
11 northern harriers
1 osprey
• 3 unidentified raptors