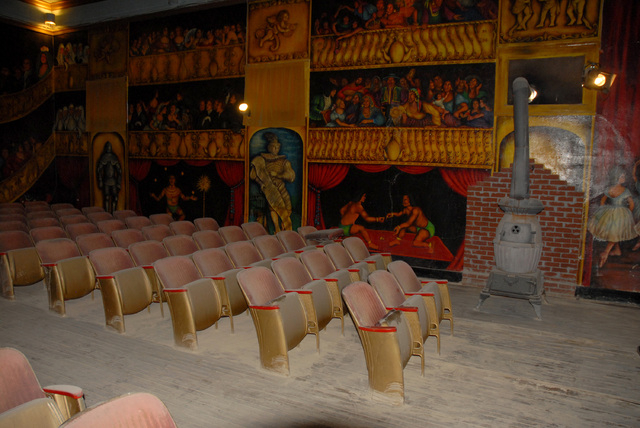 The historic Amargosa Opera House suffered serious flood damage after heavy rain struck the tiny town of Death Valley Junction, Calif., last week.
The town, which lies just east of Death Valley National Park and about 93 miles west of Las Vegas, was hit by flooding on Aug. 4.
"It was like a river, and it just engulfed the whole town," hotel and opera house manager Rhonda Shade said. "I just can't believe that the small pathway that it took and it was able to engulf the whole town."
The water burst into the opera house before she realized what was happening.
"It was really sad," she said. "I just looked towards the north and noticed some foamy water circling the end house."
Shade trudged through the mud and water trying to block it from getting into the opera house, but it was too late. The shin-high water had burst through the back door and ripped through the theater, warping the original wood floors of the 91-year-old opera house, she said.
Shade hopes that local and state representatives in California will understand the significance of the town, which has been listed on the National Register of Historic Places since 1981, and lend help restore its restoration.
Only the office of U.S. Sen. Dianne Feinstein, D-Calif., has responded to her letters and calls, and Shade said a representative from Feinstein's office might visit the town soon.
There is no estimate yet for how much it will cost to restore the floors.
The opera house was made famous in recent times by dancer and actress Marta Becket, who performed there for more than four decades. Her final show was in 2012. She turned 90 on Saturday.
The Pahrump Valley Times contributed to this report. Contact Colton Lochhead at clochhead@reviewjournal.com or 702-383-4638. Find him on Twitter: @ColtonLochhead.