Goodsprings Justice of the Peace fires back at sweeping ethics charges
Updated March 23, 2017 - 9:12 pm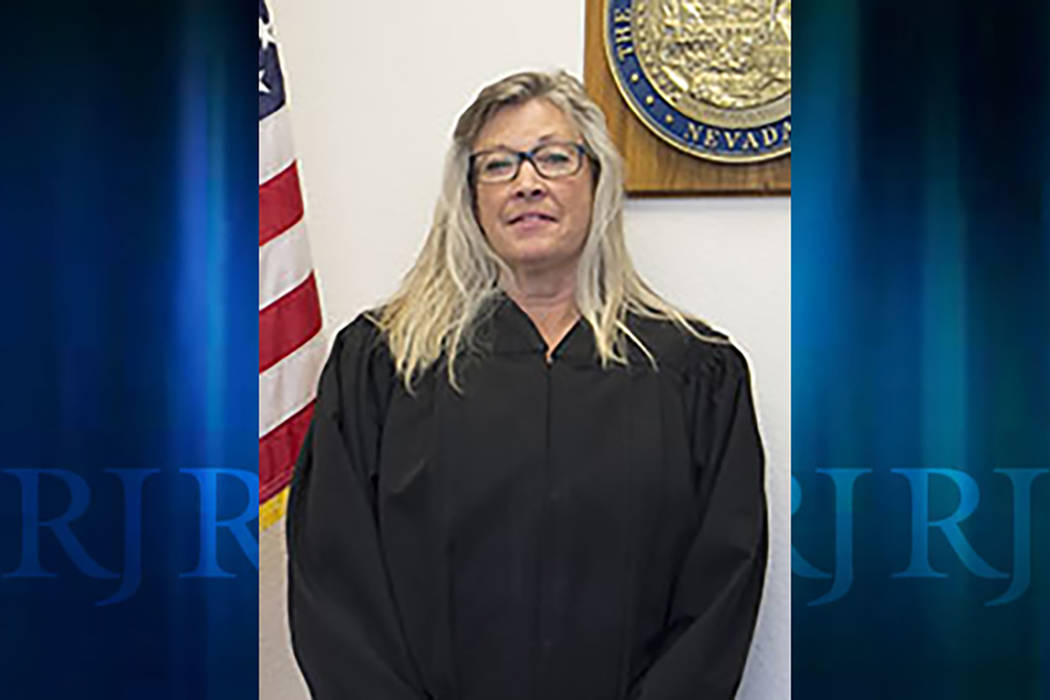 Longtime Goodsprings Justice of the Peace Dawn Haviland answered sweeping ethics charges this week with a 14-page, point-by-point response to what she contends were fabricated claims by resentful employees.
"I do not believe that I have committed any ethical violations," Haviland asserted in her Wednesday response to the formal statement of charges a state disciplinary commission filed against her earlier this month.
"I have at all times during my 20-year career attempted to administer justice fairly and within the confines of the law."
Earlier this month, the disciplinary commission hit Haviland with allegations that she acted outside the scope of her duties as a public official. The charges relied on testimony from two of the judge's employees: Court Clerk Becki Driskel and Court Bailiff Ken Smith.
Haviland lashed out at Driskel and Smith in her filing Wednesday, defending herself and ridiculing the judicial ethics board for putting weight into their complaints.
Answers filed in response to ethics charges tend to disclose few details about the specific allegations, but Haviland broke with customary practice and filed what amounted to testimony on her behalf.
JUDGE ANSWERS CHARGES
■ In a response to an accusation that she sealed her former son-in-law's criminal records, Haviland said, "Driskel handed me a stack of orders to be signed. … I do not recall specifically signing this order." The records were in a domestic case involving Haviland's daughter, and both parties agreed to the seal, said Haviland, who recused herself from the case.
■ The disciplinary commission accused Haviland of instructing her staff to conduct a criminal background investigation of the boyfriend of one of her friends, but the judge contends she simply ran a basic public records search on behalf of a woman who lost $65,000 in a previous relationship. "This was a small favor for me and my staff to do for this woman, and my advice may have saved her tens of thousands of dollars and considerable grief and heartache," she said.
■ In response to a charge about an improper sentence she later modified, Haviland said: "It is surprising to me that I am being charged with an ethics violation based on a simple mistake."
Haviland similarly defended herself against charges that she ordered her staff to conduct unauthorized searches of state license plate databases. In response to accusations that she was outside her authority in operating a juvenile diversion program in conjunction with Family Court, Haviland replied: "We now have wrap-around services for our families that we never had in the past. It is most exciting!"
COURTHOUSE INFIGHTING
Driskel and Smith both are union employees. They told investigators that Haviland exhibited anti-union bias.
"Nothing could be more ridiculous. My father was a union organizer," Haviland wrote.
Driskel told investigators that Haviland publicly embarrassed her by telling court visitors a story about a man who sexually gratified himself while peering through a window from his holding cell. The window overlooked Driskel's desk. Driskel said the story was not true. Haviland maintained it is true and said Driskel never told her it made her feel uncomfortable.
Then, the judge fired back with disparaging remarks about her accuser.
Haviland also denied her bailiff's accusations that she referred to the Nevada judiciary as an "old boys club made up of swinging d—-s and "Mos," which referred to Mormons.
Haviland, whose salary exceeds $70,000 annually, has been a justice of the peace since 1999. She does not have a law degree, which is not a requirement for justices of the peace in rural communities. The state Commission on Judicial Discipline will consider her case at a hearing. She faces possible discipline ranging from private reprimand to removal from office, or the charges could be dismissed.
Contact Jenny Wilson at jenwilson@reviewjournal.com or 702-384-8710. Follow @jennydwilson on Twitter.
RELATED
Goodsprings judge faces ethics charges
Nevada Judicial Discipline Commission suspends Goodsprings justice of the peace