Growth of Nevada's Hispanic population slows, reflecting national deceleration
September 8, 2016 - 10:50 pm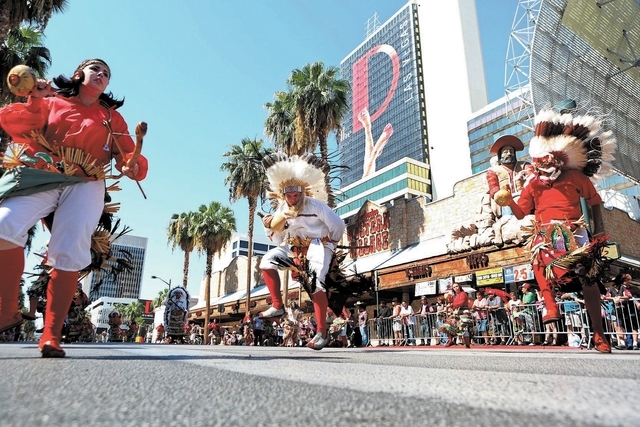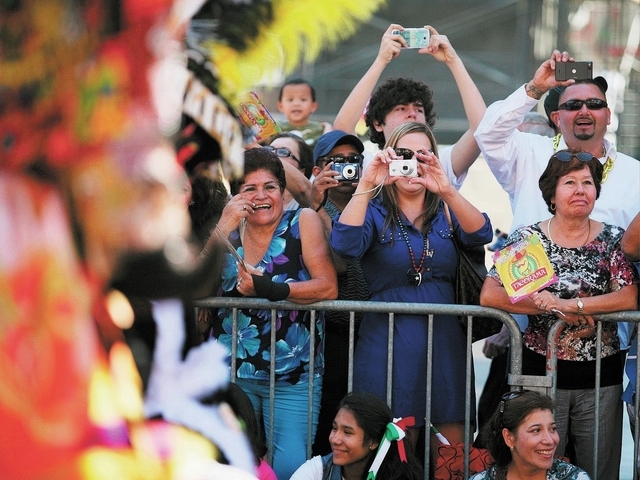 Nevada's Hispanic population is continuing to grow, but at a much slower pace than before the Great Recession, according to new state data and a national report. The trend also is reflected in Clark County, which has the 16th-largest Hispanic population among counties in the nation.
The county's current Hispanic population of 663,112 is projected to increase by just over 2 percent from 2016 to 2017, far below the 11 percent growth rate that occurred from 2000 to 2001, according to projections by the Nevada state demographer. The statewide Hispanic population is projected to grow 1.1 percent annually by next year from its current level of 829,047, down from 3.7 percent from 2000 to 2001.
The growth in Clark County will result in an increase of about 15,000 in the county's Hispanic population, which now stands slightly less than a third of the total population and makes Latinos the county's second-largest demographic. Non-Hispanic whites, which represent 46 percent, are the largest group.
That's far slower than the 264 percent increase in Clark County's Hispanic population that occurred from 1990 to 2000, when the national median for counties was 83 percent, according to a Pew Research Center tabulation of the U.S. Census Bureau and American Community Survey data released Thursday. The Pew report found that nationally the growth of the Hispanic population and dispersion to areas of the U.S. that traditionally have had few Hispanic residents have not returned to pre-recession levels.
Jeff Hardcastle, a state demographer in the Department of Taxation, said the slowdown reflects a population that has settled down.
"Much of the growth is from folks that came in the 1990s and later staying here and being part of the Nevada community," he said.
"Most of the Latinos that I know are long timers," said Mirna Mejia, an instructor at Nevada State College who is teaching an ethnic studies course this semester. She relocated from California 11 years ago. "They've been here longer than I have. They may have started out in another state, but they made the move and have set down roots."
Homeownership, having children pursue higher education, and taking part in politics, she said, are signs of success, and make it less likely to leave to look for opportunities somewhere else.
"I think that the understanding has been that these people are the ones that are staying put. They're the ones that are invested in their community that have already made Las Vegas the place to be," she said.
The majority of Hispanics in Clark County lived in the same residence the previous year, according to the American Community Survey 2014 one-year estimate. Only 2 percent, or 14,563, left for another state, and about 16,408 moved into the area from out of state. International migration to Nevada was even smaller, at 3,615. Numbers for migration out of the country were not available.
THE NATIONAL PICTURE
Across the nation, the Pew report found that between 2007 and 2014, the U.S. Hispanic population grew by an average of 2.8 percent a year, and slowed even further to 2.4 percent between 2010 and 2014 despite the U.S. economy's slow but steady recovery from the recession. This was less than half the 5.8 percent annual growth in the 1990s, it said.
As a result, the Hispanic population, once the nation's fastest growing, has now slipped behind Asians (whose population grew at an average annual rate of 3.4 percent from 2007 to 2014) in its growth rate, the report found. That's also true in Clark County, where growth of the Asian population was 5.7 percent compared with 2.8 percent for Hispanics, according to the American Community Survey.
There are pockets where growth of the Latino population is strong, including some counties in the South and in North Dakota and South Dakota, which saw close to 100 percent and even triple digit growth of their Hispanic populations from 2010 to 2014, according to Pew. In Nevada, Humboldt and Landers counties, which are sparsely populated, also experienced increases that were small in numbers but high in percentage. The top three industries for Hispanic workers in these counties are mining, quarrying oil and gas extraction, construction, accommodation and food services.
"In my opinion, this thing is driven by jobs. Hispanics are like everyone else, and they go where the jobs are," said Peter Guzman, president of the Las Vegas Latin Chamber of Commerce.
The West's Hispanic population, most of which originally immigrated from Mexico, largely appears to have stabilized.
The West also has a smaller share of foreign-born Hispanics, a statistic that the Pew report says is partly attributable to a decline in birth rates.
"As a result, fertility rates are lower and growth is slower," said Mark Hugo Lopez, director of Hispanic research at Pew Research Center.
The Hispanic birth rate per 1,000 women was 76 in Clark County in 2009, and declined to 47 per 1,000 in 2014, the same as non-Hispanic white women who also have been having fewer children, according to American Community Survey estimates.
In 2012, Nevada was estimated to have the largest percentage of undocumented Hispanics among all states. Those numbers will be updated in the upcoming weeks, according to Lopez.
Review-Journal writer Alexander S. Corey contributed to this report. Contact Review-Journal Data Editor Adelaide Chen at achen@reviewjournal.com. Find her on Twitter: @adelaide_chen