Gruesome Nevada deer carnage could be avoided
November 29, 2014 - 5:00 pm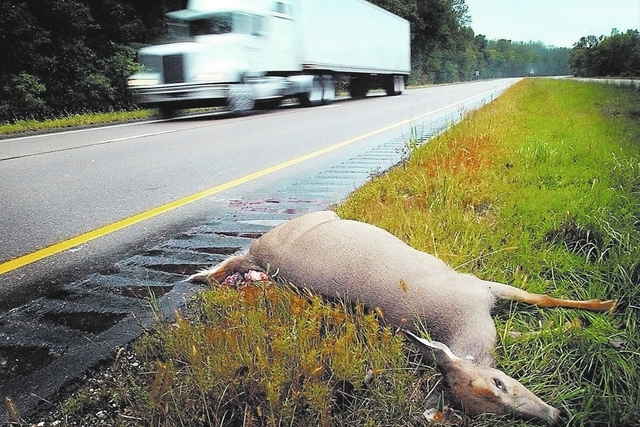 RENO — It was a gruesome sight on Interstate 80 near Reno earlier this month: A beheaded deer carcass resting near eastbound lanes.
Nevada Department of Transportation workers removed it, but a state game warden estimated it had been there several days after being struck by a vehicle. The head was later removed, likely by a trophy seeker.
The beheading was a wildlife crime, but it all could have been avoided, experts say, if the community put more effort into fencing or other measures to keep wildlife off roadways.
"What is missing is an incentive for a deer to not just cut across the highway," said Fraser Shilling, co-director of the Road Ecology Center at the University of California, Davis. "That is where fencing comes in."
According to the center, considered the only one of its kind, the science of road ecology came about because scientists wanted to understand "how ecosystem processes at the landscape scale are interrupted by roads and the vehicles on them."
Shilling said he's familiar with the stretch of I-80 between Reno and Truckee and knows it's a death zone for migrating deer. Not only is that bad news for deer, it's bad for people who can be hurt in collisions and subject to subsequent medical, car repair or insurance bills.
"(Fences) are not only effective in reducing impact to wildlife, but they are cost effective," he said. "There are all kinds of costs that come from a collision on the human side of it."
The stretch of highway near Verdi and the California border seems like it could be a good candidate for more fencing, based on wildlife activity in the area.
Nevada Department of Wildlife spokesman Chris Healy said the area is home to the Loyalton-Truckee deer herd. In the autumn, the herd migrates. And bucks, which are in rut at that time, are more focused on finding does then safely crossing the road, he said.
The highway and other development have had an impact on the herd, he said. In the 1960s and 1970s, the herd was estimated to number as many as 6,000 animals, he said. Now it's estimated at fewer than 1,000.
The Nevada Department of Transportation has spent millions of dollars in other parts of the state trying, and succeeding, to reduce vehicle collisions with wildlife, department spokeswoman Meg Ragonese said.
In recent years, the highway and wildlife departments have installed three wildlife underpasses along U.S. Highway 93 near Wells, and motion-camera studies show they've been used for 35,000 deer crossings, which means 35,000 fewer chances of a collision.
On I-80 last year, the transportation department completed an overpass near West Wendover and has already had reports of deer using the new bridge to cross the highway.
Ragonese and Healy said the Loyalton-Truckee deer population is only about one-tenth the size of herds in northeastern Nevada, where the state has invested in fences and crossings.
Ragonese said that in 2012-13, there were 21 crashes involving deer on 8 miles of I-80 between Reno and the California state line and one injury, although not all collisions are reported.
So far there are no plans to create wildlife crossings in that area, Ragonese said. That's because overpasses are expensive and using fences to direct deer to existing underpasses is complicated by land owner­ship patterns in the area.
"Our wildlife biologist looked specifically at that," she said. "Essentially you would just be directing a deer into a maze of private fences. It could even direct them back to the interstate."
Ragonese said drivers, however, can act on their own to reduce collisions.
"In wildlife-prone areas, that means actively scanning the road ahead for any signs of wildlife and slowing down if needed," she said.
One potential sign of wildlife is glowing or red eyes that become visible as vehicle headlights bounce off the eyes of animals.