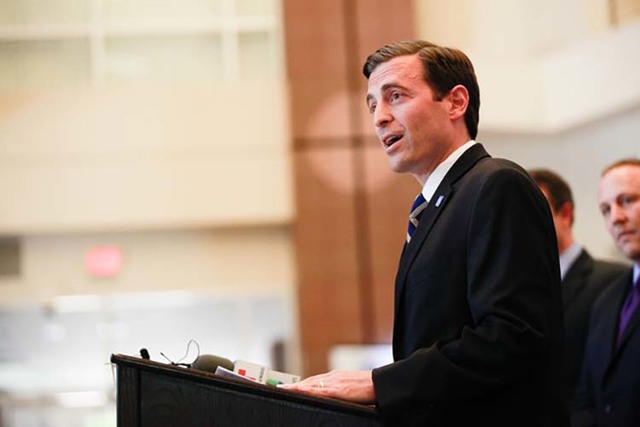 The Legal Aid Center of Southern Nevada's guardianship advocacy project may receive additional funding from the state Legislature.
The program started early in 2016 with a grant to hire a single attorney to work on guardianship issues, but it really sparked to life in July after the Interim Finance Committee approved a pitch from Nevada Attorney General Adam Laxalt's office to give the center $400,000 from a settlement fund.
Since then the advocacy project has taken on 56 civil guardianship cases in addition to dozens of cases the center already had.
"This is a great example of a bipartisan solution to a major problem in our state," Laxalt said Friday.
A Nevada Supreme Court committee on guardianship issues will ask the Legislature to further fund the legal aid center program, possibly by instituting a new $2 court fee.
Current staffing for the advocacy program — two staff attorneys, a paralegal and a legal assistant — is not enough to keep up with the current rate of case referrals, legal aid center director Barbara Buckley said. Although there is no right to an attorney for civil cases, court officials frequently refer cases to the center because the stakes are so high in guardianship cases.
Without an independent advocate to look out for vulnerable parties in guardianships, there is a risk that they could lose their rights and savings, Buckley said.
Laxalt, a Republican, partnered with Buckley, a former Democratic assemblywoman, to tackle the issue on two fronts. Laxalt formed a financial fraud unit that has taken on three criminal prosecutions for abuse of the guardianship system since the unit was funded in June.
The attorney general's office also joined a guardianship task force with Las Vegas police and the Clark County district attorney's office. Laxalt said the attorney general's office is not seeking more funding for the financial fraud unit and is still hiring investigators.
"The unit will continue to ramp up through the whole year," he said. "I'm proud of my team."
Ultimately Laxalt and Buckley want to send a message that those who take advantage of the guardianship system for people who are elderly or disabled will face consequences in either civil or criminal court.
"They'll be put on notice that you can't steal from these individuals anymore," Buckley said.
Contact Wesley Juhl at wjuhl@reviewjournal.com and 702-383-0391. Follow @WesJuhl on Twitter.