Heller plea fails to sway Boehner on federal unemployment bill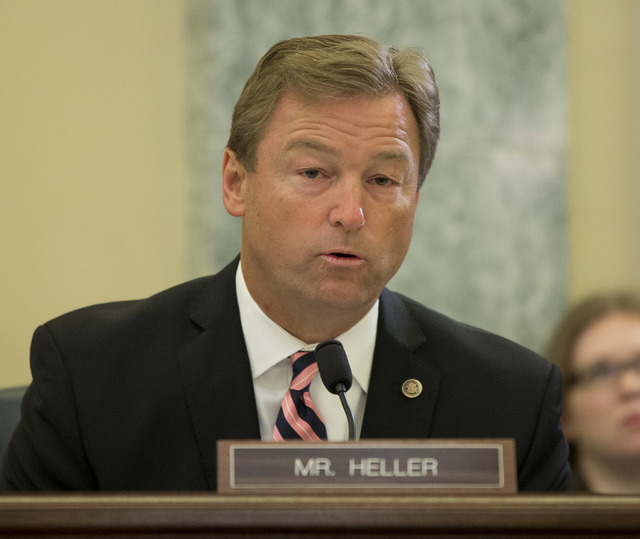 WASHINGTON — A personal pitch from Sen. Dean Heller failed on Tuesday to persuade House Speaker John Boehner to proceed on a bill that would extend unemployment payments to more than 2 million Americans whose benefits have expired.
Heller, R-Nev., had sought to meet with Boehner since helping engineer Senate passage of an extension bill on April 7. The two ended up speaking by phone for about 15 minutes, Heller said.
Boehner, R-Ohio, told Heller the same thing he has said publicly since the beginning of the year: House Republicans want President Barack Obama to propose job creation measures that could be added to any bill reviving long-term jobless benefits.
The House leader is insistent that Obama take the initiative, Heller said, because he wants "to know and believe the White House is serious about it."
"He was very adamant about that," Heller said.
A Boehner spokesman confirmed Heller's account.
"The speaker spoke by telephone with Sen. Heller today and told him the same thing he has told the White House since before Christmas: We're willing to look at a plan that is paid-for and includes something to help create jobs," spokesman Michael Steel said.
The White House has endorsed the Senate-passed bill, which includes a five-month extension of jobless benefits, retroactive to Dec. 28 when the program expired. A compromise led to the bill being passed without debate on amendments.
The exchange leaves unsettled prospects for extending jobless benefits for people who have been laid off and unable to find new work for more than six months, which is when weekly state payments are exhausted in most states. The number of long-term unemployed is more than 29,000 in Nevada.
Asked whether Boehner's comments mean that an unemployment benefit bill is out of reach, Heller said, "I don't know the answer to that question. I never say never around here."
Meanwhile, House Democrats who support extending jobless benefits sent a letter to Boehner on Tuesday containing the stories of 32 people who are looking for work and struggling.
One of them was Mitch, a 55-year-old Republican from Henderson who wrote he was out of work since March 2013.
"I have gone to bed hungry more than once," the Nevadan wrote. "It has gotten to point where I do not have gas to put into car to look for work. I have worked my entire life since I was 18. And for the first time need some help. Please don't turn your back on me."