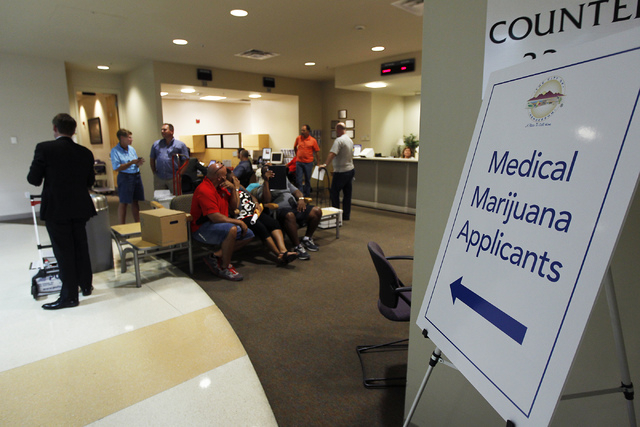 If at first you don't succeed, try the next jurisdiction.
Many familiar names and a few new ones are among the 28 medical marijuana establishment applications filed with Henderson by Thursday's deadline. Eleven of these applicants were not chosen in June by Clark County commissioners for potential dispensary approval in unincorporated areas.
The biggest name with Henderson roots was Brian Greenspun, the Las Vegas Sun owner whose family's real estate company master-planned and built the 8,400-acre Green Valley.
After an unsuccessful attempt to gain approval for one of the 18 county dispensaries, Greenspun has realigned himself with a group that was chosen. He is now part of Integral Associates, a partnership with Camille Ruvo, wife of Larry Ruvo, philanthropist and senior managing director of Southern Wine and Spirits of Nevada; Armen Yemenidjian, son of Tropicana owner Alex Yemenidjian and is listed as the property's vice president of casino marketing and operations; and Michael Abbott, an out-of-state investment banker involved in medical marijuana facilities in Arizona and Washington, D.C.
Greenspun's group for Clark County, IWNV Inc., was not chosen for a dispensary by county commissioners in June but was approved for a cultivation facility and a production facility.
Greenspun did not return a call seeking comment Friday.
Greenspun is one of 11 applicants for Henderson operations who unsuccessfully applied for dispensaries in the county. The attorney for one such company, Nuleaf, hopes to build on that experience to secure a spot in Henderson. Attorney John Sande said the group has fine-tuned its application and likes its chances.
"We learned a lot the last time around," Sande said. "We have meetings set up in the very near future with a very impressive security consultant, and we feel that will add a lot to the application."
Sande declined to give the name of the consultant, one he said is attached to a competing Henderson application.
However, suitability approval from Clark County does not automatically mean a license will be issued. The state plans to accept applications Aug. 5 to Aug. 18. It will have up to 90 days to review them and then will send the approved applications back to the county, meaning some of the 18 could be rejected.
Henderson is reversing the process the county used, sending all preliminary suitable applications to the state, which will conduct a blind review with names removed, then rank the best qualified applications. The top five applications will then go before the Henderson City Council for final approval.
Nuleaf partner Tim Schick thinks this is a more equitable process than the three days of hearings the County Commission conducted.
"I felt like our previous applications were very strong," Schick said. "I think the state got it right the first time around with a merit-based process. … It's unfortunate that some other entities got in front of that, but I'm hopeful that what we see moving forward is a little bit different."
Henderson is anticipating receiving state approval for five dispensaries but is not limited on the amount of cultivation and production facilities it can approve. City officials would prefer facilities that cultivate, produce and dispense at one location.
Officials for the city, which is closed Fridays, did not know how many applications were for combined facilities and how many were for dispensaries only. Henderson publicly encouraged applicants to apply for vertical establishments — a dispensary, cultivation facility and manufacturing — but allowed applications for separate facilities.
Two applicants, Unifern and The MedMen of Nevada, submitted two applications, but it wasn't immediately known what each application is for. Each application was filed with a nonrefundable $10,000 fee, bringing Henderson $280,000. Each application had to have an accompanying $180 research fee for the distance separation document showing the locations were far enough away from restricted areas.
The MedMen, which was one of seven that gained approval for a dispensary in the county and applied in Henderson, is a partnership between Kathy Gillespie, owner of A&B Printing in Las Vegas, and California-based medical marijuana consultants Adam Bierman and Andrew Modlin.
Unifern, which was denied a dispensary in the county, includes a pair of Las Vegas investors partnered with Mohit Asnani, an operator of a medical marijuana business in Tucson, Ariz., and Sarah Jones, an operator of Arizona dispensaries from Prescott.
Eight of the applicants did not apply in the county.
Henderson's $10,000 origination fee is twice as much as what the county charged, and the city hopes that will bring only qualified applications.
"Our higher fees could have dissuaded some applicants," said Assistant City Manager Bristol Ellington, who added that it weeds out groups that aren't serious about making an application.
That means some or all of the 11 applicants who were unsuccessful in the county could be down $15,000 in fees to municipalities with nothing to show for it if they are not licensed in Henderson, too.
Contact Arnold M. Knightly at aknightly@reviewjournal.com or 702-477-3882. Follow @KnightlyGrind on Twitter. Contact James DeHaven at jdehaven@reviewjournal.com or 702-477-3839. Follow @JamesDeHaven on Twitter.