Henderson woman wins $250K at 4th 'Vax Nevada Days' raffle
Updated July 30, 2021 - 10:27 am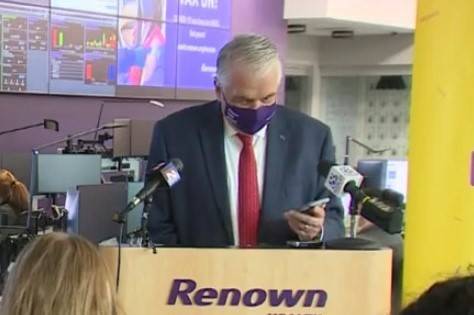 A Henderson woman won $250,000 during the fourth "Vax Nevada Days" raffle Thursday in Reno.
Kathleen P., a retired middle school teacher in Henderson, won this week's top prize. Gov. Steve Sisolak called to congratulate her from Renown Regional Medical Center in Reno.
"We were among the first on Feb. 1 (to get a vaccine), and it was not easy to get them at that time, so we were thrilled," Kathleen said during the call. "I think this is fantastic what you're doing, especially for the young people with the college scholarships."
There were 26 other cash prize winners on Thursday; twenty people won $1,000, four won $25,000 and two won $50,000.
Juan Z., a 17-year-old from Reno, won a $50,000 college scholarship, and Sisolak called him.
"Yes sir, that's what I like to hear," Juan said when the governor told him how much he had won. "Thank you very much."
Nineteen other children between ages 12 and 17 won college scholarship money as well, with amounts ranging from $5,000 to $20,000.
Vax Nevada Days is a public health initiative announced in June by Sisolak to entice Nevadans to get the COVID-19 vaccine.
Each week, cash and prizes will be given out to vaccinated Nevada residents. A total of $5 million will be given out to nearly 2,000 people, with the $1 million grand prize given out on Aug. 26.
In the past three weeks, adults have received cash prizes of up to $250,000 and teens have won college savings prizes of up to $50,000.
Contact Alexis Ford at aford@reviewjournal.com or 702-383-0335. Follow @alexisdford on Twitter.
PARTIAL LIST OF WINNERS
$250,000
— Kathleen P., Henderson
$50,000 cash prizes
— Piedad F., Las Vegas
— Allison A., Reno
$25,000 cash prizes
— Kenna D., North Las Vegas
— Breanna L., Henderson
$1,000 cash prizes
— Douglas L., Reno
— Castor B., Sparks
— Jaymee O., Fernley
— Natalie C., Henderson
— Virginia G., Henderson
— Joseph M., Las Vegas
— Devon B., Las Vegas
— Maria L., Las Vegas
— Allen M., Las Vegas
$50,000 college savings plan
— Juan Z., Reno
$20,000 college savings plan
— Kylie C., Las Vegas
— Vincent D., Las Vegas
$5,000 college savings plan
— Norhan A., Sparks
— Ella C., Minden
— David W., Reno
— Sawyer P., Sparks
— Scott R., Las Vegas
— Dain G., Las Vegas
— Samantha S., Las Vegas
— Cendrik A., Las Vegas
— Braedon B., Las Vegas
— Daniel S., Las Vegas
— Isiah D., Las Vegas
— Ethan C., Henderson
— Steven U., Henderson
— Maya G., North Las Vegas
RELATED
Reno woman wins $50K at 3rd 'Vax Nevada Days' raffle
Carson City woman wins $50K at 2nd 'Vax Nevada Days' raffle
First 'Vax Nevada Days' raffle brings smiles to winners