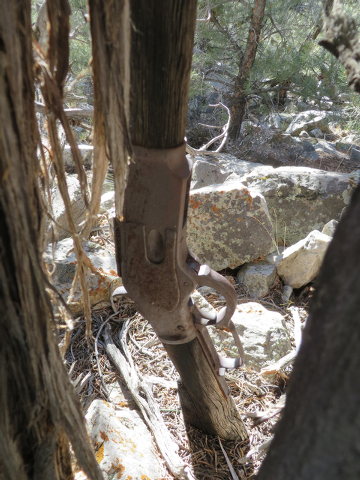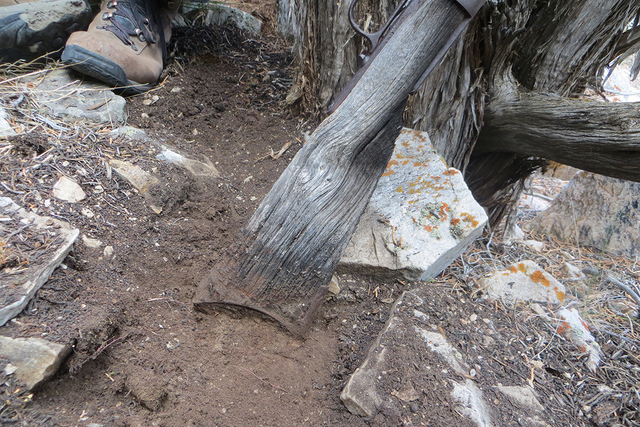 Perhaps some 19th century rancher left it behind while chasing a wayward animal. Or a hunter set it down and couldn't find his way back to it in the snow. Maybe it was abandoned in haste by an outlaw on the run.
Researchers at Great Basin National Park are trying to unravel the mystery behind a 132-year-old rifle found leaning against a juniper tree in the remote park 300 miles northeast of Las Vegas.
No one knows how long the Winchester Model 1873 sat there, or who might have left it. All they know so far is that the lever-action repeating rifle was manufactured and shipped by Winchester in 1882, one of more than 25,000 made that year of what came to be known as "the gun that won the West."
An archaeological crew stumbled onto the rifle during a park survey in November. Its rusted barrel and weathered, wooden stock blended almost perfectly with the tree, but park archaeologist Eva Jensen spotted it while working her way across a remote outcrop.
"It was the right people in the right place at the right time," said Nichole Andler, chief of interpretation at Great Basin.
The park will put the rifle on public display for a few hours this Friday and Saturday before sending it off to be "stabilized" and examined in more detail. The first viewing will be held from 11 a.m. to 1 p.m. Friday in the classroom building at the park's main visitor center in Baker. The second viewing will be held from 2:30 p.m. to 5 p.m. Saturday at the Border Inn, also in Baker, during the annual Old Sheepherders Gathering.
Maybe someone from the area will recognize it.
"That would be pretty amazing if that happened," Andler said.
The rifle will eventually find its way back to the park for permanent display in time for the 30th anniversary of Great Basin and the Park Service's centennial celebration in 2016.
In the meantime, park staff members are trying to track the history of the weapon by combing through what Andler called "primary resource documents," namely newspaper articles, family histories, old letters and whatever else they can find.
Everything they have learned so far came from checking the rifle's serial number against Winchester records held at the Buffalo Bill Center of the West's Cody Firearms Museum in Cody, Wyo. Winchester records do not indicate who purchased the rifle from the warehouse or where it was shipped.
The .44-40 caliber rifle was not loaded when it was discovered.
The Park Service won't specify where in the park it was found, just in case there are more historic treasures to be found there.
The Model 1873 is one of the most famous and popular rifles ever made, inspiring, among other things, the 1950 Western "Winchester '73" starring Jimmy Stewart. John Wayne carried one in virtually all of his Westerns, as well.
More than 720,000 of the rifles were manufactured between 1873 and 1919. According to the Park Service, they sold for about $50 when they first came out but were priced at around $25 at the time this particular rifle was made in 1882.
"It's a piece of American history," said Great Basin Supt. Steve Mietz. "It's pretty darn neat."
It remains to be seen what, if anything, will ever be known about the rifle's 132-year journey from a factory in New Haven, Conn., to the base of a juniper tree in Nevada's Snake Mountains.
How long was it there? Who left it ? Why was it never retrieved?
"We don't know," Andler said. "It's safe to say we're hopeful (of finding out), but I don't know how probable it is."
Contact Henry Brean at hbrean@reviewjournal.com or 702-383-0350. Find him on Twitter: @RefriedBrean