Citing a high level of public interest, the U.S. Forest Service has reopened the comment period on plans to offer oil and gas leases in parts of the Ruby Mountains, about 370 miles north of Las Vegas.
The agency will now accept input through April 23 as it studies whether to make 54,000 acres in the sprawling Humboldt-Toiyabe National Forest available to oil and gas developers for the first time.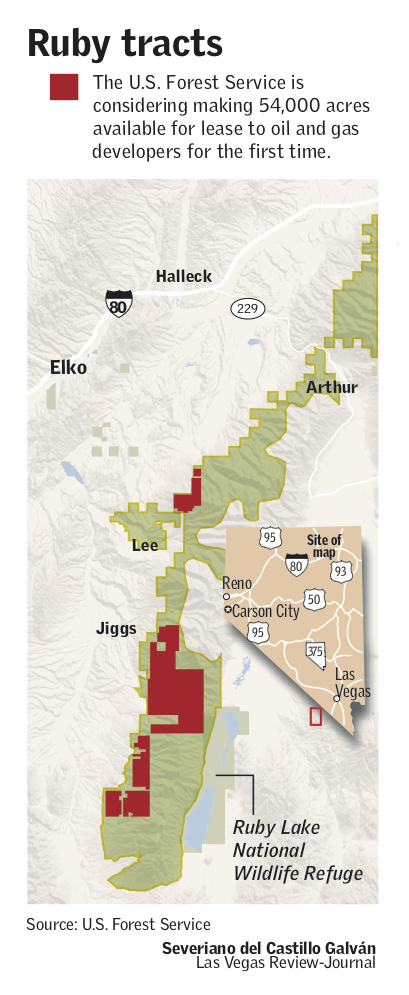 The U.S. Bureau of Land Management requested the evaluation of the forest land in early August, after a prospective developer expressed interest in the area.
Forest service officials in Elko have said the land has never been drilled for oil or gas, but there has been some limited activity in the past near the town of Jiggs, about five miles outside the forest boundary.
The service also solicited public input last year and received thousands of mostly negative comments from environmental advocates, American Indian tribes, hunters, anglers and state game managers.
Critics argue that fossil fuel exploration in the area could damage the wintering ground for the state's largest herd of mule deer and prime habitat for sage grouse and Nevada's official state fish, the rare Lahontan cutthroat trout.
Conservation groups are once again rallying opposition to the proposal as the renewed comment period enters its final week.
"The Rubies are one of the most inappropriate place in all of Nevada to drill for oil," said Brian Beffort, Nevada director of the Sierra Club, in a written statement. "They're an iconic emblem of the Silver State's wild and indigenous heritage, and we can't let them be ruined for corporate profits."
Humboldt-Toiyabe, the largest national forest in the lower 48 states, includes 6.3 million acres of scattered forest land in Nevada and eastern California, including the Spring Mountains west of Las Vegas.
Contact Henry Brean at hbrean@reviewjournal.com or 702-383-0350. Follow @RefriedBrean on Twitter.
How to comment
The U.S. Forest Service will accept input through April 23 on a plan to make 54,000 acres in the Ruby Mountains available for oil and gas leases.
Comments can be submitted online through the Forest Service's website for the proposal, www.fs.usda.gov/project/?project=52443.
Written input also can be emailed to comments-intermtn-humboldt-toiyabe-mtncity@fs.fed.us or mailed to the agency's Elko office at 660 S. 12th St., Suite 108, Elko, NV 89801.