Labor Day campaign trails cross in Nevada
August 31, 2014 - 4:35 pm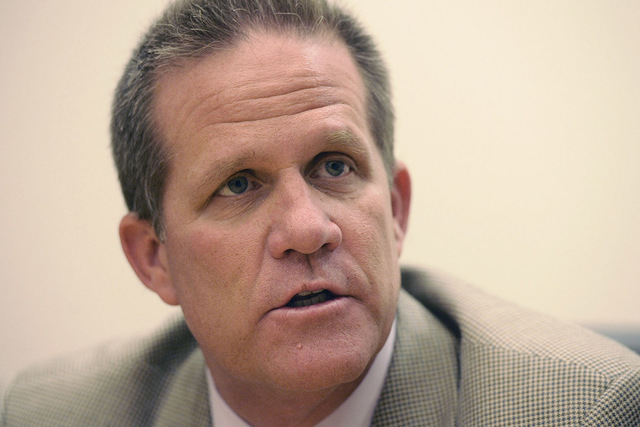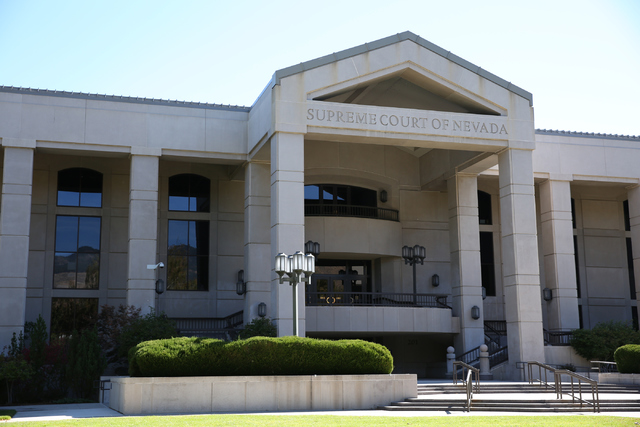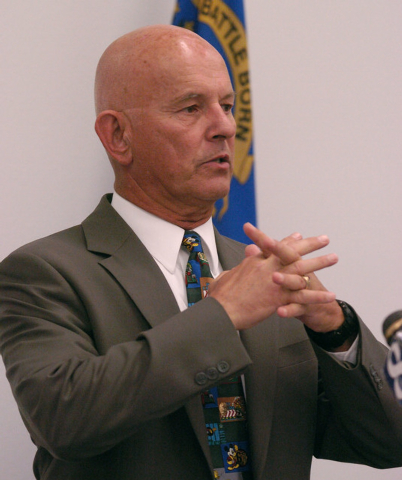 This Labor Day weekend, the two top candidates for lieutenant governor, Lucy Flores and Mark Hutchison, were sure to cross paths as they made the campaign circuit of parades, fairs, pancake breakfasts and rib cook-offs across Nevada.
State Sen. Hutchison, R-Las Vegas, planned to attend the Elko Parade and Fair, the Winnemucca Parade and Fair, the Fallon Parade and the Virginia City Parade and rib cook-off, his campaign said.
It's all part of his retail campaign style. Hutchison has made at least 500 campaign stops, hitting big cities, small towns and dusty outposts across the Silver State's 110,000-plus square miles since he began campaigning last year. His campaign team keeps a Google map that shows each pinpoint as Hutchison shakes hands and does meets and greets for votes.
This Labor Day weekend, Assemblywoman Flores, D-Las Vegas, planned to hit the Elko Parade, the Buckaroo Pancake Breakfast and the parade in Winnemucca, and the Fallon Cantaloupe Festival and parade, too.
Flores, while campaigning, has frequently traveled out of state to raise money to boost her chances against Hutchison, who is backed by Republican Gov. Brian Sandoval. She has the backing of U.S. Sen. Harry Reid, D-Nev., who's up for re-election in 2016. He might want a Democrat in the lieutenant governor's office so Sandoval doesn't get any ideas about not finishing his second four-year term to, say, run for the U.S. Senate. In that case, the No. 2 would move into the governor's job.
Flores has employed another tactic in her campaign besides retail campaigning: sitting down for interviews with national publications to raise her profile as a young Hispanic up-and-comer with a political future. The latest piece was published in "Elle" magazine and showed Flores posing with her fists raised, like a prize fighter.
"At the beginning, this campaign was considered high-risk, high-gain, but now it's something people are getting comfortable with," Sam Lieberman, a former state Democratic Party chairman, told the magazine.
We'll find out by the end of Nov. 4 which tactics worked best: old-fashioned retail campaign or high-flying candidate.
— Laura Myers
VIVA POT REVOLUTION
U.S. Rep. Dina Titus, D-Nev., has been making the rounds as a growing federal advocate of medical marijuana for her Nevada constituents, and name-dropping counterculture on the way.
The former University of Nevada, Las Vegas political science professor invoked the name of the Marxist revolutionary whose likeness is widely used as a counterculture figure of rebellion while describing how impressed she was during tours of dispensary businesses in California.
"This wasn't your little head shop on the corner with a picture of Che Guevara on the wall," said Titus to laughter during a gathering of the Las Vegas Medical Marijuana Association. "This is a very professional, very scientific, most impressive kind of operation."
Guevara was a leader of the Cuban Revolution with Fidel Castro and later executed by CIA-assisted Bolivian troops before becoming a pop culture icon.
— Arnold Knightly
HELLER STAFF CHANGES
Neal Patel was named communications director for U.S. Sen. Dean Heller, R-Nev., replacing Chandler Smith, who departs for a new communications job with the American Hotel and Lodging Association.
A South Carolina native, Patel was a spokesman for the House Ways and Means subcommittee on oversight before joining Heller's staff earlier this summer. Smith, a Georgia native, joined Heller's staff in July 2011 as his press secretary.
In a press release, Heller spoke highly of Smith.
"Chandler has served the people of Nevada with great respect, determination, and loyalty," he said. "She was an asset to my office and will be missed tremendously."
As to Patel, Heller said: "Neal's addition brings experience and value to our team."
— Peter Urban
MORE STAFF CHANGES
There's a game of musical chairs afoot in the world of government affairs.
Brian McAnallen, formerly with the Las Vegas Metro Chamber of Commerce as vice president of government affairs, will join the city of Las Vegas as government affairs manager on Sept. 22.
He replaces the city's former manager, John Lopez, who held the job about five months before Cox Communication wooed him away as their government affairs manager.
McAnallen had been the chamber's vice president of government affairs since July 2011.
McAnallen's career in government affairs spans 20 years and his experience included two of the city's legislative priorities, including the Tule Springs National Monument and the proposed Interstate 11 highway project.
As the city's top lobbyist, his salary will be $110,000 and he will work to ensure that the city's legislative agenda is carried out at the federal, state and local levels. McAnallen will play a key role at the 2015 Nevada Legislature, according to the news release issued Friday.
Oddly, the city has no bills to submit to the Legislature, a sign McAnallen will be there to play defense instead of offense.
— Jane Ann Morrison
BAD TIMING
Following a recent one-hour tour of the Sartini Plaza, Las Vegas City Councilwoman Lois Tarkanian said she will talk to officials in charge about the poor janitorial services.
Little did she know that on Thursday, the janitorial services contract approved by the Southern Nevada Regional Housing Authority, which manages affordable housing, was let to two other janitorial companies, and Jani-King of Las Vegas, the one responsible for Sartini Plaza, was out of the picture.
Tarkanian didn't fully agree with resident Bud Simpson, who has lived there for 14 years and said Sartini Plaza was filthy. But it was not as clean as she thought it should be.
Among the problems she spied — and not all of them were the responsibility of the janitorial service — was a dirty laundry room, dirt under the mailboxes, dry mops shaken out over the plants, cigarette butts not picked up in the the entryway, and dead plants in the landscaping.
"Maybe they weren't as well-trained as they should be," said Tarkanian, who represents that area, referring to the janitorial workers who were on site five days a week. "I didn't see bugs or spider webs."
She had been taking it up with officials responsible for the affordable housing.
But there might not be a need. E &J Janitorial and Kindom Janitorial have the contracts now, each receiving $157,250 a year.
Jani-King's bid wasn't successful, said Deborah Laine, the authority's director of procurement. That company didn't submit a low enough bid to be considered.
Simpson credited Tarkanian for prodding for better cleaning six years ago, but when conditions deteriorated, he reached out to a Review-Journal reporter, who reached out to Tarkanian.
Without a doubt, if the contract hadn't changed, Tarkanian would have shaken up authority officials to make sure the cleaning was done properly.
— Jane Ann Morrison
STADIUM: SHE JUST SAYS NO
The city of Las Vegas government has its own Facebook page, which it used last week to promote a city proposal for a $200 million downtown soccer stadium.
A proposed deal between the city and the private partnership of The Cordish Cos. and Findlay Sports &Entertainment showed the private parties were contributing only 22 percent of the financing toward the $200 million stadium, while public financial sources accounted for 78 percent.
The city's Facebook post drew opponents as well as backers. And one opponent wasn't shy about her opinion.
That soccer stadium foe was Clark County Commissioner Chris Giunchigliani, who weighed in with a comment on Aug. 27 at 1:02 p.m.: "No public funding. It's time to cancel the contract."
The city government's response on the Facebook thread: "We're going to share more financing info soon!"
The city government acting as stadium cheerleader appeared odd when you consider the city still needs "to share more financing info."
— Alan Snel
Contact Jane Ann Morrison at jmorrison@reviewjournal.com or 702-383-0275. Find her on Twitter: @janeannmorrison. Contact Laura Myers at lmyers@reviewjournal.com or 702-387-2919. Find her on Twitter: @lmyerslvrj. Contact Stephens Washington Bureau reporter Peter Urban at purban@stephensmedia.com or 202-783-1760. Contact Alan Snel at asnel@reviewjournal.com or 702-387-5273. Find him on Twitter: @BicycleManSnel. Contact Arnold M. Knightly at aknightly@reviewjournal.com or 702-477-3882. Find him on Twitter: @KnightlyGrind.
Mark Hutchison's campaign stops in Clark County are shown in this Google Map. See his campaign's map tracking all his stops.