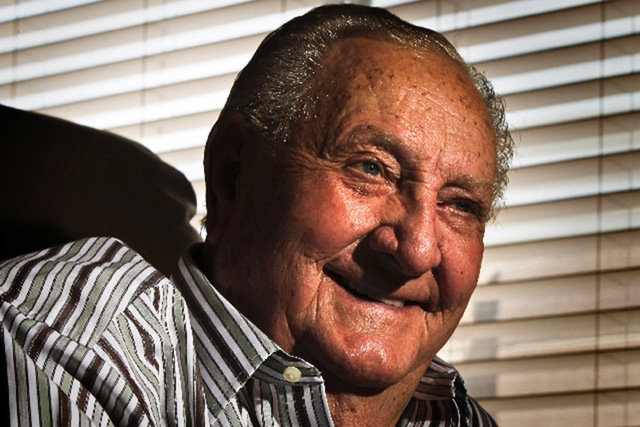 Timing and irony are sometimes twin bedfellows.
Clark County Clerk Diana Alba found herself talking to reporters on Tuesday, explaining the nuances of how staff check photo identifications of applicants for marriage licenses for the listed gender. That was just hours before a whirlwind court ruling from the 9th U.S. Circuit Court of Appeals that overturned Nevada's ban on same-sex marriage.
Alba's comments were prompted by a complaint filed with the Nevada attorney general's office that alleges illegal same-sex marriages are already happening in the wedding chapel capital of the world. The complaint names Alba, whose office handles the applications for marriage licenses, Clark County Recorder Debbie Conway, whose office records the marriage certificates, and Deputy Marriage Commissioner Kathryn Parker, alleging the staffer performed a same-sex civil marriage.
The complaint was filed Oct. 2 by none other than the Log Cabin Republicans of Nevada, an organization that represents gay conservatives that backs equal rights.
"We believe that marriage equality is important to our religious freedom and personal liberty, but not at the expense of due process and the rule of law," the organization's website reads, announcing its complaint.
To bolster its case, the organization included 10 marriage certificates that it says were issued to same-sex couples. Some of the couple's first names very much appear to be the same gender. Marc and Gregory, Carl and Joel, and Brian and Shawn are some of the couples listed.
Alba explained that staff members have to go by the genders listed on the photo identification, not the names or appearance of couples.
Alba isn't running for another term, while Conway is facing a Republican candidate, Don Hotchkiss.
Edward Williams, president of the Republican organization, said he's still pursuing the matter.
— Ben Botkin
RESIDENCY CHALLENGE STILL ALIVE
A Republican challenge to Democratic Assembly District 34 candidate Meghan Smith's eligibility to run for the seat heads to a bench trial in Clark County District Court on Thursday.
But even if the county Republican Party and her GOP challenger, Victoria Seaman, win the challenge based on whether she complied with residency requirements, Smith's name will remain on the ballot for the Nov. 4 general election.
The trial in front of Judge Nancy Allf is scheduled for 1:30 p.m., two days before early voting begins on Oct. 18.
Republican officials said in an initial court filing that they had presented clear and convincing evidence in court that Smith was not a resident of the district 30 days before the filing deadline. They sought to have her name removed from the ballot.
But that ability is closed to the challenges. State law says that no change may be made to the ballot after 5 p.m. on the fourth Friday in June in the year the election is held.
In its initial complaint filed with the secretary of state's office, Nick Phillips, political director for the county party, said: "We have credible evidence that leads us to believe Meghan Smith did not live in Assembly District 34 for the legally mandated 30 days before filing to run for the seat.
"We have noticed that it is not possible for Ms. Smith to have actually lived in her new address and within Assembly District 34 by the deadline as she did not actually own that property at that time," he said.
Smith said when the complaint was filed that she met the requirements.
"I resided in District 34 before I closed on my new home," she said.
Assembly District 34 is open because the incumbent, Assembly Majority Leader William Horne, is termed out of office.
— Sean Whaley
FORMER SHERIFF LAMB BACKS LOMBARDO
Add former Clark County Sheriff Ralph Lamb to the list of former sheriffs standing behind Joe Lombardo.
Lamb, 87, is the legendary former sheriff who patrolled Las Vegas in the 1960s and 1970s. His exploits battling the mafia were fictionalized in the network TV show "Vegas," which was canceled last year.
"Ralph Lamb is one of my idols," Lombardo wrote in a statement. "He was a hard-nosed cop who had a reputation for getting things done and making the valley safer. I aspire to be the same kind of Sheriff."
Lombardo is facing retired Metro officer Larry Burns in next month's election to replace outgoing Sheriff Doug Gillespie, who has also endorsed Lombardo. Bill Young, Gillespie's predecessor, backs Lombardo, too.
Burns has the support of the rank-and-file officers and police union leaders. He also has a former sheriff on his side — Jerry Keller, sheriff from 1995 to 2003, was one of Burns' earliest backers.
It's not clear how well Lamb and Lombardo know each other, however. Lamb retired from policing in 1979, about a decade before Lombardo joined Metro.
— Mike Blasky
Contact Ben Botkin at bbotkin@reviewjournal.com or 702-405-9781. Find him on Twitter: @BenBotkin1. Contact Capital Bureau reporter Sean Whaley at swhaley@reviewjournal.com or 775-687-3900. Find him on Twitter: @seanw801. Contact Mike Blasky at mblasky@reviewjournal.com or 702-383-0283. Find him on Twitter: @blasky.