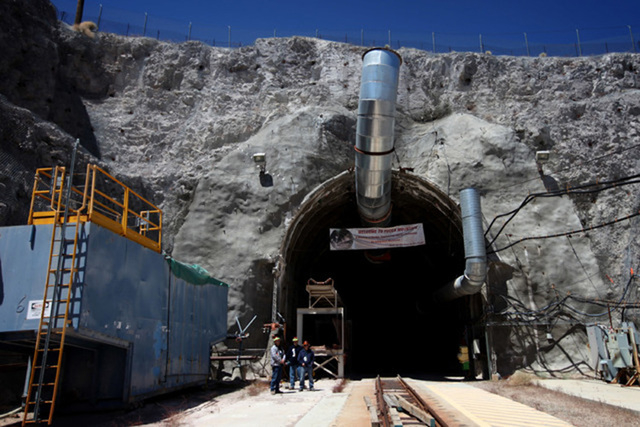 WASHINGTON — A nuclear waste repository might or might never be built at Yucca Mountain but one group profited from a long legal fight over the Nevada site — the lawyers.
A handful of attorneys representing plaintiffs in a case that wound through a federal appeals court over two years billed more than $350,000 in fees and expenses, according to court documents.
Their rates varied from $150 an hour charged by the lead counsel for the state of South Carolina, to $750 an hour for an attorney who represented three businessmen near the Hanford reservation in Washington state.
The numbers came to light when a group of plaintiffs sought to take advantage of a federal law, the Equal Access to Justice Act, that in some cases allows winners of lawsuits against the government to seek payment for their attorney fees.
"Petitioners incurred significant attorneys' fees during the litigation," according to a motion filed in February seeking reimbursement for their costs.
The petition triggered a strong pushback from the government, and a flurry of legal filings over nine months.
The motion ultimately was denied last week by the U.S. Court of Appeals for the District of Columbia Circuit. But the exchanges gave a peek behind the scenes at a major case involving the controversial Yucca site.
Marty Malsch, a nuclear energy attorney not directly involved in the case, said $350,000 seemed "a fairly large amount of money for that case." He said the total may appeared inflated because multiple attorneys representing the various clients were working on the same subjects.
"I don't want to accuse the lawyers of padding the bills," Malsch said. "All I would say is it is a fairly large amount of money, but maybe it could be justified. Once cases get complicated like this one would have been, it's pretty easy to drive up fees pretty quickly."
Another attorney, who asked not to be identified, said the sum did not seem out of line for that reason and without examining individual invoices.
The plaintiffs, which also included the state of Washington, Nye County, Nev., and Aiken County, S.C., prevailed in a lawsuit against the Nuclear Regulatory Commission in August 2013. They charged the agency in 2010 unlawfully halted licensing work for a repository 100 miles northwest of Las Vegas.
A three-judge panel in the U.S. Court of Appeals for the District of Columbia Circuit agreed, and ordered the NRC to resume its work.
The ruling provided a flicker of life for the project the Obama administration had halted in 2010. The NRC is carrying out the court order but says it will run out of money for the task sometime in the coming months unless the White House has a change of heart or Congress appropriates more funds — both considered the longest of shots.
In its response to the demand for legal fees, the NRC disputed that it had acted in "bad faith" during legal proceedings, which is the standard that must be met for fees to be awarded.
A total of 12 attorneys worked the case for plaintiffs and 10 were seeking reimbursement. The NRC negotiated a settlement with at least one of the plaintiffs, Washington state resident Robert Ferguson.
One of the plaintiffs, the National Association of Regulatory Utility Commissioners, did not file for attorney fees. Spokesman Rob Thormeyer said the group chose not to after using its in-house legal team on the case.
But on other claims the NRC argued fees were redundant, unreasonable and "simply not compensable."
Andrew Fitz, an assistant attorney general for the state of Washington, and colleague Todd Bowers, a senior counsel, were lead attorneys for the plaintiffs and billed 528 hours on the case.
But the NRC complained attorneys for other plaintiffs also billed large amounts of time for similar tasks, including travel to Washington for multiple attorneys for court hearings in which they did not participate.
It complained that Robert Andersen of Clark Hill PLC, representing Nye County, claimed $1,500 for giving a briefing to the Heritage Foundation about the case.
The NRC further said Thomas Gotshall of Haynesworth, Sinkler Boyd, PA, representing Aiken County, charged $37.50 for reading "Google alerts" on Yucca Mountain, and $45 for reading a speech by then-NRC Chairman Gregory Jaczko.
Anderson subsequently revised his billing claim, saying several entries were due to "accounting error," including a charge of $750 on one occasion for talking with reporters about the case.
At a rate of $500 an hour, Andersen submitted fees totaling $60,450, plus $288 for copying and filing fees, according to court documents. He might end up with a loss, however, as his work for Nye County on the case was largely pro bono, according to Darrell Lacy, director of the county nuclear waste repository planning office.
Andersen also has represented Nye in Yucca licensing matters before the NRC, where the county could tap federal funds and has paid several hundred thousand dollars to the attorney, Lacy said. But federal money couldn't be spent on the lawsuit, and the county couldn't afford to pay more than Andersen's expenses and an hour or two of legal work, he said.
"The county didn't have a whole lot of money to put into it so a lot of what he's done he's probably going to eat if he doesn't get reimbursed," Lacy said.
Malsch, whose firm Egan, Fitzpatrick, Malsch & Lawrence PLLC represents the state of Nevada in nuclear matters, said it is fairly routine for plaintiffs to file for legal fees in such cases, but they involve meticulous accounting and record-keeping and sometimes are deemed not worth the trouble.
"It is a hassle," Malsch said. "If you are not used to filing fee requests you can get stuck."
At times, fees get reimbursed in part, or trigger negotiations for a settlement. In this case judges on Thursday issued a terse and brief order denying the reimbursement.
"It was just a one-sentence order so we don't know exactly what the court's reasons were," Malsch said. "But the only thing that is important (to the plaintiffs) is the bottom line. They didn't get any money."
Contact Stephens Washington Bureau Chief Steve Tetreault at stetreault@stephensmedia.com or 202-783-1760. Find him on Twitter: @STetreaultDC.