Long 'pot' drive ahead for rural Nevadans
October 5, 2014 - 12:36 pm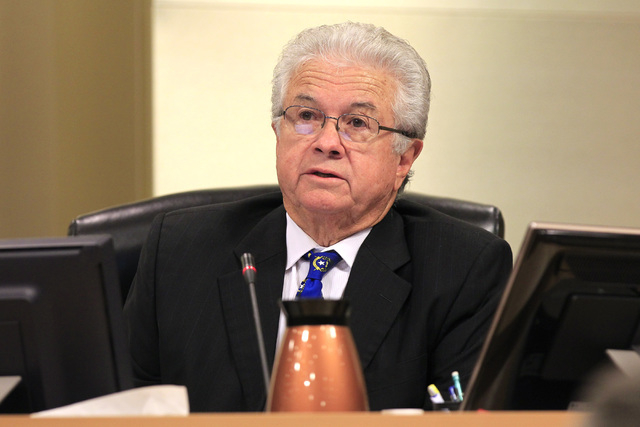 Medical marijuana patients in much of rural Nevada will have a long drive to get their medicine, based on where applications for dispensaries were filed by groups seeking to enter the business.
Eleven of Nevada's 17 counties, all of them rural, saw no dispensary applications at all. No applications for other related businesses, such as grow houses, were submitted either.
The counties with no applications filed with the state Division of Public and Behavioral Health Medical Marijuana Program are Douglas, Elko, Esmeralda, Eureka, Humboldt, Lander, Lincoln, Lyon, Mineral, Pershing and White Pine.
Esmeralda and Humboldt county officials indicated a willingness to have a medical marijuana dispensary, while most others had rejected the idea.
State Sen. Tick Segerblom, D-Las Vegas, who authored the legislation creating the medical marijuana dispensary program during the 2013 legislative session, said geographical issues exist in Nye County as well. Pahrump and Tonopah have applications for dispensaries, but the county is allowed only one under the law, he said. It is a three-hour trip between the two cities.
But Segerblom said he has not received any calls from residents of those rural counties expressing concerns about the lack of dispensary applications.
"A lot of those patients are probably home grows," he said.
Even so, Segerblom said he might look during the 2015 session at establishing a state license that could allow a dispensary to operate in a rural county without local licensing requirements.
Counties with applications filed with the state are Clark, Nye, Storey, Washoe, Churchill and Carson City, with one dispensary application filed in the city of Fallon.
The state is now reviewing the applications to ensure they comply with state law and regulations.
Segerblom said that he was pleased to see a dispensary application filed in the city of Mesquite, which is in Clark County.
— Sean Whaley
CULINARY SAYS NO TO MARGINS TAX
The state teachers association probably figured it would get a lot of support from its fellow labor groups when it qualified Question 3 for the Nov. 4 general election ballot, which would impose a new business tax to fund public education.
But that has not turned out to be the case. The latest group to oppose The Education Initiative, as it is called by supporters, is the Las Vegas-based Culinary Workers Union Local 226.
The union, the largest in Nevada with 55,000 members, came out with its political endorsements Wednesday and formally opposed Question 3.
"We oppose the margins tax because it is a tax on revenues, not profits, and will significantly reduce the amount of money employers have available for employee wages and benefits and for capital investment to expand and maintain resort properties," the union said.
"However, the union sees funding for education as one of the top priorities for the state. We will work with the Legislature to support broad based equitable and stable revenues to fund K-12 education in the 2015 session."
Earlier this year, the Nevada State AFL-CIO voted to oppose the margins tax measure despite being one of the groups originally proposing a petition drive to qualify a business tax measure for the 2014 ballot to increase funding for public education.
The measure is opposed by many businesses and pro-business organizations, as well as by Gov. Brian Sandoval. Critics call it a job killer.
Support for the measure is hard to find among members of the Legislature either, despite efforts by Democrats to increase funding for public education over the past several years.
One of the few acknowledged supporters is state Sen. Tick Segerblom, D-Las Vegas, who called the Culinary decision disappointing but not likely the final word on the measure.
"We all know education is a mess," he said. "When asked if they support raising taxes on businesses for education, a lot of voters won't be listening to anybody."
—Sean Whaley
OTHER SIDE OF THE TRACKS
Anyone who has ever negotiated the Union Pacific Railroad crossing marking the boundary between West Oakey Boulevard and Wyoming Avenue knows it can be dangerous.
But deadly? Las Vegas City Councilman Bob Coffin begs to differ.
"I'm very used to this Oakey (railroad) crossing," Coffin said ahead of a Wednesday vote to spend some $289,000 on extra safety devices at the junction. "You've got lots of lights on both sides of it. You've got bars and the noise of the trains themselves."
Coffin went on to say that most of those who wind up injured or killed on the tracks were suicidal.
"So the question becomes is it really worth the money to try and save the lives of those who are too stupid to recognize that their own lives are in danger?"
City Public Works Director David Bowers demurred on that question, instead noting that the item also would provide federal funding to support additional curb-to-curb pedestrian crossings connecting West Oakey to neighborhoods on the other side of the tracks.
He reassured Coffin that no city money would be spent on new bells and whistles at the crossing, but some would likely go to make sidewalk and median improvements in the area.
The Ward 3 Councilman quietly moved the item for approval, joining six others in signing off on funding for the project.
— James DeHaven
Contact James DeHaven at jdehaven@reviewjournal.com or 702-477-3839. Find him on Twitter: @JamesDeHaven. Contact Capital Bureau reporter Sean Whaley at swhaley@reviewjournal.com or 775-687-3900. Find him on Twitter: @seanw801.
RELATED
Las Vegas will begin taking applications for pot dispensaries July 8
Henderson medical pot dispensary fights site denial
Henderson gets 28 medical pot applications