Longtime Nevada Assembly Speaker Joe Dini dies at age 85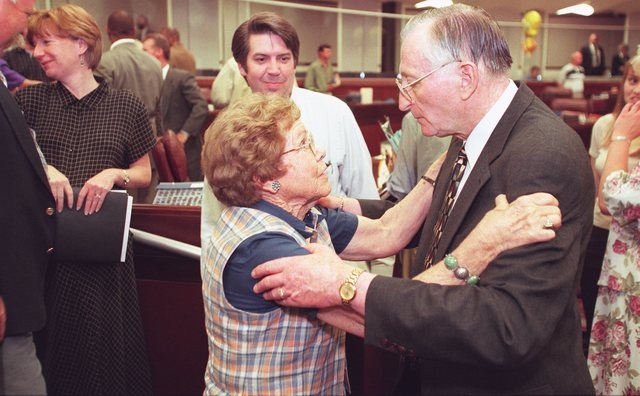 CARSON CITY — Former Assembly Speaker Joe Dini of Yerington, a Democrat who presided over the lower house for a record eight terms in a career that began in 1967, died Thursday. He was 85, having just celebrated a birthday on March 31.
News of Dini's death was announced at a meeting of the Legislature's Interim Finance Committee.
Assemblyman Tom Grady, R-Yerington, got a call during the meeting to alert him to Dini's death. He then announced the news to his colleagues, who took a moment of silence to reflect on Dini's career.
In an interview with the Review-Journal in January 2013, Dini said he wished he could travel more but had various health issues that made it difficult for him to walk.
He was able on Jan. 16, 2013, to attend Gov. Brian Sandoval's State of the State address in Carson City, where he received a standing ovation from legislators. But a trip to baseball's spring training in Phoenix in 2012 led to a three-week stay in an Arizona hospital. He lost 40 pounds and needed kidney dialysis treatment.
Dini was a powerful figure in the Assembly, representing rural Nevada interests along with those of the state as a whole.
News of Dini's death prompted an outpouring of memories from colleagues and others who worked with him over his long legislative career, which was spent entirely in the Assembly.
Much of the commentary came via Twitter.
Lorne Malkiewich, former director of the Legislative Counsel Bureau, said: "Joe Dini was a great legislator and an even better person. RIP, Mr. Speaker."
Assemblyman David Bobzien, D-Reno, called Dini a role model for all legislators.
Gov. Brian Sandoval said in a a statement: "Nevada has lost another legend today with the news of the passing of Speaker Joe Dini, Jr. One of Nevada's greatest statesmen, Speaker Dini holds the remarkable distinction of being the longest serving Nevada speaker in state history. A native of Yerington, Speaker Dini was a staunch supporter of rural Nevada and the essence of leadership in our state. I am proud to have had the opportunity to serve with him in the Assembly. Kathleen and I send our deepest condolences to Joe's family and friends."
U.S. Sen. Harry Reid said he was saddened by the loss of Dini, who "understood that legislation is the art of compromise …"
"I can think of no higher praise, than when the late Bill Raggio said Joe had, 'one of the greatest legislative careers in the state of Nevada,' and I agree," Reid said. "He devoted his life to public service, and always had every Nevadans' interests at heart."
Speaker Marilyn Kirkpatrick, D-North Las Vegas, said the dignity and grace Dini brought to the speaker's office served as an example to later speakers including herself.
"He has left his great mark upon our state government, and his spirit will long continue to inspire us," she said.
The Assembly Republican Caucus said in a statement that his "quiet strength and conciliatory embrace of Nevada lawmakers from both parties and every region of the state are a model that will long enshrine Joe Dini as a legislator to emulate for all present and future legislators."
Dini, who retired from the Legislature in 2002, was known for his ability to work with lawmakers from both parties.
In recalling his long career, Dini said in the 2013 interview that Assembly members frequently would hold recesses and head across the street to the seedy Jack's Bar, which is now shuttered. Over drinks and playing pool, he said they became friendly, resolved differences and passed good bills. He recalled when they worked out an agreement on a transportation bill, drew up amendments on Jack's napkins and passed the bill later that night.
The best example of the spirit of cooperation in Dini's era was the 1995 session when Democrats and Republicans each had 21 members in the Assembly. Dini shared the speakership with then-Assemblyman Lynn Hettrick, R-Gardnerville.
Dini credited his "lieutenants" — Democrats Richard Perkins and Barbara Buckley, along with Lindsey Jydstrup, the director of the Assembly Democratic Caucus — with making his career look better than it really was. Perkins and Buckley later became speakers.
Dini is survived by his wife, Mournye Landing Dini, and four sons. His son George is Yerington mayor. Two of the sons run Dini's Lucky Club, a small casino and restaurant that has been a family business for generations. Joe Dini ran the business for 55 years.
Contact Capital Bureau reporter Sean Whaley at swhaley@reviewjournal.com or 775-687-3900. Find him on Twitter: @seanw801.