Man charged in killing of 8-year-old Arizona girl
September 4, 2014 - 9:24 pm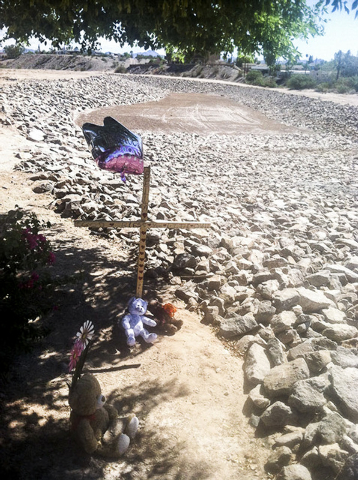 BULLHEAD CITY, Ariz. — Shortly before 8-year-old Isabella Grogan-Cannella was reported missing Tuesday, she was playing hide-and-seek with the family friend now charged in her disappearance and death.
Bullhead City police booked Justin James Rector, 26, into the Kingman jail early Thursday morning on first-degree murder and kidnapping charges, according to Mohave County Sheriff's Office spokeswoman Trish Carter. An extensive search for the girl culminated Wednesday in the discovery of a body less than a mile from her home. The Mohave County coroner confirmed Thursday that the body was Isabella.
"It didn't go the way we all wanted it to," Bullhead City Police Chief Brian Williamson said in a Thursday news conference. "We set out to find Bella alive and bring her home. But we have completed the mission of bringing someone to justice for Bella's death."
Rector had been staying with Isabella's family for a few days, Williamson said. Isabella, who was called "Bella," was put to bed late Monday night and discovered missing from her home about 1 a.m. Tuesday.
Isabella's 10-year-old sister told police that she, Isabella and Rector were playing hide-and-seek late Monday night while the mother, Tania Grogan, was at Wal-Mart.
The sister went into a bedroom to find that Bella and Rector were no longer there, called Grogan and alerted an adult who was upstairs at the home. Grogan returned home and, after an unsuccessful search, called police at 1:18 a.m.
More than 100 personnel, assisted by police dogs and a helicopter, searched for the girl, who had apparently vanished without a trace. A break in the investigation came late Wednesday afternoon when police announced the discovery of a body. Shoe prints at the scene were a match for Rector, Williamson said.
"Inside the shallow grave detectives found the body of Isabella, who was still dressed with the same shirt as the night she disappeared," a police affidavit said. "Isabella was also found with no shorts or underwear."
Williamson declined to comment on Thursday when asked about the possibility of sexual assault. Williamson told reporters he was withholding case details because he did not want to compromise the integrity of the investigation. He also said that Child Protective Services is now involved with the family.
Rector was already in police custody when he was charged with murder. On Tuesday, Bullhead City officers found Rector on U.S. Highway 95 just before 3:30 a.m. He was arrested on suspicion of shoplifting about 10 p.m. and remained in custody during the search for Isabella.
He had left Wal-Mart early that morning after stealing a pair of shoes, underwear and a shirt, according to police. "Rector admitted to hiding his old shoes inside Wal-Mart and hiding his old shirt along the highway. Detectives recovered video of the theft along with the shirt and shoes," according to the police affidavit.
Rector told police that he had been at Grogan's house but said he then walked to visit friends. Rector said no one answered the door of that home, so he went to Wal-Mart "because he needed new clothes," the affidavit said.
Rector's friends told police he was never at their home and had never contacted them.
In a Facebook update posted just before 5:30 p.m. Tuesday, Rector said he had spoken with police: "Everyones a suspect but ive been interrogated and cleared no charges and im still in touch with the authorities."
Rector also wrote, "Making threats doesnt seem like a good strategy on getting her home."
Not guilty pleas were entered early Thursday when Rector had an initial court appearance on the murder, kidnapping and shoplifting charges. The hearing was conducted through a video link connecting Rector from the jail in Kingman with Justice Court in Bullhead City.
The sheriff's office said the judge ordered that Rector be held without bail. A preliminary hearing was scheduled for Sept. 12.
A tent was set up in front of Isabella's Bullhead City home Thursday morning, and officers were seen carrying empty garbage bags inside.
"It's a crazy thing for anywhere, let alone Bullhead City," said one police officer who declined to give his name.
A motorist driving by the girl's home on Thursday rolled down her window and told officers, "I really hope you guys find that bastard who did that to her."
Bullhead City officers don't typically respond to many calls in the area around Isabella's house. There are drug problems in neighborhoods northwest of Isabella's house, but Lakeside is a "relatively nice, quiet street," officers near the house said Thursday.
A memorial was set up at the edge of the dirt lot where Isabella was found. A cross reading "God bless you little one" with a pink princess balloon tethered to it stood near a tree. Stuffed animals were beginning to pile up, and a group of balloons tied to a nearby post fluttered in the wind.
Neighbors and people who didn't know Isabella left flowers and stopped to pay respects. Nichole Covington and Justin Allie, who live on the street and have children who attended Diamondback Elementary School with Isabella, were among them.
"It's mostly drugs here," said Covington. She and Allie assisted in the search for Isabella. "Not much violence, not like this. That poor baby."
Contact Kimber Laux at klaux@reviewjournal.com or at 702-383-0391. Find her on Twitter: @lauxkimber. Contact Annalise Little at alittle@reviewjournal.com or 702-383-0391. Find her on Twitter: @annalisemlittle.
RELATED
Bullhead City police: Body found near site of girl's disappearance
8-year-old girl reported missing in Bullhead City