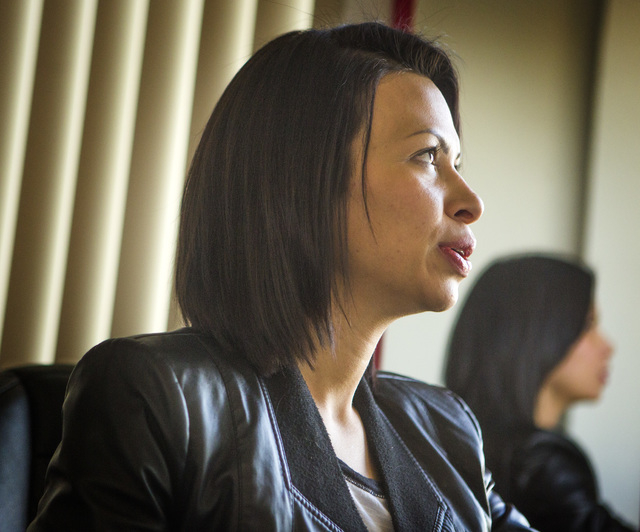 As Nevada's first legal medical marijuana dispensaries prepare to open soon, their number of potential customers is growing rapidly.
More than 8,000 Nevadans had medical marijuana patient cards at the end of 2014, an increase of 65 percent from a year earlier, according to numbers released this week by the state Division of Public and Behavioral Health.
People involved in the industry say they expect that number to grow far more — if the state can keep up with the demand.
"In a market like this, there should be 50,000 people that have a card by the end of 2015," said Dr. Ivan Goldsmith, a Las Vegas physician who has recommended cards for 700 to 800 patients.
But that's his wish, not a prediction.
Clark County, which has 72 percent of the state's population, also has more than 71 percent of its cardholders: 5,833 of the total 8,055.
Andrea Carrillo hopes to be a cardholder soon. The 22-year-old, who lives in Rhodes Ranch, has been suffering from severe stomach pains and nausea that started in July and led to 10 hospitalizations in a few months.
"It's like somebody takes a blowtorch and goes 'bzzzz' up and down my stomach," Carrillo said, explaining how the pain feels.
With near-constant nausea and diarrhea, she would stay home for days last summer, sometimes curled up on a blanket next to the toilet. Hydrocodone and nausea pills were little help. Already slim, she lost about 20 pounds from loss of appetite and trouble keeping food down.
Tests have found no explanation, she said, and she still has no formal diagnosis.
Carrillo had read online that marijuana can help people with stomach problems and stimulate the appetite. But she didn't know where to start.
Searching for help on Facebook, she saw a post shared by a friend that led her to Wellness Education Cannabis Advocates of Nevada, or WECAN, a patient support group that also helps people who can't afford state-issued medical marijuana cards. (It can cost hundreds of dollars to get one between doctor's bills and fees to the state.)
Carrillo started volunteering with WECAN recently, but was shy about asking for help for herself. She said she hasn't experimented with marijuana, both because she didn't know where to get it and because she owns an online business.
"I wanted to do it the correct way," she said.
Recently, other volunteers helped her fill out a form applying for a patient card, and she plans to visit another doctor soon in hopes of getting a card. That can take about six weeks, and applicants must pass a criminal background check.
"I know it will help me," Carrillo said of medical marijuana.
With dispensaries expected to open as soon as February, the increase in card applications reflects patients' growing confidence, WECAN board member Jason Sturtsman said.
He said some of those getting cards now are people who had them in the past, but let them lapse because they couldn't safely find marijuana.
"A lot of those individuals said, 'Screw it, I'm not going to pay $300, $400 a year for a card that doesn't give me any access to medicine,' " Sturtsman said.
WECAN, a small but growing group that relies on donations and fundraisers, only has the money to help about three to five people a month with the costs of getting cards.
Goldsmith said about five to 10 people a week come to his practice seeking patient cards.
But he thinks that number would be higher except for public skepticism that dispensaries will really open as promised.
"It's picked up about 10 percent, but nowhere near the avalanche I was expecting," Goldsmith said.
With the Legislature having approved 40 dispensaries for Clark County, it will take far more than 5,800 patients to support them, said Joe Lamarca, one of the owners of the Euphoria Wellness Center.
The dispensary, south of the Interstate 15-215 Beltway interchange, hopes to be the first to open in the state.
"Critical mass would be 25,000 to 30,000 (cards) in Clark County, and I think we're a long way from that," Lamarca said.
Contact Eric Hartley at ehartley@reviewjournal.com or 702-550-9229. Find him on Twitter: @ethartley.