Moapa Band of Paiute members march to protect Gold Butte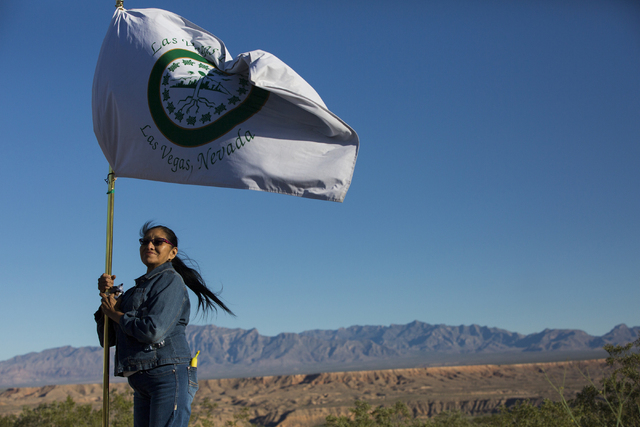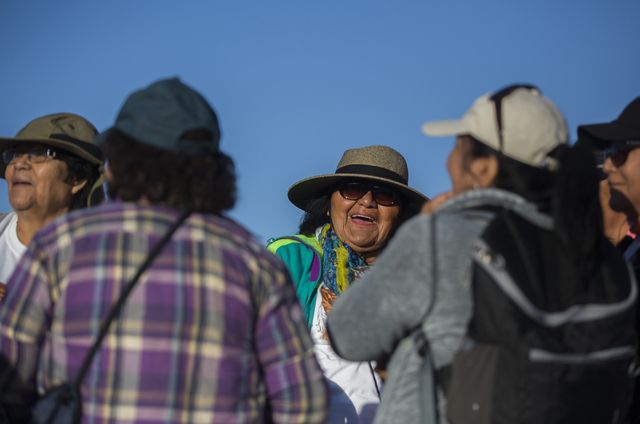 One day after Earth Day, members of the Moapa Band of Paiutes and other tribes marched into the heart of Gold Butte carrying a plea for protection.
The activists want the swath of federal land 95 miles northeast of Las Vegas to be designated as a national monument. They staged the 11-mile "culture walk" Saturday to call attention to damage they say the area has suffered at the hands of vandals, rogue ranchers and illicit off-roaders.
In some places, ancient rock art has been shot up, defaced by graffiti or chipped off and stolen.
"I couldn't believe someone would do that," said walk participant William Anderson, a former tribal chairman of the Moapa Band of Paiutes. "It was surprising that people had no respect for our culture and our people."
Saturday's event began with a gathering and sunrise prayer where Gold Butte Road meets state Route 170 south of Mesquite.
The walk started 8 miles farther down Gold Butte Road, past the home of imprisoned rancher Cliven Bundy. It ended Saturday afternoon with food, songs and speeches not far from the Falling Man site, one of the area's best-known concentrations of petroglyphs.
Anderson, who traveled to Washington, D.C., last month to lobby for permanent protection of Gold Butte, said the area has been used by the Paiute people for untold generations. It was originally part of the Moapa River Reservation when its boundaries were drawn in 1873, but the government took the land back two years later, he said.
Now tribal activists and conservationists are seeking federal help to preserve the roughly 350,000 acres of rock art galleries, sweeping desert vistas and fields of twisted sandstone hemmed in by Lake Mead and the western reaches of the Grand Canyon. It's also where the 2014 standoff unfolded between the Bureau of Land Management and supporters of Bundy, whose cattle still roam the land in defiance of federal law.
This marks the fourth year in a row Paiutes in Southern Nevada have organized a culture walk around Earth Day.
The tradition began in 2012, when Anderson led a group of about 20 people in the first such walk: a 50-mile trek from their reservation on the Muddy River to the Las Vegas federal courthouse to protest the coal-burning power plant near their homes.
All but one unit at the power plant has since been shut down. NV Energy plans to close the facility entirely next year.
Contact Henry Brean at hbrean@reviewjournal.com or 702-383-0350. Follow@RefriedBrean on Twitter.