Moderate Republican lawmakers have money lead over tax foes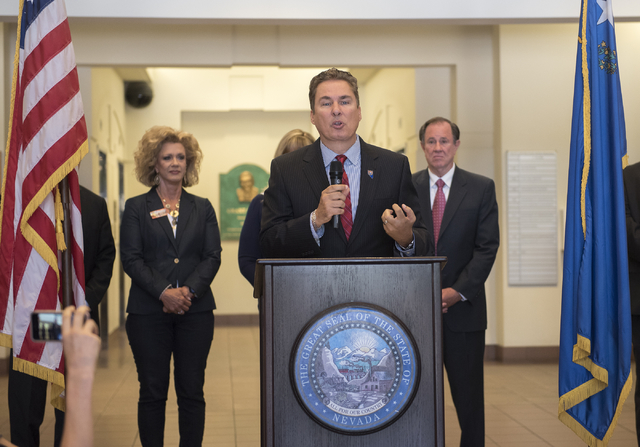 Republican lawmakers who supported Gov. Brian Sandoval's $1.4 billion tax package in 2015 outraised their anti-tax Republican challengers so far this year as they head toward Nevada's June 14 primary.
Campaign finance reports released last week show that more moderate Republican Assembly members backed by Majority Leader Paul Anderson have outraised candidates backed by anti-tax incumbent Republican Assemblyman Brent Jones.
Here are highlights on some of the most competitive legislative primaries:
Brent Jones, who voted against the tax package and has recruited anti-tax candidates to challenge his Republican legislative colleagues who did, narrowly outraised his primary opponent this year.
Brent Jones raised $28,133 this calendar year, while Anderson-backed challenger Tiffany Jones raised $26,533.
The eventual winner will have to take on Democratic attorney Justin Watkins, who has outraised both with $91,886 this year. The district leans Democratic.
Assembly District 9
Incumbent Republican David Gardner is feeling the heat in an Assembly district with an 8 percentage-point Democratic registration advantage. He has raised $46,355 this year, but he faces well-funded primary challenges from Republican National Committeewoman Diana Orrock, who raised $23,174 this calendar year, and Minddie Lloyd, who raised $20,435.
The winner of that contest will face Steve Yeager, a lobbyist for the Clark County Public Defender's Office, who outraised Gardner with $49,064 this year.
Incumbent Republican Derek Armstrong's challenges start with Blain Jones, son of anti-tax Assemblyman Brent Jones. Armstrong helped shape the final tax package and raised $95,375 this year, compared with the younger Jones' $16,970.
The winner of the primary will face a difficult general election battle in the Democratic-leaning district. Ozzie Fumo, who represented O.J. Simpson in court, has stockpiled $46,196 this year after an impressive 2015, while fellow Democrat and former Harry Reid staffer Vinny Spotleson raised $18,863 this year.