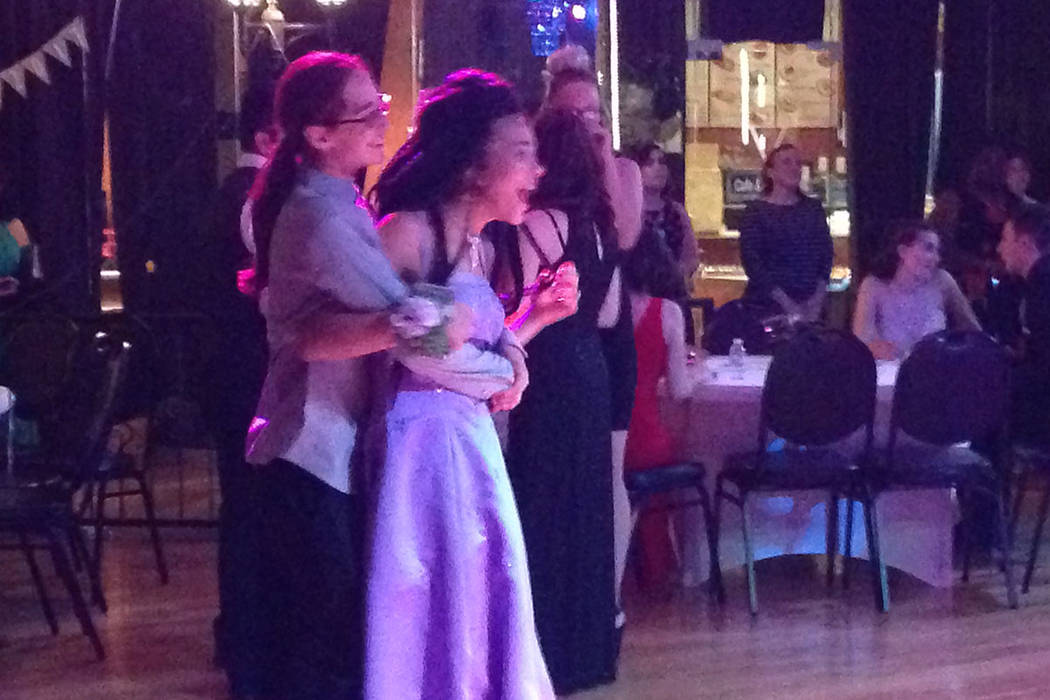 Bree Achong attends high school through a computer, but on Saturday night she danced at prom like any other teenager.
"It's really cool," Achong said, wearing a long lilac dress and sitting next to two classmates and her date.
Achong was attending Nevada Virtual Academy's prom at VZ Dance Studios in Las Vegas. Like the other 894 students in high school through the free online charter school, she doesn't go to a physical classroom to learn. But every year, the school's student council organizes a prom for students to dance and socialize in person, said Katie Jensen, the school's student council adviser.
This year's prom was the largest yet, with 75 tickets sold, Jensen said.
"It's really rewarding to get to meet students we know so well virtually," she said while watching the teenagers gossip and dance.
She said students at the school come from across the state and take all their classes online. They can also go to a physical building to receive one-on-one tutoring or meet with teachers. The school, which goes from kindergarten to 12th grade, lets students to learn at their own pace, faster or slower than they could at a traditional school.
"We have students from all walks of life, and for a variety of reasons they're looking for something alternative," Jensen said.
Achong, a 13-year-old freshman, said now that she takes classes online, she has more friends than when she attended a traditional school.
"At public schools, I was always bullied about who I am and my style and my race," said Achong, who is African-American.
She said she's been planning for prom since she learned of it about it more than a month ago. When she first started at Nevada Virtual Academy, she didn't think she would be able to join clubs or attend social events like prom, but now she's thankful for the program's opportunities.
Among the sea of dancing teenagers, Daniel Sanchez paused to take a selfie with another classmate.
Sanchez, an 18-year-old senior, said he wanted to attend the prom to have fun and make new friends.
"There's a lot of energy tonight," he said.
He said he enjoys taking classes online because he can take his time and listen to music while completing classwork. Although he rarely sees other students in person, he wasn't nervous to attend prom.
"I knew I wanted to go; it's my last year," he said. "It's a change of scenery."
Yolanda Hamilton, head of school at Nevada Virtual Academy, said she wants the school to host more in-person social events like prom to connect with all of the students.
"I think we have the unique privilege of serving a population that for whatever reason needed us," she said. "I'm just so glad they have the opportunity to do this."
During the prom, Hamilton stood near the photo booth, taking pictures and chatting with students.
"It's so nice to see them all dressed up and letting loose," she said.
Contact Katelyn Newberg at knewberg@reviewjournal.com or 702-383-0240. Follow @k_newberg on Twitter.