Nevada campaigns take control of bothersome trackers
August 10, 2014 - 8:13 pm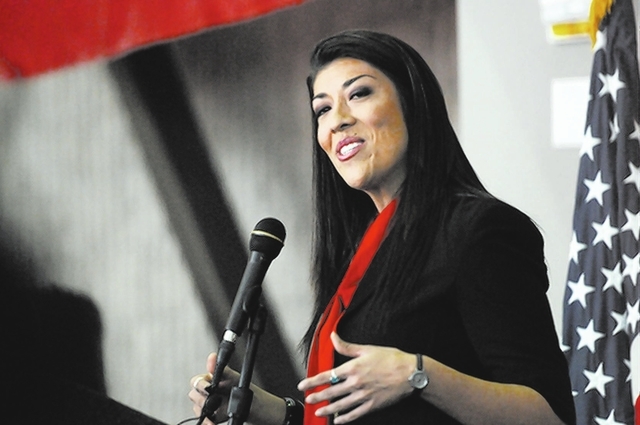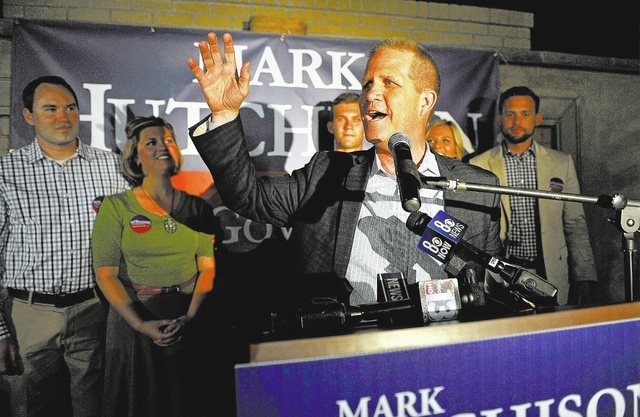 You know campaign season is in full swing when trackers start showing up at political events.
Usually, trackers are those young, bright-eyed folks pointing video cameras at candidates while working for the opposition party. They're hoping to capture a gaffe or hot-button statement that riles voters and goes viral on the Internet.
In Nevada, think Republican Sue Lowden and her "chickens for check-ups" moment that helped spoil her 2010 U.S. Senate bid against U.S. Sen. Harry Reid, D-Nev. Here's a reminder: http://bit.ly/1orK337.
In the race for the 3rd Congressional District, the candidates or their supporters might have found a solution: tell the trackers they can't videotape an event because it's private.
No video, no problem.
On Aug. 4, U.S. Rep. Joe Heck, R-Nev., spoke at a Republican Men's Club luncheon at Cili Restaurant at the Bali Hai Golf Club on the southern end of the Strip.
At the back of the room, standing next to a Review-Journal reporter, was a tracker with American Bridge, perhaps the most aggressive Democratic tracking and opposition research group in the country. The young man with the video camera said he's based in Los Angeles, but traveled to Las Vegas especially to catch Heck's event.
Just before the speaking program began, an official with the Republican Men's Club approached the tracker and asked if he was with the media. He said he was "covering" the event for American Bridge. The GOP official, after asking him for media identification, said he could stay but he could not video the event because it was "private."
The young man politely agreed not to use his video camera. As soon as the GOP official walked away, the tracker left the restaurant. No reason to stay if there wasn't a chance to capture a stolen moment on video.
Heck, too, was being extra cautious in campaign mode, trying to avoid any unscripted comment.
Asked by a R-J reporter if he had a moment to answer a couple of questions before the speaking event got underway, Heck declined and said he didn't have time to talk after the event either because he had an appointment.
"I've really got to work the room," Heck said, and did for an hour before his speech, shaking hands and posing for photos.
— Laura Myers
GOP HAS TRACKERS, TOO
Erin Bilbray, Rep. Joe Heck's Democratic challenger, might be trying to foil Republican trackers, too.
America Rising PAC, perhaps the most aggressive GOP tracking and opposition research group, learned about a series of five "coffee and conversations" events at Bilbray's campaign headquarters on Eastern Avenue in July and August. So they tried to crash the events to get the candidate on videotape.
The campaign, however, told the tracker that although the public was invited, videotaping was not allowed because of "sensitivities to certain groups," including seniors, women, veterans and gay invitees to coffees.
Bilbray's campaign manager, Erica Prosser, confirmed the campaign asked the GOP tracker not to video the coffees. She said attendees "have an expectation of privacy" and are discussing personal information, including medical records.
Still, the Bilbray and Heck campaigns might be onto something: If you don't video it, the critics won't come.
Prosser said Bilbray, who has advised campaigns in the past, is well aware that trackers are part of modern-day politics and they have been following her and taking video of her at many public events.
"Erin is always engaging, polite and gracious — to the point of ensuring they have food and water," Prosser said. "This despite the fact they have followed her home from the office and doing other clearly noncampaign activities."
The one time the campaign asked a tracker to leave was at a "Pizza and Politics" event with U.S. Rep. Jared Polis, D-Colo., according to Prosser. In that case, the tracker was caught asking Bilbray's 11-year-old daughter on video "very personal questions," something that seemed inappropriate.
"It is not fair for her two young daughters to have to deal with people following them, recording them, or interrogating them," Prosser said after repeating that Bilbray herself "expects to have trackers around her."
— Laura Myers
LIEUTENANT GOVERNOR DEBATE
It's on.
The first debate has been scheduled for Sept. 3 between the Democratic and GOP Nevada lieutenant governor candidates.
State Sen. Mark Hutchison, R-Las Vegas, and Assemblywoman Lucy Flores, D-Las Vegas, will face off in front of Hispanics in Politics, the oldest and most influential Latino political organization in Southern Nevada.
The debate will take place at the group's normal meeting place: Dona Maria Tamales restaurant in downtown Las Vegas.
Initially, Hispanics in Politics asked the two candidates to simply speak to the group, according to the Hutchison campaign.
"We said, 'No, we would love to debate her at your organization,' " said Jeremy Hughes, who's working with the Hutchison campaign and managing GOP Gov. Brian Sandoval's re-election bid as well.
Politically, most of the Hispanics group supports Flores, although the organization also has members who are Republicans and who back Hutchison, who is Sandoval's pick to become lieutenant governor.
So it should be an interesting event, especially with Nevada's growing Hispanic population (now nearly 30 percent) playing an influential swing vote role in recent elections.
— Laura Myers
SANDOVAL DEBATE UNLIKELY
Speaking of debates, David VanDerBeek, the Independent American Party candidate for governor, last week challenged Gov. Brian Sandoval to a face-off. No immediate public answer, although the GOP governor is unlikely to accept the challenge.
The popular Sandoval is on his way to a landslide re-election come Nov. 4 unless some unexpected event happens.
The Democratic Party put up no major candidate. Instead, virtually unknown Bob Goodman, a former director of economic development in the 1970s, is the Democratic nominee, finishing behind "none of these candidates" in the June 10 primary.
— Laura Myers
PELOSI COMING TO the strip
Nancy Pelosi's coming to town and it's not for the gambling (that we know of).
The House minority leader, a Democrat from California, will be headlining a fundraiser for U.S. Rep. Steven Horsford, D-Nev., and Democrat Erin Bilbray, who's challenging U.S. Rep. Joe Heck, R-Nev., in the 3rd Congressional District. Horsford is facing Assemblyman Cresent Hardy, R-Mesquite, in his 4th Congressional District.
The closed reception will be 4 p.m. to 5:30 p.m. at Spago, the Wolfgang Puck restaurant at The Forum Shops at Caesars.
Donation levels for individuals start at $250 and go up to the maximum contribution of $2,600. People can also give $500 or $1,000 each. Political action committees are asked to donate $1,000, $2,500 or $5,000.
— Laura Myers
NO CITY BILL DRAFTS COMING
With no staff recommendations pending, the Las Vegas City Council voted 5-2 last week to close the door on submitting any of its three available bill draft requests for the 2015 Legislature with nearly a month until the deadline.
However, the two council members who are former state lawmakers voted against the move with another council meeting available to discuss possible issues the city might want to pursue before the Sept. 2 submission deadline.
Councilman Bob Beers, who served three terms in the Assembly and two in the state Senate, said something could have been brought back to the council for the Aug. 20 meeting instead of voting to not submit anything with nearly four weeks remaining.
"You don't lay your cards down until it's time, until you have to," Beers said.
Councilman Bob Coffin, who spent 28 years in Carson City, also voted against the decision.
Mayor Carolyn Goodman led the push on the vote, stating the big issues the city will be involved with next year — including medical marijuana, more cops, open meeting legislation — can be done in partnership. City Chief of Staff Ted J. Olivas said Las Vegas can still partner with a lawmaker, legislative committee member or pursue bill amendments to push the city's interests in Carson City.
He added it is the first time in more than a decade that Las Vegas has not submitted a bill draft request to the Legislature.
— Arnold M. Knightly
Contact Laura Myers at lmyers@reviewjournal.com or 702-387-2919. Follow @lmyerslvrj on Twitter. Contact Arnold M. Knightly at aknightly@reviewjournal.com or 702-477-3882. Follow @KnightlyGrind on Twitter.