Nevada Democrats stay ahead of Republicans in voter registration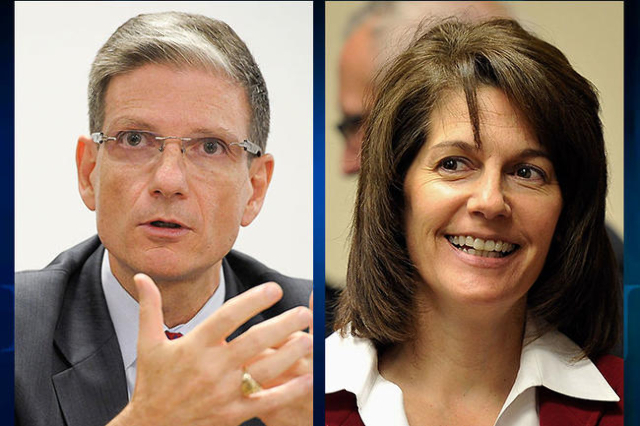 Democrats are continuing to outpace Republicans in voter registration efforts in Nevada as the seeds of the party's ground game continue to grow.
Currently, nearly 40 percent of the 1.32 million registered voters in Nevada are Democrats, and 34.7 percent are Republicans, according to secretary of state figures. The rest of the voters are unaffiliated or belong to a third party.
Nevada State Democratic Party officials say the caucus in February helped lay the early groundwork for the effort.
"Since the caucus, we've been working tirelessly to ramp up our ground game and build out our organizing infrastructure, and voter registration is already trending our way," Nevada State Democratic Party chairwoman Roberta Lange said in a statement.
In the runup to the caucus, an estimated 14,000 Nevadans registered as Democrats and almost 84,000 went to the February precinct caucus. The state party also had 53,000 Nevadans sign up for email updates from Nevada Democrats, and 37,000 signed up for text message updates.
For Nevada, it's an election cycle that has put the swing state in a national spotlight during the presidential race between Donald Trump and Hillary Clinton.
There's also an open, competitive U.S. Senate race between Democratic candidate Catherine Cortez Masto and Republican candidate Joe Heck with the retirement of U.S. Sen. Harry Reid, D-Nev. In addition, Democrats are hoping to regain the 4th Congressional District seat of U.S. Rep. Cresent Hardy, R-Nev., who is running for a second term against Democratic candidate Ruben Kihuen, a state senator.
"We're not taking anything for granted," said Cory Warfield, coordinated campaign director for Nevada Democrats. "We know this is going to be a close (presidential) race. This is a battleground state. This is a pivotal swing state."
Warfield was the deputy field director for Nevada Democrats in 2010 when Reid ran for re-election. The party's team in Nevada also includes organizing director Joel Wanger, who was a field organizer in Nevada during President Barack Obama's re-election in 2012; and data director Tara Brosnan, a former field organizer in Nevada for Planned Parenthood and data manager for America Votes in Nevada and Silver State Voices.
Democrats are hoping to also attract independent voters.
"Donald Trump's extreme positions and divisive rhetoric have energized Democrats to get engaged, alienated independent voters and offended our state's growing immigrant communities," Lange said. "The contrast between Trump's Republican lackeys and our historic Democratic ticket will be clear to voters on Election Day."
Contact Ben Botkin at bbotkin@reviewjournal.com or 702-387-2904. Follow @BenBotkin1 on Twitter.