Nevada drone officials brace for industry growth
If you aren't already licensed to operate a drone or don't know somebody who is, chances are you will by 2021, according to the Federal Aviation Administration.
The agency expects that the number of commercial Unmanned Aircraft System units will be 10 times larger than it was in 2016, according to its recently released annual Aerospace Forecast Report.
There were 42,000 commercial small UAS drones in 2016. The FAA expects there to be 420,000 of them by 2021, according to the report. Meanwhile, the number of drone pilots will grow to be as many as 20 times the 20,000 pilots
counted at the end of 2016.
"I can't say I've seen another industry that's grown as fast as the UAS industry," said Chris Walach, director of the FAA-designated Nevada UAS Test Site.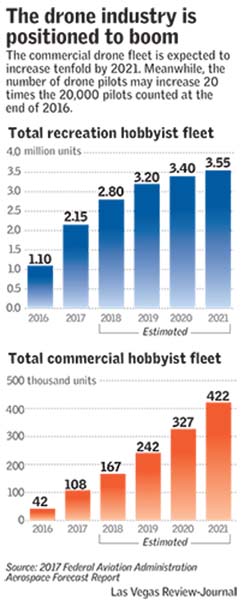 Walach said he and his team at the Nevada Institute for Autonomous Systems, or NIAS, are working to make sure that Nevada is well-positioned to meet the demands of the industry. NIAS works with the governor's economic development office and acts as a clearinghouse for drone-related business opportunities.
"Every day, we, the NIAS Brothers — we call ourselves — are putting in overtime working six and seven days a week for the past 19 months working towards that goal," Walach said.
As the Review-Journal previously reported, NIAS and the other six FAA-designated test sites are working with the FAA to develop an air corridor for long-distance drone travel across the state and regulations to allow drone operators to fly drones past their line of sight.
The drone group recently assembled a Beyond Visual Line of Sight Working Group with local players to make that happen.
"Before BVLOS gets approved (by the FAA), the Nevada Test Site and NIAS are looking at alternative approaches that will allow any entity out there to come to Nevada and test out their BVLOS technology," Walach said.
The group is also working with companies to build training programs for pilots and drone operations.
FAA Administrator Michael Huerta recently presented to Walach and a crowd of other industry stakeholders at the second annual FAA UAS Symposium in Virginia.
"Back in January, I attended CES in Las Vegas for the second time and I was struck, not only by the creativity on display, but by how much had changed since my last visit," Huerta said. "If you can dream it, drone manufacturers are building it. Some of the latest models can sense and avoid obstacles in their paths. Others can fit in your pocket, or be used under water. A few have even automated the 'selfie' game."
Contact Nicole Raz at nraz@reviewjournal.com or 702-380-4512. Follow @JournalistNikki on Twitter.
The roots of the drone industry's growth
Chris Walach, director of the Nevada Institute of Autonomous Systems (NIAS) says the industry's expected growth comes down to:
Growing education and awareness about the drone industry
Expanded FAA regulations to allow for more drone use
Growing information about public safety and drone operations
Job creation
Not so fast …
Not everybody buys the Federal Aviation Administration's industry forecast.
"I think it's mainly a political forecast to bolster agency funding. What else are they going to say?" posed Colin Snow, founder of a research and consulting firm for the commercial unmanned aerial system industry, Skylogic Research.
Snow says his data suggests the industry is growing, but not at the rate the FAA expects.
"The no. 1 misconception in the drone industry is how fast it will grow, which sectors will grow, and which ones will lag. We believe there will be a 40 percent growth in commercial drones in 2017 (this is in line with Consumer Technology Association's forecast) followed by a 25 percent growth in 2018 and 2019. Anything beyond that is pure hypothetical speculation."
RELATED
New process for drone operators begins Monday
FAA expects 600K commercial drones in operation within the year
Pilots-for-hire cramming for test as age of drones arrives