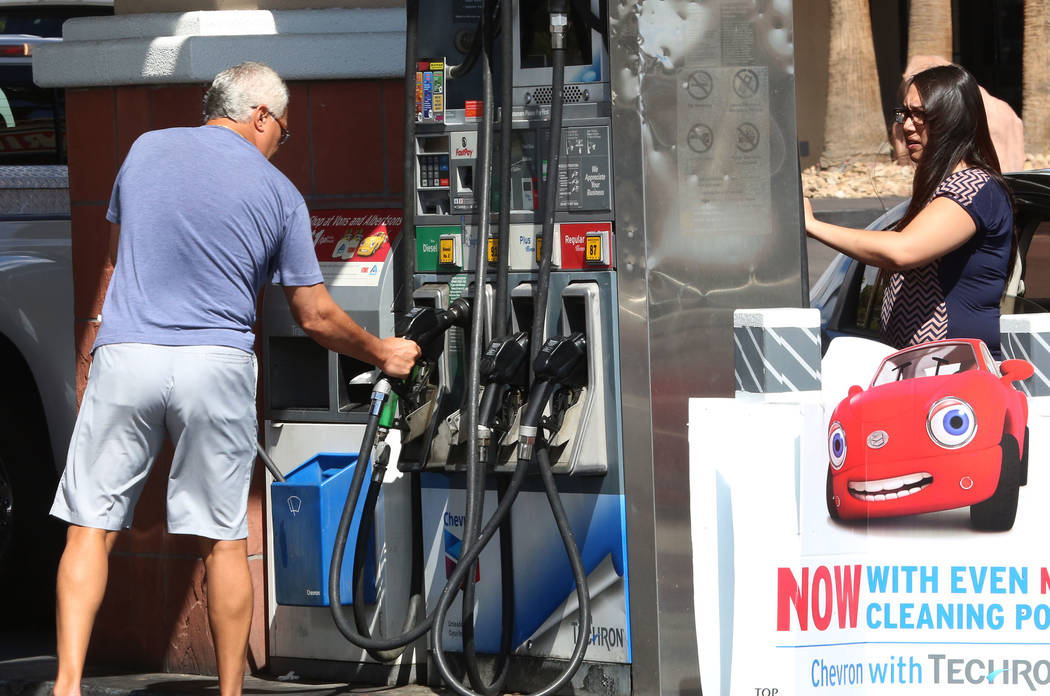 Paying more at the corner gas station?
Blame it on Harvey.
Nevada gasoline prices have spiked to the highest since 2015 in the aftermath of Hurricane Harvey though the Silver State doesn't depend on the Gulf Coast for its fuel needs.
The storm, which temporarily shut down 25 percent of U.S. refining capacity as it flooded Houston, drove up the national average price of gasoline nearly 35 cents.
In Nevada prices jumped by double-digits, settling at an average of $2.81 per gallon of regular gasoline, a AAA spokesman said Wednesday in a statement. Reno drivers are paying the most, with prices jumping 17 cents in a month to about $3.17 per gallon — the price most drivers in California are paying — since AAA's last survey on Aug. 9.
"This is completely Harvey-based; Irma was not a price event," said Patrick DeHaan, a fuels and oil analyst at GasBuddy.com. "'Prices are already starting to ease. We should see the national average drop over the next week or two."
California's pricey blend
California is the major supplier of gasoline to Nevada, and California regulations require a more refined — and more expensive — product.
"An incident as severe as Harvey will have a big impact on the global supply chain, even if that region doesn't supply Nevada's gasoline," AAA Nevada spokesman Michael Blasky said in the statement. "Combined with strong summer travel demand on the West Coast, it means motorists in Nevada are seeing the highest gasoline prices in two years."
In Las Vegas, prices jumped about 19 cents to $2.73 per gallon. Last month, Las Vegas drivers were paying $2.54. A year ago they were paying about $2.43 per gallon.
In an email, Blasky said none of the gasoline from California refineries is being diverted to the Gulf Coast or Florida. He also said most of the fuel coming into Florida and the Gulf Coast right now is from Europe.
"Quite simply, it wouldn't be efficient financially or practically for California to divert oil to Florida or Houston when there are cheaper and more readily available sources that can be imported along established Atlantic trade routes," Blasky said in his email.
He added that California's inventories are already fairly low because of the heavy travel demand on the West Coast this year, which is generally the reason gasoline prices have been higher in 2017 compared with last year, even before the hurricanes.
Traders expect supply to increase
On the futures market, U.S. gasoline prices fell despite a record drawdown in fuel inventories. Analysts expect supply to increase as refineries return online after Harvey shut nearly a quarter of U.S. capacity. Demand is expected to slip because of the effects of Hurricane Irma on high-consuming states of Florida and Georgia.
U.S. gasoline stocks slumped 8.4 million barrels, the largest weekly decline since data began in 1990.
U.S. gasoline futures dipped after the data and were down 0.8 percent at $1.6429 a gallon.
"The market is reacting in anticipation of refineries restarting at the same time expecting a decline in demand due to the after effects of Hurricanes Harvey and Irma," said Andrew Lipow of Lipow Oil Associates in Houston.
Review-Journal writer Todd Prince and Reuters contributed to this report. Contact Daniel Behringer at 702 383-0926 or dbehringer@reviewjournal.com Contact Todd Prince at 702 383-0386 or tprince@reviewjournal.com. Follow @DanBehringer221 and @toddprincetv on Twitter.