Nevada health officials report over 1K new coronavirus cases
Updated November 15, 2020 - 12:15 pm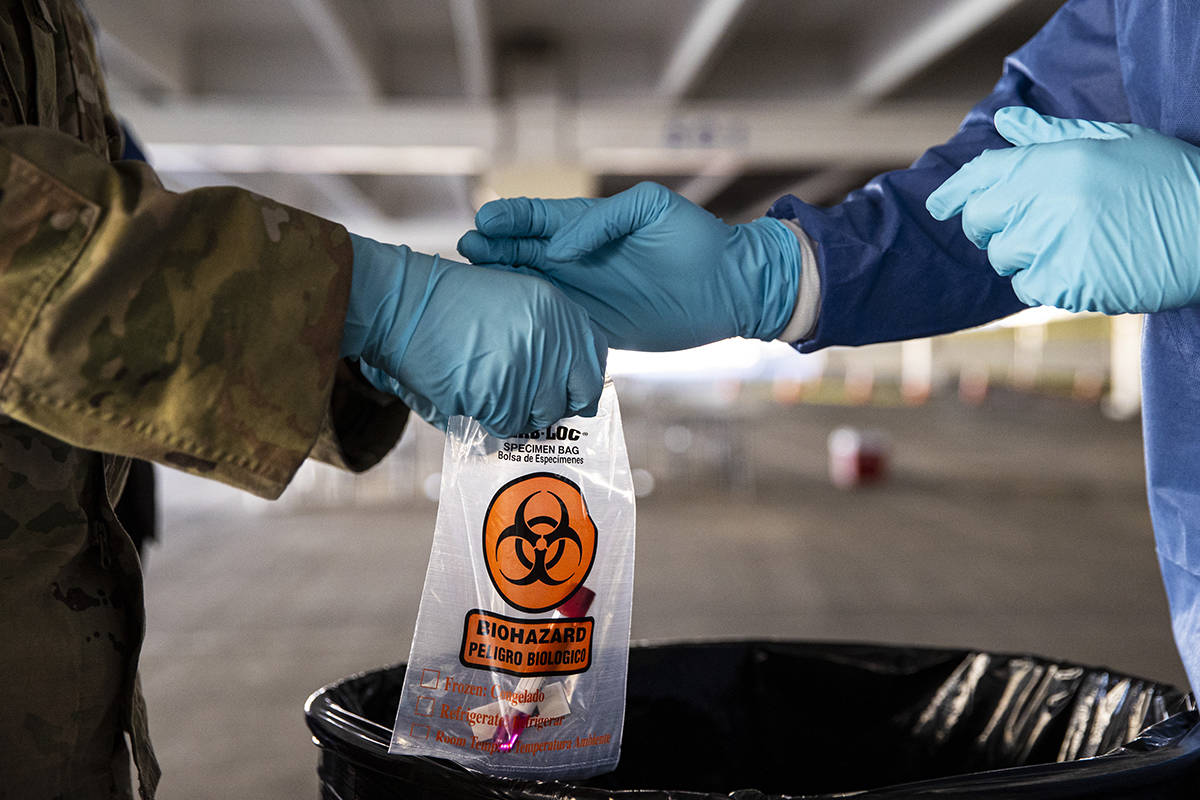 Health officials on Sunday reported 1,177 new coronavirus cases and one death in Nevada.
The latest figures bring the total number of positive coronavirus cases recorded to 120,183 and the death toll to 1,909, according to the Department of Health and Human Services website. On Saturday, the state recorded its highest number of cases reported in a single day at 2,269.
The number of new cases reported in a single day has been steadily rising since mid-August. Last week, health officials reported over 1,000 new cases on six days.
Last week, Gov. Steve Sisolak implored Nevadans to remain at home as much as possible to contain the spread of the virus in an effort he called "Stay at Home 2.0."
"The fall spike predicted by all medical and scientific experts is now our reality," Sisolak said at a news conference. "Nevadans need to accept and understand this reality now and change behaviors immediately. In the next two weeks, we must see a significant reversal of the current trends which are deeply concerning now."
The state's positivity rate, calculated by the Review-Journal as the number of cases divided by people tested since the start of the pandemic, reached 13.62 percent Sunday, an increase of 0.06 percentage points from Saturday.
The positivity rate over the last two weeks, calculated by the state, was 15.1 percent on Sunday, according to its website.
Clark County health officials reported 877 new coronavirus cases and one additional death on Sunday.
That brings the total of positive coronavirus cases recorded in the county to 95,517 and the fatality toll to 1,618, according to the Southern Nevada Health District website.
Testing options
Drive-thru, throat-swab testing administered by medical personnel is now offered at Texas Station, the third public mass testing site in the Las Vegas Valley.
The other two sites, at Cashman Center downtown and UNLV's Thomas & Mack Center, are indoor, walk-up sites where medical personnel will instruct up to three people at a time how to do their own nasal swabs. The difference in accuracy between the swabbing methods is "not clinically significant," county spokeswoman Stacey Welling said.
The free testing is open to anyone, with or without symptoms, including children.
The site will operate from 8 a.m. to 4 p.m. Thursdays through Mondays. Appointments are not needed but preregistration with the health district is highly recommended to avoid waiting.
Register at www.snhd.info/covid-texas or text COVID to 844-990-0029 to receive a link to the registration form.
Appointments can be booked at the Cashman Center or UNLV Thomas & Mack sites through www.umcsn.com. Those without online access may call UMC at 702-383-2619 to schedule appointments. Testing without an appointment is offered at these locations on a limited basis based on availability of staff.
Contact Alex Chhith at achhith@reviewjournal.com or 702-383-0290. Follow @alexchhith on Twitter. Review-Journal staff writer Mary Hynes contributed to this report.