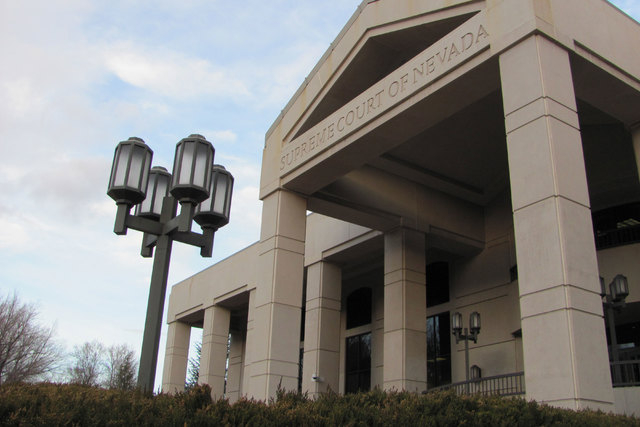 CARSON CITY — A $5 million judgment awarded in a 2005 fender bender was vacated Thursday by the Nevada Supreme Court, which ordered a new trial after finding that a Clark County district judge made multiple errors during the trial.
In a 19-page opinion, justices said Judge Jessie Walsh wrongly disallowed Jenny Rish from presenting testimony or other evidence that the accident was "low-impact" and unlikely to cause the injuries claimed by William Jay Simao.
According to court documents, Rish, driving a Chevy Suburban, rear-ended Simao's Ford work van in stop-and-go traffic on April 15, 2005. Damage to the vehicles was not extensive, and both drivers refused medical treatment.
Simao later alleged he injured his head and neck in the accident, causing him constant pain and requiring ongoing medical treatment. He sued Rish to recover damages for his injuries and his wife's loss of consortium.
Walsh had granted a pretrial motion by Simao's lawyers to preclude Rish from raising a low-impact defense because Rish didn't retain a biomechanical expert to testify on the nature of the accident. The judge excluded from evidence all photographs of the vehicles and invoices for repair work, as well as testimony from a doctor hired by the defense.
After eight alleged violations of that order during trial, where statements were made alluding to the relative minor severity of the accident, the judge sanctioned Rish by striking her answers and entered a default judgment in favor of Simao.
The court then awarded Simao $5 million in damages for medical expenses, past and ongoing pain and suffering, loss of consortium and attorney fees.
Supreme Court justices, in an opinion written by Justice James Hardesty, vacated the award and ordered a new trial.
"The threshold question is whether the pretrial order precluding the testimony and evidence of a low-impact defense was erroneous as a matter of law. We hold that it was," the opinion said.
Contact Sandra Chereb at schereb@reviewjournal.com or 775-461-3821. On Twitter: @SandraChereb