Nevada nonprofit gives $700K for Battle Born makeover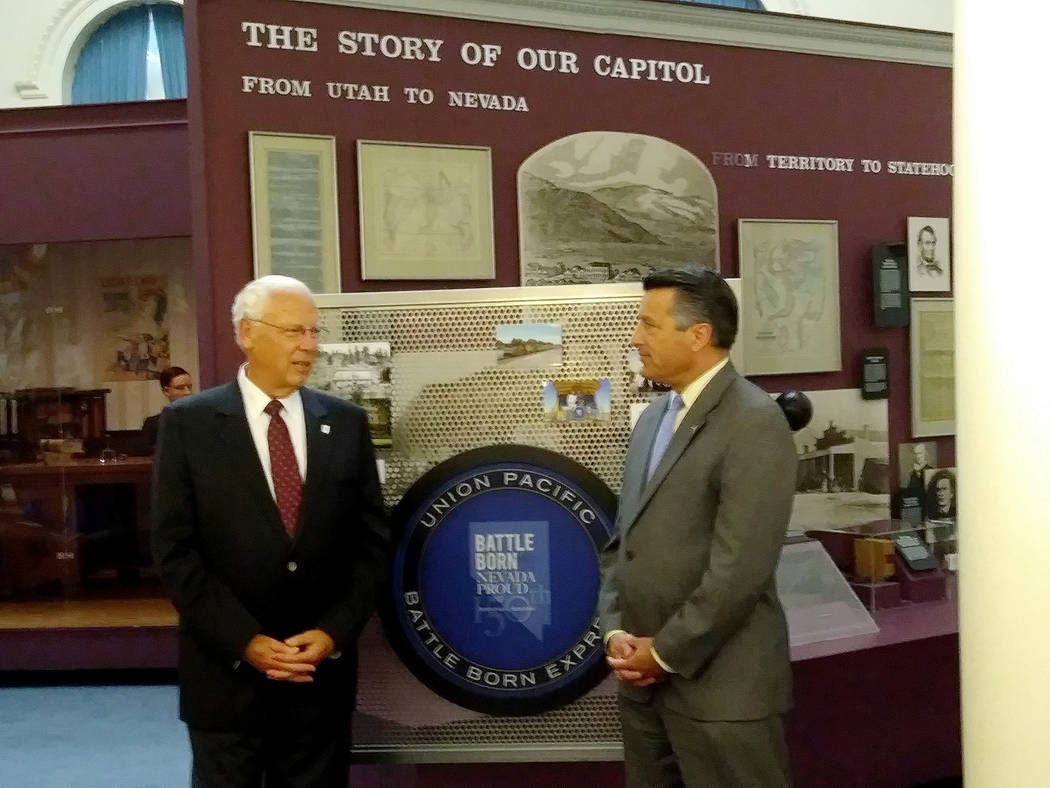 CARSON CITY — An exhibit at the State Capitol is getting a $700,000 makeover.
The Nevada 150 Foundation presented Gov. Brian Sandoval on Thursday with $700,000 that will go toward new exhibits and refurbishments for Battle Born Hall, the room where the Senate used to meet in the State Capitol.
"The Battle Born Hall will be something that will tell the story of Nevada," Sandoval said at the event.
The current exhibits in the hall are largely focused on the history of the State Capitol building and Nevada's transition from a U.S. territory to a state.
Sandoval said the new exhibits will reflect the state's history leading up to the "new Nevada," a phrase that reflects the Nevada's growing diversity and changing economy.
Historic themes for the new exhibits include the state's indigenous people, the Hoover Dam, and the Nevada Test Site.
The nonprofit Nevada 150 Foundation was created by the Sesquicentennial Commission to raise money for the state's sesquicentennial, which was in 2014. The foundation had raised nearly $3 million from private donors and revenue from a specialized sesquicentennial license plate fees. The $700,000 was left over after the sesquicentennial events.
Preliminary concepts for Battle Born Hall are expected to be finished this month, said Peter Barton, administrator of the Nevada Division of Museums & History. Pacific Studio, a Seattle firm, is handling the job.
The new exhibits will be finished next year. The tentative timeline has a soft opening in the summer of 2018, with a special event there for Nevada Day.
Contact Ben Botkin at bbotkin@reviewjournal.com or 775-461-0661. Follow @BenBotkin1 on Twitter.