Nevada officials fighting new report over Yucca impact
November 22, 2015 - 11:22 pm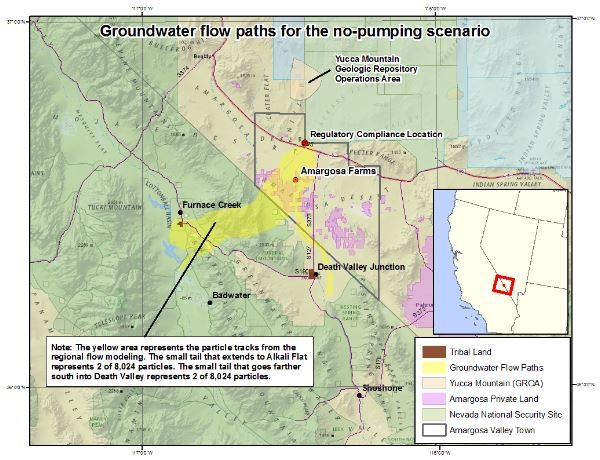 Nevada officials dispute the findings of the Nuclear Regulatory Commission staff's latest impact report for the planned Yucca Mountain nuclear waste repository.
State experts say the project's current design would cause the release of excessive radioactive materials that would contaminate public and tribal groundwater sources.
In comments submitted Friday to meet the NRC's deadline, they said the NRC staff missed the mark when it concluded that there would be "only a negligible increase" in health risk from radioactive particles that might leak into groundwater.
The state's cover letter to the 100-page comment document also reminds the Nuclear Regulatory Commission that the Department of Energy "has given up on the Yucca Mountain site, has terminated its Yucca Mountain repository program, and has sought to withdraw the license application."
"Governor (Brian) Sandoval noted that DOE does not possess the land and water rights necessary to receive a construction authorization," reads the letter from Nevada Agency for Nuclear Project's Executive Director Robert Halstead to Cindy Bladely, chief of the NRC's Rules, Announcement and Directives Branch.
Halstead concludes that DOE's license application is flawed because a nuclear-waste repository at Yucca Mountain, 100 miles northwest of Las Vegas, "would not protect Nevada's people and environment for the required period of one million years," and the NRC's draft, 173-page supplemental environmental impact report released in August, violates both the National Environmental Policy and Nuclear Waste Policy acts.
The draft report, state officials say, is not a decision document that gives the Energy Department a green light to proceed with burying 77,000 tons of used nuclear fuel and highly radioactive waste in a maze of tunnels inside Yucca Mountain. The NRC staff's report is a "highly influential scientific assessment" that hasn't been reviewed by an approved body of peers.
Among the state's concerns is that the draft report fails to evaluate the effect on the Basin and Range National Monument, and how that would affect building a rail line from Caliente to haul waste to Yucca Mountain.
The state contends that entombing nuclear waste in Yucca Mountain would also impact traditional American Indian water sources used by Western Shoshone tribes. Contaminating groundwater over time as nuclear waste containers deteriorate would violate environmental laws.
A groundwater flow map derived by the state using NRC and DOE information "shows that groundwater discharges under the no-pumping scenario would be expected to impact both tribal lands and springs located on non-tribal lands in the Furnace Creek area" of Death Valley, Calif.
Leo Drozdoff, Nevada's Conservation and Natural Resources director, said Nevada's experts believe that releases of radioactive particles from proposed repository will be "exponentially greater than NRC staff predicts and would create much more serious and long-term risks to the public and the groundwater resource itself."
— Contact Keith Rogers at krogers@reviewjournal.com or 702-383-0308. Find him on Twitter: @KeithRogers2.