Nevada prison inmate gets $60K settlement in civil rights lawsuit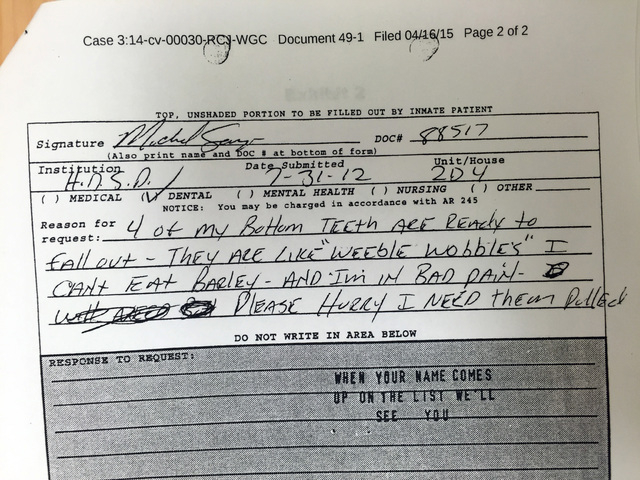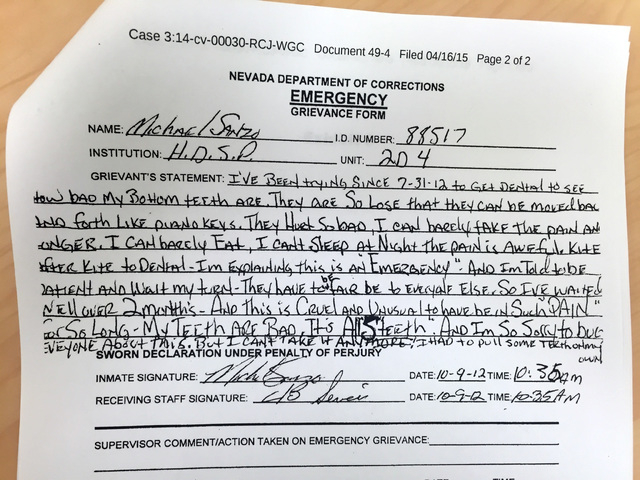 A Nevada prison inmate has reached a $60,000 settlement in a civil rights lawsuit that claimed he endured "unbearable pain" and resorted to removing his own teeth after officials ignored his requests for medical attention.
"I think it was an equitable resolution to the case," said the inmate's attorney, Luke Busby.
A spokeswoman for the Nevada attorney general's office released the following statement Thursday:
"Considering the facts of the case and the plaintiff's initial demands of over a million dollars, our office was able to negotiate a far lower settlement through the hard work of our attorneys, saving taxpayers hundreds of thousands of dollars."
Michael Sanzo, 47, claimed he suffered for eight months while in solitary confinement at High Desert State Prison near Indian Springs, despite making numerous requests for treatment, including an emergency grievance form he filled out on the morning of Oct. 9, 2012.
On that date, Sanzo again sought treatment for his bad bottom teeth, which were moving back and forth "like piano keys."
"I can barely take the pain any longer," the inmate wrote. "I can barely eat, I can't sleep at night."
After repeatedly being told to wait his turn, Sanzo took matters into his own hands and removed six teeth, according to his lawsuit.
"Due to the unbearable pain that the plaintiff endured, despite his repeated and desperate cries for help, the plaintiff was forced to smash out his teeth by punching himself in the face, other macabre means, and pulling the teeth out," according to an amended complaint filed in April 2015.
The lawsuit accused prison officials of violating Sanzo's Eighth Amendment right to be free from cruel and unusual punishment by depriving him of treatment for his infected and abscessed gums and teeth.
"I was in there begging for my life," Sanzo told the Las Vegas Review-Journal last year.
He was released from custody in March 2014 and was living in Reno, but records show he has returned to prison. He is now serving time for a domestic violence conviction at the Northern Nevada Correctional Center in Carson City.
Sanzo reached the settlement agreement with three defendants: dental assistant Colette Ball and corrections officers Giovanni Capra and Joon Lee. Details of the resolution were filed in U.S. District Court in Reno, and the case was dismissed in mid-March.
Contact Carri Geer Thevenot at cgeer@reviewjournal.com or 702-384-8710. Find @CarriGeer on Twitter.