Nevada treasurer riles up politically powerful, fellow Republicans included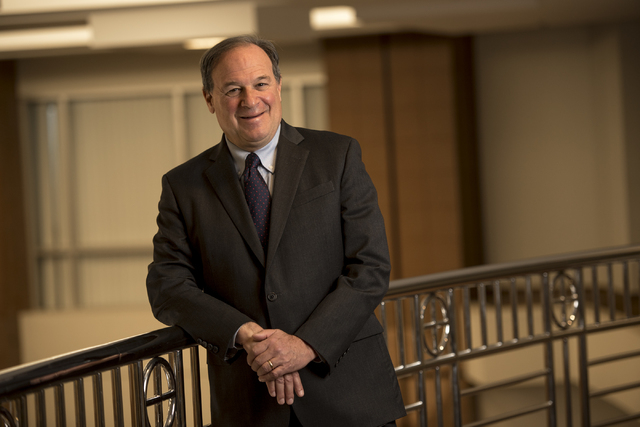 CARSON CITY — State Treasurer Dan Schwartz wasted little time before plunging into Nevada politics. He quickly found out how treacherous the waters can be.
Just a month on the job, Schwartz was verbally skewered in February 2015 by fellow Republicans on the Senate Finance Committee when he opposed GOP Gov. Brian Sandoval's budget and proposed tax package. Instead, he offered an alternative spending plan that was grand on ideas, skimpy on details.
Senate Majority Leader Michael Roberson, R-Henderson, accused Schwartz of hijacking the legislative process and suggested the treasurer lacked a basic understanding of the budget. Schwartz parried that as an elected constitutional officer, he's required to provide information to the Legislature on any subject connected with the treasury.
"So, Mr. Treasurer, you believe that justifies hijacking the process and bringing forth a three-page budget, your budget? For political purposes?" Roberson sneered.
"I'm in shock and dismay that you would be here today proposing this," Roberson said. "I'm embarrassed for you, sir."
The terse exchange made Schwartz — depending on your point of view — either a champion of the conservative cause or a politically naive gadfly dismissed by party establishment with a roll of the eyes.
The treasurer is in charge of state investments and oversees various programs such as college savings accounts, the Millennium Scholarship fund, the permanent school fund and unclaimed property. Setting tax policy and the state budget are not part of the treasurer's job duties, which fall to the governor and Legislature. The job pays $103,000 a year.
Thinking back to that uncomfortable day before the Finance Committee, Schwartz is sanguine.
"I will tell you at the end of the day, I was not unhappy with what happened," Schwartz said in an interview at his Capitol office.
"I will quote one of my colleagues who came in here right after the hearing and said, 'Dan, the man in the street has never heard of you. But they know one thing: You're against higher taxes.'"
And if he ever finds himself on a ballot against Roberson, he knows what he'd like to do.
"I think, too, if I ever ran against Roberson, which I have no intention of doing, I'm just going to take the clip of him melting down," he said, referring to video of the exchange.
A LONG, STRANGE TRIP
Politics is a second career for Schwartz, 65, who grew up in Chicago, where his first elected office was president of his senior high school class.
"It's a little different politics in high school than running for state treasurer," Schwartz said with a grin.
His father, James Schwartz, was a traveling furniture salesman until he became an early Holiday Inn franchise owner, including the first one in the Chicago area. He would eventually run a dozen hotels in Indiana, Ohio and Illinois.
Brother Stephen followed his father into the hospitality business and founded First Hospitality Group, a national hotel management and development company with dozens of properties in Midwestern states.
But Dan Schwartz pursued banking and business.
He earned his undergraduate degree from Princeton and spent two years in the Army stationed in Germany. He took a trip around the world, then enrolled in Boston University Law School. He didn't like it, so he got a Master of Business Administration degree at Columbia University before eventually returning to Boston and earning his law degree.
He worked at various firms on Wall Street before starting his own, eventually buying into other companies.
"We ended up starting a couple of newsletters and some journals," he said. "We were offered a couple of purchases. One was a newsletter in England; another one was in Hong Kong. The one in the U.K. we ended up probably breaking even on.
"But the one in Hong Kong proved to be a real success."
That was Asian Venture Capital Journal, a subscription-based publication billed as "the leading source of information on private equity and venture capital activities" in Asia.
The journal "was certainly a home run," he said. He has since sold it.
Schwartz lived in Hong Kong for five years, returning to the United States in the early 2000s, although he makes frequent trips to China and has some business dealings there. He serves on the board of Beijing-based Maxit Technology and describes his role as one of "unhappy investor" in a company that "refuses to die."
He's also founder and CEO of Qiosk.com, a domestic company that distributes magazines and trade publications online.
"I'm a shareholder, I'm the CEO but I have a partner who … really runs the company," he said. "This is a full-time position here and I treat it as such," he said of his job as treasurer.
His wife, Yanan, 50, is from China, and earlier this month became a U.S. citizen. The couple met in 2007 on a blind date in Beijing, where Yanan worked for the Sino-Italian Cooperation Program for Environmental Protection. They married in 2011 and took up residence in Nevada.
FIRST FORAY INTO POLITICS
Schwartz doesn't consider himself wealthy, but "comfortable." His financial disclosure form filed with the U.S. House of Representatives during a 2012 bid for Congress reported a net wealth of $6 million to $16 million.
In that race he ran for the Republican nomination in Nevada's newly created 4th Congressional District, spending about $400,000 of his money in the failed bid.
"Maybe I was myopic, but I didn't see that as such a big deal," he said of seeking office shortly after adopting a Nevada ZIP code. But others, he said, saw him as a carpetbagger.
"I lost, but it was a very good introduction for me," he said.
He became finance chairman for the state Republican Party. When 2014 rolled around and the GOP was looking for a candidate for treasurer, he was tapped.
Schwartz was elected in a "red wave" of Republican victories propelled by Sandoval's popularity and poor voter turnout, particularly by Democrats, who lost control of the Nevada Assembly for the first time in decades and all constitutional offices.
Schwartz financed his treasurer campaign himself, pumping nearly $500,000 into the race.
"I'm not beholden to all the casinos in Las Vegas," he said.
IN THE NEWS
State treasurer is hardly a high-profile job, but Schwartz has stayed in the news.
In the summer he quietly hired Michael McDonald, a conservative ally and chairman of the Nevada Republican Party, who was named in a civil lawsuit for a $2.2 million loan from a charity he oversaw to a business in which he was involved.
McDonald's hiring as a deputy treasurer with salary and benefits topping $100,000 annually was seen by critics as a juice job. Schwartz defended the hiring, saying in a statement that the allegations against McDonald "appear false and reflect more the assumptions of their authors rather than any factual basis."
Less than three months after McDonald was hired, Schwartz announced McDonald's resignation, saying his departure was because of an office restructure that moved McDonald's position from Las Vegas to Carson City.
Schwartz has publicly questioned whether Jia Yueting, a Chinese billionaire and backer of electric carmaker Faraday Future, has the finances to build a $1 billion factory after state lawmakers approved and Sandoval signed an incentive package to lure the company to North Las Vegas.
The deal includes $175 million in state obligation bonds to bring needed infrastructure to the Apex Industrial Park, where Faraday plans to build and requires Faraday to put up a security to protect taxpayers.
Last month Schwartz announced he would "look into" Faraday Future's financing while on a personally financed trip to China with his wife. State economic development officials downplayed concerns, saying the law ensured protections for taxpayers.
Earlier this month Faraday said it would obtain a $75 million bond and put another $13 million into escrow to help finance the infrastructure.
"As long as they come up with the bond, I'm happy," Schwartz said. But he still has concerns about Jia's company, Leshi, which has not resumed trading on the Chinese markets since it halted in December, and he worries the state will be left with a half-built factory if the project collapses.
He has also become a central figure in the fight over Nevada's new education choice law being contested in the courts. The treasurer's office was deemed administrator of education savings accounts, a program passed by the Republican-controlled Legislature and signed by Sandoval that allows parents to take the state portion of per-pupil funding and use it to pay for private school tuition. Two lawsuits are challenging the constitutionality of the law, and one is in the Nevada Supreme Court after a lower court issued an injunction blocking the program.
Schwartz is vehement in his disagreement with the injunction.
"I was at the hearing and I just think it's a poor opinion and it's not based on any evidence," he said of ruling by District Judge James Wilson.
"To me what this is about is the Legislature and the governor saying we've spent billions of dollars on our public schools and where are we? We're 50 out of 51. And you can't argue with that. It's time to give parents a choice."
He and state Attorney General Adam Laxalt publicly sparred with Lt. Gov. Mark Hutchison, a Sandoval ally, over the ESA litigation when Hutchison, acting as a private lawyer, filed a third lawsuit seeking an expedited ruling from a judge that the law was constitutional. There were allegations of ethical breaches, political posturing and snide retorts before the trio declared a truce and Hutchison put his lawsuit on hold.
Schwartz differed with the attorney general's office over how much of a bond parents who won the injunction should have to post while the appeal proceeds. He wanted $4 million, Laxalt's office asked for $239,000, and the court set it at $75,000.
"You want to sue me, you want to sue the state, you can do that, but there's consequences," he said. "And one of those consequences is you have to put up a bond for potential injury.
"If you want to act big, you got to pay big," he said.
WHAT'S NEXT
Schwartz isn't saying what's in store for him politically when his first term is up in 2018.
"I think if I run again … all options are open. … One of the issues I'm going to try to tackle is the system by which we finance this state," he said.
How to do it is another question.
"I don't know how you change it," he said. "I don't know how you get the revenues."
Schwartz, in his alternative budget denounced by the Senate Finance Committee last year, still favors a type of "consumption" tax. He had proposed imposing a 25-cent surcharge on all restaurant and bar tabs, a tax he said would mostly be paid by visitors.
He also floated raising money by imposing a $5-per-passenger airport fee, until notified such fees are controlled by the federal government and prohibited by states.
Schwartz is steadfast in his opposition to Sandoval's commerce tax, assessed on businesses with gross receipts exceeding $4 million annually. But he's leery of a referendum being pursued by state Controller Ron Knecht, a fellow conservative Republican, to repeal it.
"Ron is a friend," Schwartz said.
Although he supports the concept of repealing the commerce tax, he questions what it would do for the state's credit rating.
"I think Ron's heart is in the right place," Schwartz said. "I don't necessarily agree with his methods."
Contact Sandra Chereb at schereb@reviewjournal.com or 775-461-3821. Find her on Twitter: @SandraChereb