New clue emerges in veteran's Death Valley disappearance
Updated March 27, 2023 - 8:09 pm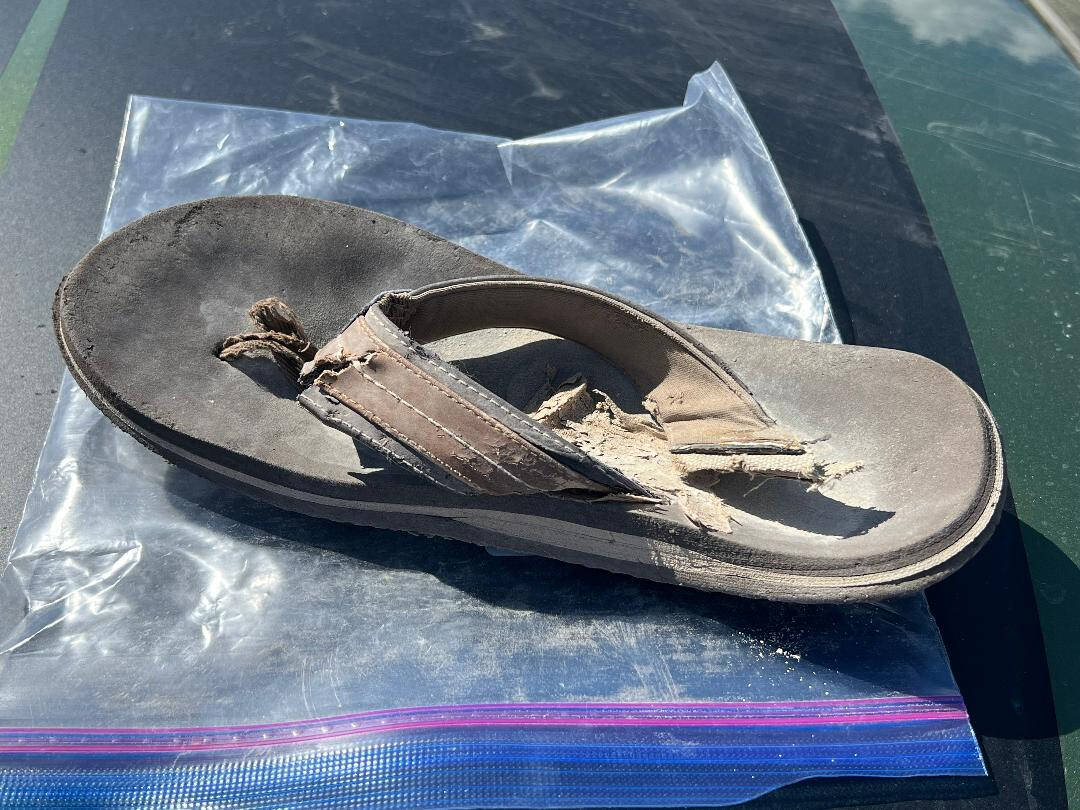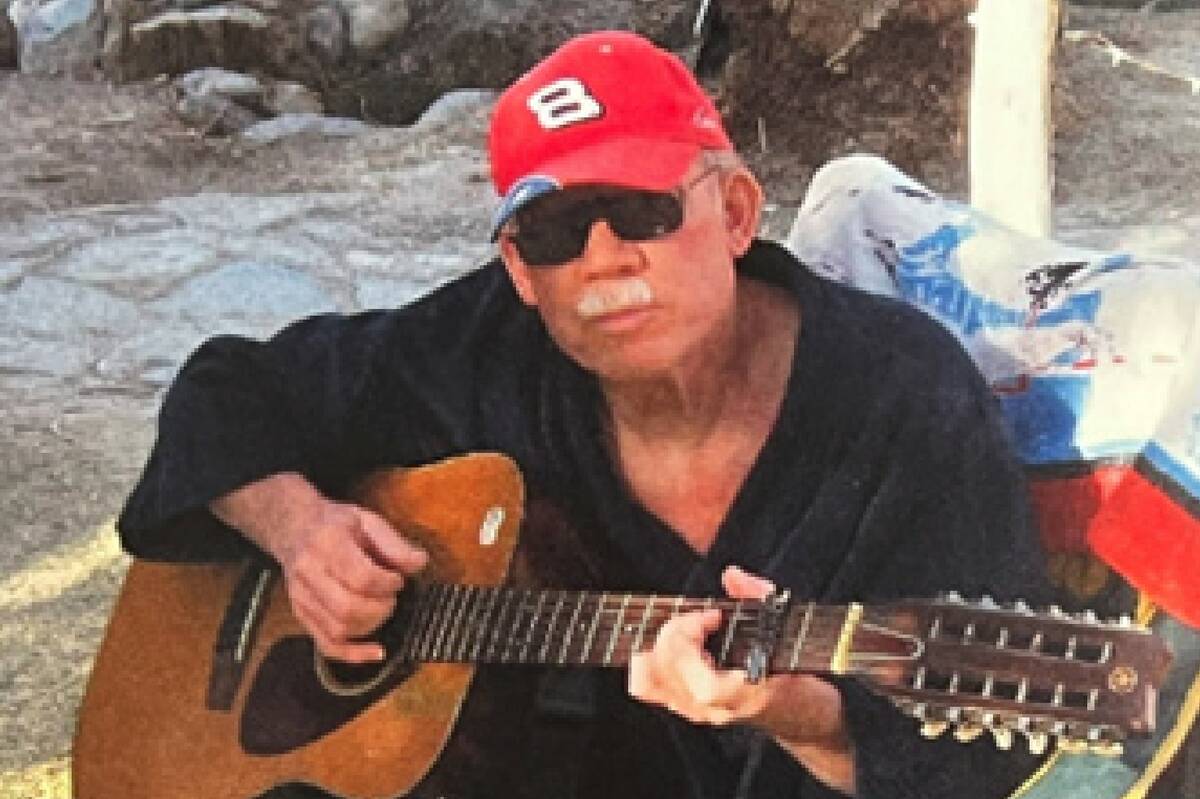 SALINE VALLEY, Calif. — A new clue has surfaced in the case of a Vietnam veteran who went missing nearly two years ago in Death Valley National Park.
Stuart Jeffries, who was helping me investigate the story, discovered a sandal last week about 1,000 feet from where Bob Wildoner's pickup truck was found abandoned in May 2021.
"As soon as I saw the picture, I knew it was his shoe," said Wildoner's wife, Cindy Lee. "He would wear those darn sandals all the time."
The weathered sandal had adhesive tape inside the heel.
"About a month before the trip, he repaired it with the tape," Lee said.
Abby Wines, a spokesperson for Death Valley National Park, declined to comment on the new evidence, writing in an email Monday that "Inyo County is lead agency with jurisdiction over this missing person case."
Wendy Stine, a custodian of records for the Inyo County Sheriff's Office, also declined to comment.
Grueling journey
On Wednesday, Jeffries and I set out for Saline Valley Warm Springs, a remote oasis inside the national park, about 150 miles northwest of Las Vegas.
Gaining access required a grueling journey by four-wheel drive over a storm-damaged dirt road.
When the road crossed a mountain range and descended a steep canyon, we put chains on Jeffries' Jeep and pushed through fresh snow.
"The scary part was when we crested the pass," Jeffries said. "That's when I thought, 'This is getting real.' "
Putting himself in Wildoner's shoes
Jeffries and I spent Wednesday evening and most of Thursday scouring areas outside the search grid covered by the Inyo County Sheriff's Office in May 2021.
But we agreed with Lee's assessment that Wildoner, who was 76 when he mysteriously vanished, wouldn't have strayed so far from his truck.
"They were searching such a big area," she recalled. "I kept saying he couldn't walk that far."
On Thursday evening, Jeffries and I returned to where Wildoner's Ford pickup had been found.
David Scardina, known in Saline Valley as "Trona Dave," said he saw the pickup arrive after nightfall on May 4, 2021.
On May 5, Scardina and campground host Lee Greenwell, aka "Lizard Lee," noticed keys in the ignition, a cellphone on the seat and a burger in a fast-food bag.
Last week, Jeffries decided to put himself in Wildoner's shoes by donning sandals, a T-shirt, and shorts – a similar outfit to what Wildoner had been wearing.
Damaged sandal
Jeffries and I theorized that Wildoner became disoriented after stopping to use the bathroom and in the darkness, walked the opposite direction from his truck.
We came to a place where it seemed possible that Wildoner might have taken a wrong turn.
"I was thinking with my feet, 'What feels right?'" Jeffries said.
We followed the possible path, but as daylight waned, decided to return to our camp.
That was when Jeffries spotted the sandal and wondered if it was a good clue.
Examination of the right-footed sandal revealed damage suggesting that whoever was wearing it took a hard fall.
Multiple Collapsed Caves
Below the plateau where the sandal turned up are a series of convoluted gullies.
A painstaking search of the gullies on Friday didn't reveal any hints, but Jeffries and I found multiple collapsed caves, possibly due to heavy rainfall over the past two years.
Our unproven theory is that Wildoner fell and injured himself when trying to find his way back to his pickup in the darkness.
When dawn came and the heat grew extreme, he might have sought refuge inside a cave.
Retired firefighter Darrell Waltman said that during a trip to Saline Valley in June 2021, he smelled decay.
"When I caught a whiff of that, I thought, "There's Bob,'" Waltman said.
He said the smell came from the open desert east of the oasis.
Jeffries and I speculated that swirling winds might have changed the direction that the odor drifted.
'How could they have missed this?'
On Sunday, while Jeffries navigated the treacherous drive out of Saline Valley, I kept trying to text photos to Wildoner's wife, who lives in Apple Valley, California.
When the photos finally went through, Lee said the sandal was "absolutely his shoe."
Lee recalled that her husband first tried gluing the sandal, and when that didn't work, he used adhesive tape instead.
"I'm so overwhelmed and thankful," she said. "But I'm also angry with the authorities. How could they have missed this?"
On Monday, I contacted Inyo County authorities to report what we discovered.
The plan is to turn over the broken sandal along with two bone fragments of unknown origin that I found in a desert dry wash below the area of gullies.
Meanwhile, the items are stowed in plastic bags, wrapped in an American flag in honor of Wildoner's service to his country.