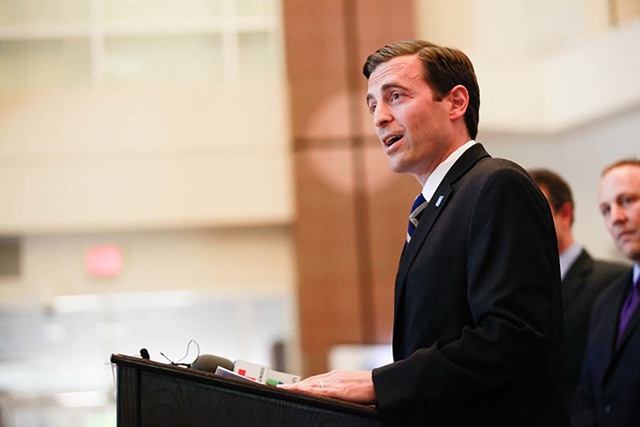 An upgrade to the state's victim notification system, including a new smartphone app, will help connect those in need with services, Nevada Attorney General Adam Laxalt announced Monday.
The Victim Identification Notification Everyday program, or VINE, launched in 2000 in Clark County and allowed victims to check whether an offender was still behind bars or sign up to be notified if the offender is to be released.
"It's an incredibly important service for our victims," Laxalt said.
VINE operates in about 42 states, but Nevada is the first state to roll out the enhanced services.
A new smartphone app unveiled Monday will match victims with services using a simple questionnaire to identify their needs. Victims can get contact information for about 30 organizations, including Parents of Murdered Children and the Rape Crisis Center. They also can access the service online at vinelink.com.
Annette Scott, advocacy director at the Henderson-based SAFE House women's shelter, said VINE is one of the most important tools for survivors of domestic violence.
"The resources offered are amazing," she said. "These programs change lives, and they save lives."
The service is run by the public safety arm of the Louisville, Kentucky-based company Appriss. Josh Bruner, president of Appriss Safety, said VINE came together in response to the 1993 murder of Mary Byron in Louisville. She had no idea her abuser had been released from jail, and he attacked her in a parking lot.
Laxalt said he is proud of his office for seizing the opportunity to expand the free, confidential service. During this year's legislative session, he was a vocal proponent of the Marsy's Law bill of rights for victims, which will appear on the 2018 ballot.
Contact Wesley Juhl at wjuhl@reviewjournal.com and 702-383-0391. Follow @WesJuhl on Twitter.