NRC finds hole in Yucca Mountain bid
December 18, 2014 - 5:07 pm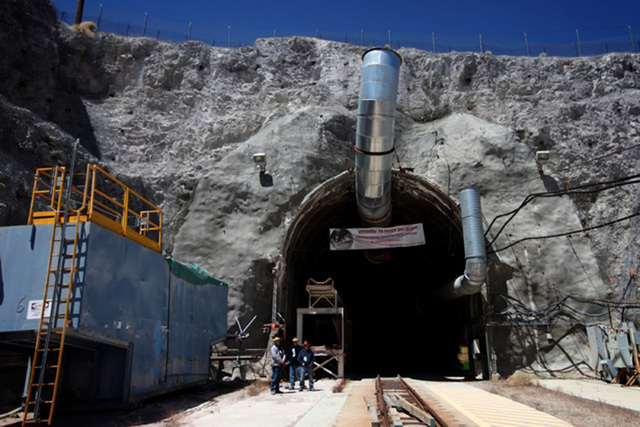 WASHINGTON — Federal safety analysts have found a flaw in the plan to bury nuclear waste at Yucca Mountain — the government does not have the necessary water rights to operate at the Nevada site.
In a report issued Thursday, staff at the Nuclear Regulatory Commission concluded the lack of assured water fails the standard to license a nuclear waste complex.
The NRC report also noted the Department of Energy lacks permanent control of the 230-square-mile site 100 miles northwest of Las Vegas. The project had operated under temporary land withdrawals that have since expired, and would need Congress to set aside the tracts for it to be completed.
The findings delivered a blow to a cadre of lawmakers on Capitol Hill and nuclear industry executives trying to resurrect the nuclear waste project that has been mothballed by the Obama administration.
If the licensing process was revived, the water and land control issues would need to be addressed and corrected. Neither are close to being resolved in the project's favor.
The state of Nevada in a long legal fight has blocked the government from obtaining water for the Yucca Mountain Project, declaring it is not in the public interest.
A government lawsuit pending in U.S. District Court in Las Vegas challenges the state's denial of water permits, but it has been largely inactive since the program was deactivated.
Similarly, a Yucca Mountain land withdrawal was proposed in Congress in 2007 but it was not considered and the issue has not been under discussion in recent years.
Sen. Harry Reid, D-Nev., a leading opponent of Yucca Mountain, said the report underscored major weaknesses in the project.
"This is just one reason why the Yucca Mountain project will never be built," Reid said in a statement.
The findings were part of an 181-page review of segments of the 8,600-page repository application the Department of Energy submitted in 2008, when it was promoting the Nevada site.
The NRC concluded that parts of the Yucca program dealing with its organization, research and quality controls met licensing standards. An agency report last month concluded that the repository would meet safety standards to bury nuclear waste and keep it from endangering the environment for periods up to 1 million years.
Contact Stephens Washington Bureau Chief Steve Tetreault at stetreault@stephensmedia.com or 202-783-1760. Find him on Twitter: @STetreaultDC.
Related
Report: Yucca Mountain Project still alive
GOP takeover means new push on Yucca, nuke waste
NRC staff: Yucca Mountain could meet safety needs
Chairwoman Macfarlane leaving NRC
Lawyers the winners in long Yucca court fight
Reid moves to ensure Yucca Mountain stays dead