Nye County police investigating sex misconduct claims at Valley Electric
Updated February 22, 2019 - 10:03 pm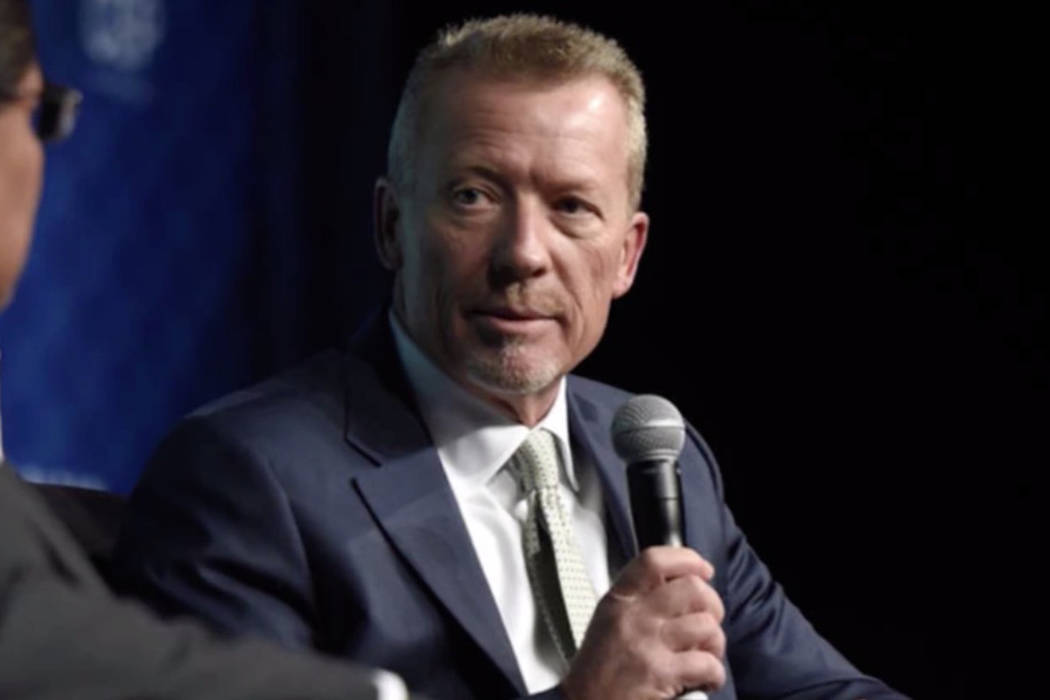 Rate hikes for Valley Electric Association members may have stemmed from former CEO Tom Husted's use of the cooperative's money to pay for a sexual harassment cover-up, according to allegations laid out in a search warrant from the Nye County Sheriff's Office.
Husted left the Pahrump utility abruptly in May "to pursue other interests" and was replaced by Angela Evans as interim CEO. Since then, the company has announced a 9 percent rate hike for customers despite promising long-term rate stability following the $200 million sale of a transmission line in 2017.
According to the warrant, the Sheriff's Office has reason to believe that Valley Electric personnel used company money "to silence individuals and remove some of them from the organization."
Suspicions arise
On Friday morning, about six Nye County sheriff's vehicles surrounded the Valley Electric administrative office in Pahrump. A justice of the peace had granted a search warrant the day before, allowing them to search for any evidence of embezzlement.
Calls and emails to Valley Electric Executive Vice President of Corporate Communications Michael Hengel, one of the names listed in the warrant, were left unanswered. Hengel is a former editor in chief of the Las Vegas Review-Journal.
Husted could not be reached for comment Friday.
According to the warrant, a female employee was sexually harassed and given financial incentives to keep quiet about it. Names listed in the warrants and interviews suggest that the woman was former employee Cassandra Selbach.
Husted announced in April that Selbach had been promoted from a marketing and community relations employee to executive vice president of community relations, according to the Pahrump Valley Times.
Former Valley Electric employee Liam MacCaul, who worked as director of business relations from 2016 to June 2018, said he didn't see any red flags working in the cooperative's Las Vegas office, but he did hear rumors.
"Some of the gossip going on was that there was a female employee that he was always fond of," he said. "She was moved up in the chain of command real quick."
In May, Husted announced his retirement after more than a decade as CEO. He gave no warning of his departure during the cooperative's annual meeting on April 28.
"It was an abrupt departure," MacCaul said. "It led people to believe there was something going on that was larger than what they said."
Reports show that Selbach died in January from a systemic autoimmune disease at the age of 35.
A release from Valley Electric at the time of her death said, "She loved her job and her community. We wish her family and friends the very best during these difficult times."
Hush money, rate hikes
The warrant states that several employees had signed nondisclosure agreements and received payment not to expose the harassment. Nye County sheriff's Lt. David Boruchowitz told the Review-Journal the office is not ready to discuss how many people signed the agreements.
The warrant states that Valley Electric director of human resources Bart Thurgood received a "substantial raise" at the time of the agreements and Evans also received a "substantial payment."
Evans was "paramount in ensuring that the information of this misconduct was not leaked," the warrant said, as she allegedly was involved in the handling of payments and nondisclosure agreements.
A press release from Valley Electric announced a 9 percent energy rate hike to take effect March 1. This would be the first permanent electric rate increase in more than 10 years for the co-op's members. The cooperative serves 45,000 customers.
"It is likely that the rate increase may be as a result of the substantial monetary outlay caused by this misconduct and the subsequent payoffs and coverup," the warrant reads.
In interviews with the Sheriff's Office, some alleged that more than $1 million of Valley Electric money was used to ensure the harassment was kept under wraps.
Cutting costs
Valley Electric's 2017 annual report shows the company's finances in good standing. The co-op had grown its asset base 41 percent since 2012 and lowered its cost of power by over 42 percent.
In September 2017, Valley Electric sold a 230-kilovolt transmission line for $200 million, making nearly $117 million in net cash. According to the annual report, the proceeds helped pay down debt, reduced operating costs and created a new revenue source.
The company set aside $30 million to offset rate increases, according to a press release, and co-op members were promised rate stability until 2024. But just over a year later, the company started tightening its budget.
A press release from Valley Electric this month said that it eliminated 18 jobs, effective Feb. 7. The board directed Evans to cut costs, including hiring freezes and wage freezes in 2018 and employee reductions, to "minimize rate impacts to our members."
"Our cost of providing service and staffing levels at Valley had risen faster than we have executed on strategic growth objectives," said Ken Derschan, VEA board president, in a letter from Evans. "That is why we directed Angela to conduct an examination of operations and shore operations up to meet our current business needs and cut costs throughout the cooperative."
The board of directors had accounting firm Hunton Burdick look at its financial activities from Jan. 1, 2016, through July 31, 2018, and the firm found "no significant transactions lacking supporting documentation, or of an unidentifiable nature."
A representative of Hunton Burdick declined to comment Friday.
Contact Bailey Schulz at bschulz@reviewjournal.com or 702-383-0233. Follow @bailey_schulz on Twitter.
Editor's note: A previous version of this story had Michael Hengel's name misspelled.
Fourteen names were listed in the search warrant, giving the Nye County Sheriff's Office permission to look through their electronic and non-electronic correspondence and filings, as well as cell phone messages.
Angela Evans, CEO
Thomas Husted, former CEO
Bart Thurgood, executive vice president of human relations
Kenneth Johnson, former executive vice president of broadband business
Cassandra Selbach, former employee
Rebecca Oscarson, key accounts coordinator
Michael Hengel, executive vice president of corporate communications
Peter Gazsy, board member
Dave Hall, board member
Richard Johnson, board member
John Maurer, board member
Ken Derschan, board president
David Dawson, board member
Steve Morrison, chief financial officer